Ponyo
Starring: Noah Cyrus, Frankie Jonas, Cate Blanchett, Matt Damon, Tina Fey, Liam Neeson, Lily Tomlin, Betty White, Cloris Leachman
Director: Hayao Miyazaki
Written By: Hayao Miyazaki
Gake no ue no Ponyo, or Ponyo on the Cliff by the Sea (also simply Ponyo), is darling, bizarre, thoughtful, scary and gorgeous all at the same time. More complex than it seems, this "children's" story is woven deep with life lessons and significant messages. The American version contains an A-list voice cast of theatre-packers like Matt Damon, Tina Fey, Betty White and a Jonas brother. I'll say that this review contains "spoilers," but honestly, I don't think it's the plot alone that's really what this movie is about, and reading my reflections shouldn't really damage your experience (at least it wouldn't for me).
A friend of mine just saw on Facebook that I liked the movie, and she asked me what its about. Here, verbatim, is my reply:
did you ever see Spirited Away? its the same dude who made it, it is anime… but its awesome and weird and kinda creepy. do not see it on acid, it will freak you out. there's a lot of sea creatures and cute little things and adorable children and boats. lots of boats actually.
Ponyo is a "goldfish" who may or may not turn into a little girl after meeting an adorable young boy and falling in love (I think it's more of a friendship love, seeing as said boy is five years old). She meets this boy, Sosuke, after she magically escapes her weirdo dragqueenish dad (a mysterious but ultimately good-natured underwater wizard of sorts) and swims up to the boy on the beach shore. Sosuke's mom works at a local senior center and his dad is the captain of a ship. The gaggle of older ladies at the senior center (voiced by Cloris Leachman, Betty White, and Lily Tomlin) adds comedic relief as well as tenderness. Insert an ocean-swelling storm of epic proportions, coupled with a love test that will determine the fate of the entire world, and we have a movie.
The plot itself is pretty durn adorable, and the animation had me hypnotized. Maybe it won't be my favorite animated movie ever (probably not top five either), but there is something about it that I found very endearing. I can't wait to get my hands on the original version with subtitles. This was my first time actually seeing a Miyazaki movie dubbed in English, and I'm sure some of the intent and expression was lost in translation. He has such a heavy emphasis on Japanese mysticism and cultural references, it's hard for the average American to following along without footnotes (in past movies, the American versions have edited out some Japanese mentions that wouldn't be understood here).
My major likes included the artwork (more on that in a minute), all of the environmental preaching (no pesticides, and lots of mention of human dirtiness ruining the ocean), the ocean culture, the amazing sound editing, and the creepiness factor. I don't have any apparent gripes, other than the super tidy and fast dénouement, but hey, it is marketed as a kid's movie. The English voice actors also do a pretty obvious job of trying to mimic the Japanese intonation of typical anime (short, abrupt staccato) and at times it did feel a bit trying-too-hard.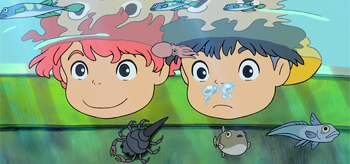 The animation itself: Miyazaki's artwork is so distinctive, and what lured me in the first time I saw Totoro. Studio Ghibli made a serious distinction with Ponyo by reverting to 100% hand-drawn animation, forgoing the combination of computer and hand-drawn images some recent films have used. The old-school technique is brilliant, and I was in awe of the pretty pictures the whole time. Water is such an amazing and difficult element to draw in general; I find that anime styles really emphasize the beauty and mystery of liquid the best. Ponyo features lifelike reflections, translucent underwater scenes, ocean, rain, tears, and even water personified (literally, there are these fantastical growling waves with eyes — awesome to see sober, probably horrifying if I was on acid).
And since I mentioned acid again, a major present element is the trippiness of the movie. Bugs crawling, fish turning into waves who turn back into fish, the "freakshow" and his amazing Technicolor dreamcoat; the movie certainly has its weirdness. I personally dig the outlandish quirkiness, but I can see how it may be a turn-off for mainstream audiences.
All in all, I loved it and I'm a fan. I have a feeling the Disney marketing team and the cast of household names may help open up a lot of new fans to the genre, and I think that's a really good thing.