Starring: Katie Featherston, Micah Sloat, Michael Bayouth
Director: Oren Peli
Written By: Oren Peli
Every once in a while, a horror movie — usually from a small indie company — comes along that touts itself as the scariest movie of all time. It'll open in a suspiciously limited release, and there will be spontaneous urban legends about people fleeing screenings in terror and entire audiences panicking. I've always treated such claims and exaggerations with a healthy snort of derision, and that's exactly the mindset I had going into last week's advance screening of Paranormal Activity in Orlando. I learned my lesson, and how.
The setup and premise of the movie are pretty simple. A young couple, Katie and Micah, played by newcomers Katie Featherston and Micah Sloat, move into a suburban home and begin experiencing what appears to be a haunting. They're hearing the proverbial bumps in the night and finding objects moved around each morning. Katie asserts that it's an entity that has been following her since she was eight years old, and Micah skeptically humors her by buying an expensive HD camera with which he plans to capture the nocturnal knockings and ghostly happenings. The entire movie unfolds via found footage from Micah's camera, through which we see the ensuing month's worth of days and nights as the couple explores and endures the haunting.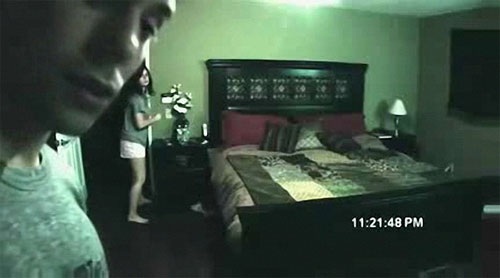 Comparisons to other similarly shot movies like The Blair Witch Project are inevitable, and I think it's likely that first-time writer / director Oren Peli gleaned at least a little inspiration from that 1999 film. Paranormal Activity stands on its own, though, and is more personal and relatable than Blair Witch. Katie and Micah are characters you can see yourself knowing or even being, and setting their trauma inside a suburban house brings the terror out of the woods and plants it firmly in your living space. They don't go out hunting for a monster; it comes and finds them.
Paranormal Activity is not Hostel or Saw. There's very little in the way of blood, and there's absolutely no gore to be seen. You won't find mutilations or piles of bodies like you'd find in the average horror flick. In fact, the actual events you see unfold in the movie are no more extreme than what you might see each week on an episode of Supernatural or Fringe. I'd say the events of the movie are far less violent and grotesque than most Fringe episodes. Yet the knocking sounds, the swaying chandelier, and the slamming door here are genuinely scarier than anything I've seen in a slasher flick, and they're frequently terrifying. It's all about the craft of the movie, from the perfectly orchestrated camera angles to the excruciating pacing to the feeling of dread that gradually builds to a horrifying climax.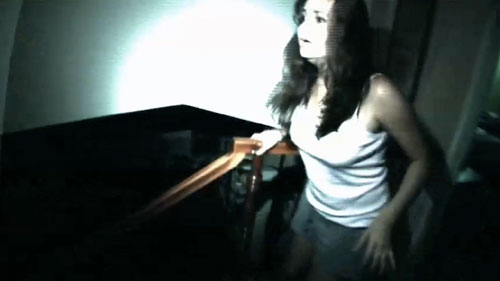 How scary is it? Scary enough that I saw at least one of those aforementioned urban legends acted out. There's a moment in one of the final recorded nights in the film where a particular line is crossed that, given all the dread and anticipation that has been building, is simply shocking to behold. I won't spoil the moment here and rob you of the experience, but I will describe what happened in the packed theater where I saw the movie. Every person I could see visibly lurched and recoiled from the screen. Shrieks and screams erupted behind me, mixed with at least one horrid moan of, "Oh my GOD." A girl who looked to be in her early twenties half-ran and half-stumbled down the stairs to get out of the theater. Capping the whole experience, a grown man behind me, in his best unintentional Will Smith voice, yelled, "Aw, HELL no" before running down the stairs. He didn't even make it down the stairs, though, instead opting to vault over the rail for a speedier, though probably knee jolting, escape. Paranormal Activity is that scary.
That's not to say that the movie is without flaws. It definitely requires a huge leap in logic for me to believe that Micah and Katie would just go back to bed, let alone sleep, after some of the crazy things that happen in that house. The ending, too, is a point of contention for a lot of people I've talked to. Again, I'm not going to give anything away here or spoil anything, but I think the ending does bear discussion in general terms. As it's being presented in limited release, Paranormal Activity carries the third ending that was created for the film. Peli had an original finale that was replaced with another when DreamWorks picked up the film. This second ending actually shows up briefly in the trailer for the movie, but it too was replaced by the current conclusion which also appears in the trailer (consider yourself warned if you want to see the movie unspoiled!). For my part, I was mostly satisfied with the ending I saw, but I do see and agree with the complaint many have that it becomes too "Hollywood" in the final moments. I'm really not sure which of the three endings I'd prefer, as all of them are variations on basically the same events and outcome.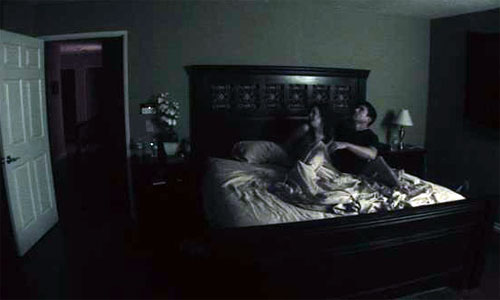 If you're a fan of the found footage school of horror, and if you're able to jump the logic hole about the couple staying in their bedroom, I have no reservation at all in recommending Paranormal Activity. It's the sort of movie that will make a heaping ton of money based on its reputation as a terrifying movie, and word of mouth will hype it beyond all reason. The good news is that, for the most part, it delivers. The cast is convincingly "real" and Oren Peli's vision and craft leave me excited about his next project, another found footage affair called Area 51. Indulge your curiosity and go see this movie if it's showing in your area. And if it's not showing, demand it at Eventful.
Movie Rating: A