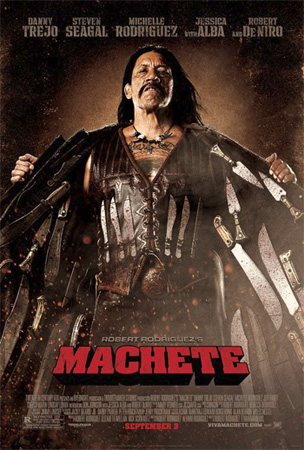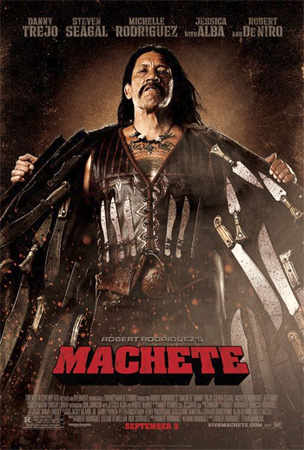 Director: Robert Rodriguez and Ethan Maniquis
Screenplay: Robert Rodriguez and Álvaro Rodriguez
Cast: Danny Trejo, Steven Seagal, Robert De Niro, Jeff Fahey, Jessica Alba, Don Johnson, Michelle Rodriguez, Cheech Marin, Lindsay Lohan
Rated: R
Director Robert Rodriguez's love of pulp fiction and B movies is evident throughout Machete's 105-minute runtime, and fans of Rodriguez's contribution to the 2007 Grindhouse double feature, Planet Terror, are in for a real treat. Machete features cartoon-like violence that surpasses that of Rodriguez's previous homage to exploitation cinema and simultaneously addresses the timely issue of immigration along the border in a comical, yet respectful manner. Although some critics have cited the film as taking itself too seriously when it comes to immigration issues, Machete exemplifies the perfect combination of political commentary and hilarious exploitation action and satire.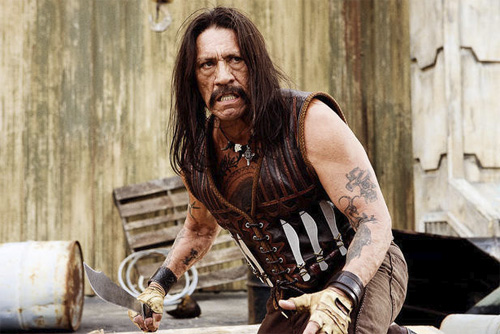 Machete's plot is a simple one: an ex-Federale known as Machete (Danny Trejo) escapes to Texas after the brutal murder of his wife and daughter by Mexican drug lord Torrez (Steven Seagal). Three years later, Machete is hired by a right-wing political advisor to assassinate a Texas senator with a strong stance on illegal immigration. After being double-crossed and left for dead, Machete exacts revenge on the people who were involved in the nefarious plot, and gets a second chance at the man who killed his family in the process. Although filmed in an exploitation style popular in B movies of the 1970s, Machete offers one of the most respectful portrayals of Mexicans and Mexican-Americans available in contemporary cinema, instead establishing various white Americans as the film's (racist) villains.
Machete is more than one director's loving homage to the films of old, however. This film marks what may be the first time in the history of the motion picture industry that a feature-length movie was written, filmed, and produced based on nothing more than fan response to a fake movie trailer. Even more surprising is the fact that Machete isn't half bad. The consensus among various movie critics is that Machete is a strong "B" film, and in my opinion the only thing keeping it from reaching an "A" status (an "A" of course indicating that Machete is the best contemporary homage to '70s "B" movies that it can be) is the casting of Lindsay Lohan.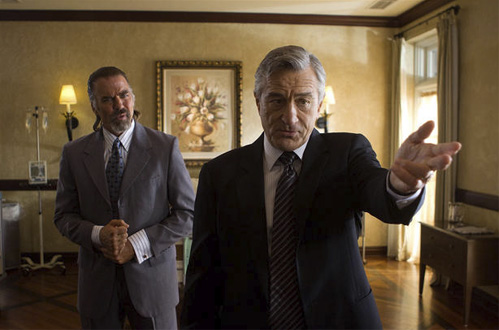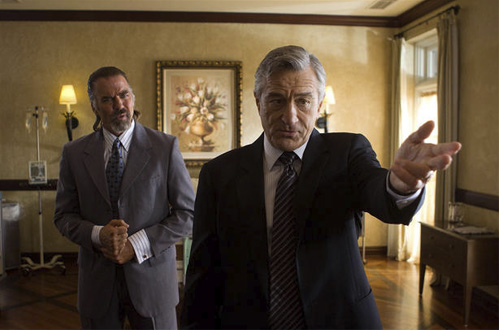 Machete has a star-studded cast, including Danny Trejo as Machete, Robert De Niro as Texas Senator McLaughlin, a right-wing extremist with a no-tolerance stance on immigration, Jessica Alba as U.S. Immigration and Customs Enforcement Agent Sartana, Steven Seagal as Mexican drug kingpin Torrez, Michelle Rodriguez as taco slinger Luz and the legend "Shé," Cheech Marin as Machete's brother, the Padre at the local church, Don Johnson as the racist murderer Lt. Stillman, and Jeff Fahey as Senator McLaughlin's political advisor, Booth. Even with a less-than-stellar performance from Jessica Alba (the romantic pairing of Alba's character with Machete feels forced, at best) and a characteristically over-the-top Steven Seagal, Machete would be a much higher quality "B" movie without all of the personal controversy that overshadows Lohan's acting career.
Unfortunately, Lohan's lackluster, stilted portrayal of Booth's daughter, April, is so bad that it detracts from the overall performance of the entire Machete cast. Despite her costars' public endorsements, Lohan as the rich, spoiled junkie who makes sex tapes with Mexican day laborers and runs her own website in hopes of starting a "modeling" career not only hits a little too close to home, but lacks anything even remotely resembling acting talent. In fact, the few minutes of screen time that Lohan receives in Machete are by far the most painful of the entire film, and Machete would benefit greatly as a whole by cutting these scenes altogether.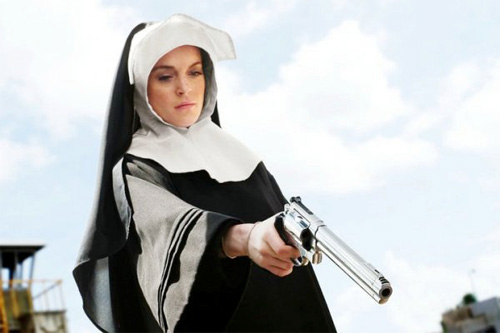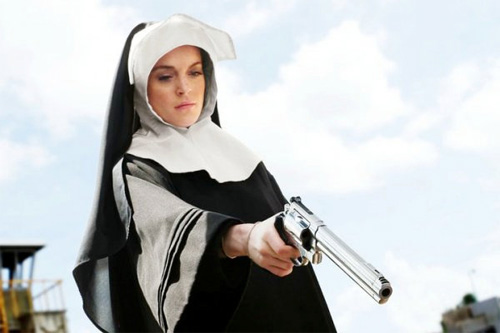 Apart from a threesome scene with Trejo and Alicia Marek (as June, April's mother) that provides comic relief and gratuitous nudity in the style of '70s B movies and exploitation films and serves to bolster Machete's reputation as a ladies man, Lohan's character serves little purpose in the film. Arguably, Booth's incestuous obsession with his daughter is intended to contribute to the vilification of his character, but the fact that Booth hires Machete to kill McLaughlin and then facilitates his betrayal and attempted murder vilifies his character more than enough to drop the incest subplot entirely.
Fortunately, Lohan's horrific performance doesn't detract from Machete's underlying message, and audiences will find themselves rooting for Machete and the rather large group of illegal immigrants he amasses as they take on Don Johnson and his group of racist killers. The film's climactic battle presents viewers with both of Machete's most visually striking scenes: the first being Michelle Rodriguez's arrival as she exits the back of an ambulance flanked by Electra and Elise Avellan (the "crazy babysitter twins" from Plant Terror) as Nurses Mona and Lisa, respectively. The second image from Machete that inevitably will become an iconic representation of the film is after the battle between Johnson and his men and Machete and his followers, when those left alive salute Machete as he stands before them on top of the same ambulance that brought Luz and the nurses to the fight.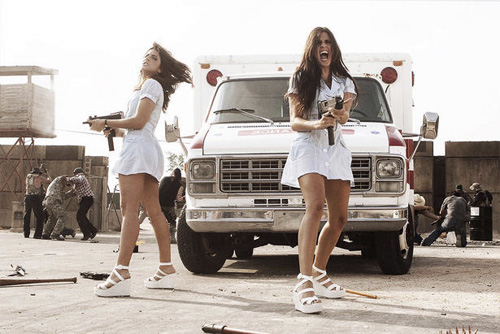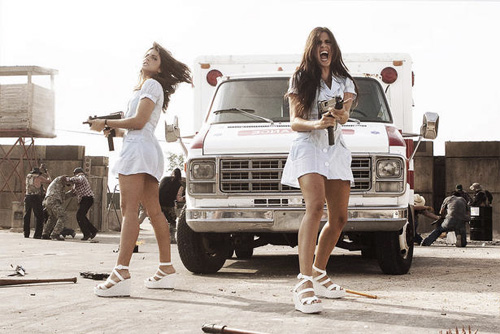 Although these two scenes stand out in particular, Machete is a visually vibrant film that is worthy of the vast media attention it has enjoyed based not only on its star-studded cast and somewhat controversial plot, but on the quality of its special effects and visual presentation as well. It's safe to say that Robert Rodriguez has done it again with Machete, and it will be extremely interesting to see what he comes up with next.
The moral of Machete? Be careful which day laborer you try to double-cross, because you may have just "f—ed with the wrong Mexican."
Rating: 4 / 5 Stars
cheech marin
,
danny trejo
,
jeff fahey
,
jessica alba
,
Lindsay Lohan
,
michelle rodriguez
,
movies-
,
Reviews
,
robert de niro
,
robert rodriguez
,
steven seagal