Harry Potter and the Half-Blood Prince
Starring: Daniel Radcliffe, Rupert Grint, Emma Watson, Matthew Lewis, Bonnie Wright, Evanna Lynch, Tom Felton, Jessie Cave, Devon Murray, Alfie Enoch, Jamie Waylett, Joshua Herdman, James Phelps, Oliver Phelps, Robbie Coltrane, Alan Rickman, Michael Gambon, David Thewlis, Mark Williams, Julie Walters, Natalia Tena, Warwick Davies, Helena Bonham-Carter, Jim Broadbent, Maggie Smith, Timothy Spall, Helen McCrory, Dave Legeno, Hero Fiennes-Tiffin, Frank Dillane, and Ralph Fiennes.
Written By: J.K. Rowling (novel), Steve Kloves (screen-play)
Directed By: David Yates
Spoiler warning! If you haven't seen the movie or read the book, this review will reveal key plot elements.
SYNOPSIS:
Emboldened by the return of Lord Voldemort, the Death Eaters are wreaking havoc in both the Muggle and wizarding worlds, and Hogwarts is no longer the safe haven it once was. Harry suspects that new dangers may lie within the castle, but Dumbledore is more intent upon preparing him for the final battle that he knows is fast approaching. He needs Harry to help him uncover a vital key to unlocking Voldemort's defenses — critical information known only to Hogwarts's former Potions Professor, Horace Slughorn. With that in mind, Dumbledore manipulates his old colleague into returning to his previous post with promises of more money, a bigger office and the chance to teach the famous Harry Potter.

Meanwhile, the students are under attack from a very different adversary as teenage hormones rage across the ramparts. Harry's long friendship with Ginny Weasley is growing into something deeper, but standing in the way is Ginny's boyfriend, Dean Thomas, not to mention her big brother Ron. But Ron's got romantic entanglements of his own to worry about, with Lavender Brown lavishing her affections on him, leaving Hermione simmering with jealousy yet determined not to show her feelings. And then a box of love potion-laced chocolates ends up in the wrong hands and changes everything. As romance blossoms, one student remains aloof with far more important matters on his mind. He is determined to make his mark, albeit a dark one. Love is in the air, but tragedy lies ahead and Hogwarts may never be the same again.

– Warner Bros' Official plot summary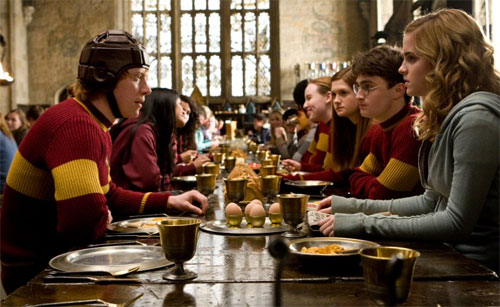 ANALYSIS:
I would like to begin by saying that in this installment, director David Yates has absolutely outdone himself in every possible way.  He has successfully orchestrated a pretty powerful multi-chapter epic tale into a two and a half hour long film.  The one thing that really stood out for me was the fact that he could successfully guide the viewer's eye to focus on what he wanted to focus on by perfectly executing some wicked framing techniques.  His attention to details and screen direction makes him as good a Potter director as Columbus, Cuaron, and Newell were to their respective contributions to the series.  Even though this film is rated PG it has the feel and the dramatic content of the PG-13-rated parts 4 and 5.  He complemented this feeling by having some superbly done low-key and natural lighting which was evident throughout the entire film.
On this note I would like to go on to discuss the film's overall composition.  The cinematography is great and shadowy, which is completely in sync with the overall tone toward which the series is headed. It sticks with the old adage of "Things always get much, much worse before they get better." Yates's choice in editing is somewhat reminiscent of Cuaron's editing choice on Prisoner of Azakaban.  Another thing that struck me as peculiar of this movie is that it shows a flashback of the events immediately following the events of Order of the Phoenix, which we have never seen in any of the previous films in the series.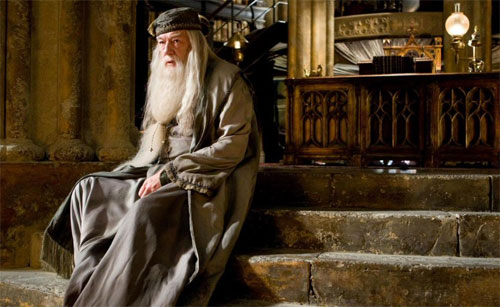 The movie, as written by Steve Kloves, does remain quite faithful to the original source novel as written by J.K. Rowling.  If I were to give it a percentage, I would say it is 75% book-accurate.  The key events of the novel, including the kids' troubled romantic relationships, Fred and George's joke shop, the bits with Slughorn, the memories that Dumbledore and Harry view, Aragog's funeral, Tonks's affections for Lupin, Ron's Quidditch career, Draco's situation, and of course those crucial final chapters leading up to Dumbledore's dramatic demise, are all still present and masterfully represented.  There is, however, one thing that I was a little bit miffed with, namely the fact that Harry's inner turmoil when determining where he stands in relation to Ginny could have had a little more screen time.  Kloves and Yates did add two new scenes that were not in the original novel. The over-publicized Death Eater attacks on the Burrow (The Weasleys' home) and the Millennium Bridge were nice surprise additions to the already perfect movie.  Also this film seems to have a bit of a pattern: magic stuff, teen angst, teen angst, magic stuff, teen angst, teen angst, then some more magic stuff and a lot of dramatic end scenes.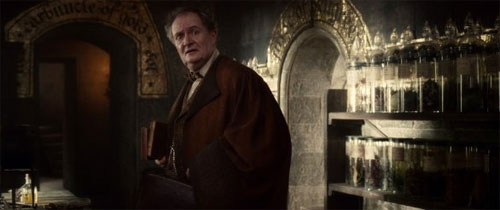 The kids all play their parts astonishingly well. Daniel Radcliffe's Harry is, as always, on the ball; Emma Watson plays the part of a angst-ridden Hermione very convicingly; and Rupert Grint's insecure Ron Weasley is so dead on.  Two young actors who stand out to me are Tom Felton and Jessie Cave.  Tom Felton's Draco Malfoy in this installment plays the part of a troubled bad boy looking to prove himself as good a champion for Lord Voldemort as Harry is for Dumbledore, while Cave's portrayal of the Ron-obssessed Lavender Brown gave me the vibe of how a crazed fan of someone might behave.  Cave's Brown was set up as an analogy to all of those crazy Harry Potter fanatics.  Of the adult cast, the three that really jumped at me were Jim Broadbent, Alan Rickman, and Michael Gambon.  Broadbent's Professor Horace Slughorn provides a lot of the film's much-needed comic relief, and his tragic past balances the character out just fine. Rickman's Professor Severus Snape provides much of the film's dramatic and tension-filled scenes, not to mention giving the film its title.  Sir Michael Gambon's Headmaster Albus Percival Wulfric Brian Dumbledore is, without a doubt, the single most heart-breaking performance of all in the film.  This is most evident in the cave scene where he forces himself to drink the potion to retrieve the locket Horcrux to further weaken Voldemort, and in his final scene where he dies at the hands of Snape.  Speaking of Voldemort, I have to mention the two young men who portray the evil wizard as a kid and as a teen, Hero Fiennes-Tiffin and Frank Dillane.  When I saw Fiennes-Tiffin's portrayal of an 11 year-old Tom Riddle I genuinely wanted to hide because this kid scared the living heck out of me.  A similar reaction was elicited when Dillane takes over as teenage Riddle with his slick and slimy demeanor, adding to the character that Ralph Fiennes portrays as an adult.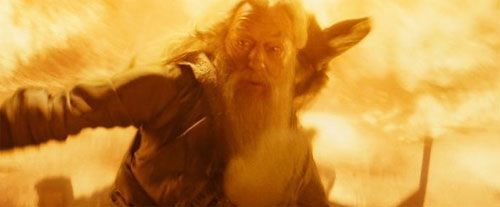 Overall, it's no wonder this movie is a huge summer event. You have it all: action, adventure, love, heartaches, loss, darkness, comedy, shocking revelations, and an inspiring ending that leaves us wanting more.
Final Grade: A++