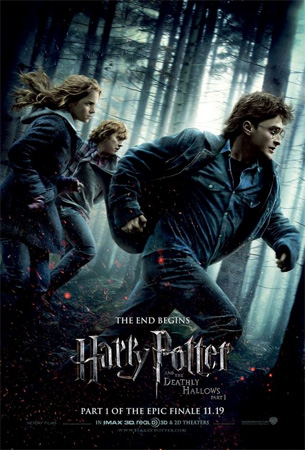 Director: David Yates
Screenplay: Steve Kloves
Cast: Daniel Radcliffe, Rupert Grint, Emma Watson, Tom Felton, Ralph Fiennes, Alan Rickman, Robbie Coltrane, Helena Bonham Carter
Rated: PG-13
Despite all my anticipation that I'd hate it, I totally loved 7.1 The Movie. Still in shock, but chomping at the bit to hash out all my likes, I'm jumping in with spoilers from this point forward.
I hated Deathly Hallows, the book. I'm one of those loyal and obsessed Potterphiles who just knows that J.K. catered to the public too much and didn't give us the real story from her heart. Also, I hated the sixth movie. So from all angles, I was braced and prepared to hate this film. Really, I thought it would be dreadful, yet I really loved it. I think I could actually say it's my favorite out of all of them — it just might be.
I cried more during this movie than during any of the previous HP films. My first tears fell when Hedwig died. It happened so fast, but the importance of her brave act wasn't lost on me during all the action. I got misty eyed when the wedding was broken up with such a scary message from the Ministry. And when Dobby died? Oh, I sobbed. Innocent, sweet, good Dobby. Harry looking at his parents' graves wasn't a joyful scene either. And any time an image of Dumbledore came up, I cried.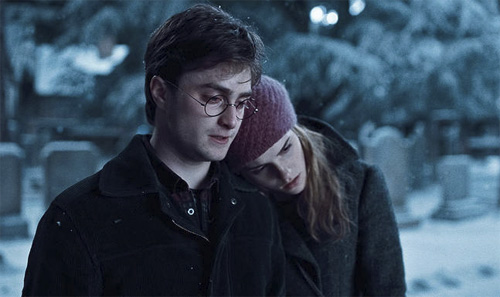 I'm impressed with the power brought to the screen in this installation, I really am. The acting was the best so far, with the main three really having become so skilled, so good. Daniel Radcliffe and Emma Watson impressed me with their ability to play this complicated dynamic so well. I really felt this familial, platonic love from them. Well, there was that one steamy naked make out scene (which was so unexpected, I was truly shocked!), but that scene was all in Ron's head. As far as the actual dynamic between Harry and Hermione, I think it was played out perfectly. Rupert wasn't a slouch either, he played angsty Ron impeccably well. And I love the bit of added maturity we're seeing in his romantic onscreen relationship this movie — the characters really are growing with the story.
Scary in the movie is ten times more powerful than scary is in the book. I admit it. I think a lot of it has to do with how fast things can happen in a movie. By the time I've read and digested the words, it isn't as frightening as being caught up in a live action whir. Malfoy Manor was very creepy, and really just how I imagine it when I'm reading of it. And yes, I jumped at Nagini snapping her giant snake jaws! I love the interpretation of the Death Eaters traveling around in those blurs of dark smoke. The scary parts and the action parts are just all perfect. I was on the edge of my seat the whole film.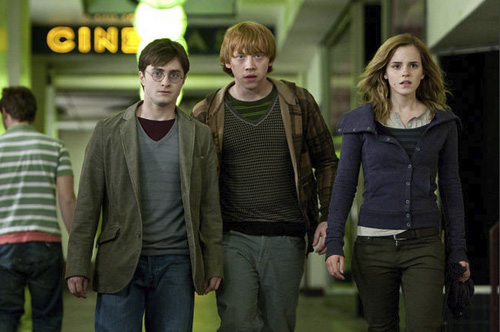 Thankfully there was a good amount of comedic relief. Some overt, other bits were subtle. Luckily for the audience though, it was effective. I certainly laughed more than I expected to, and I didn't find any of the jokes to ruin the tone at all. They were needed little breaks in the heaviness.
I miss Dumbledore; it's just not the same vibe without him, huh? I felt like that as a reader and I really felt it as a viewer. Deathly Hallows is so hard because everyone is angry, so many are dying or just gone, and we aren't at Hogwarts at all. Being on the go was hard on me. I miss the castle and the classes, the juvenile hijinks. With the main three living in a tent, in constant fear, it plays out more like a war movie than a children's fantasy.
The beautiful snowy scenery was excellent though. It really is a beautiful film. Visually, I was sad that we haven't seen many wizards robes or fun Hogwarts effects like the talking paintings or the moving staircases. The Muggle wardrobe for the young ladies was outstanding. Hermione's asymmetrical sweater and Luna's romper really stood out. Ron was well dressed, but his best mate — not so much. Harry's wardrobe was just awful, oversized coats and saggy jeans just didn't cut it for me; Harry isn't a blazer kind of fella. The special magical effects throughout were right on par with my expectations. The animation during the telling of the Deathly Hallows story was incredible; I truly loved that scene. It was so well done!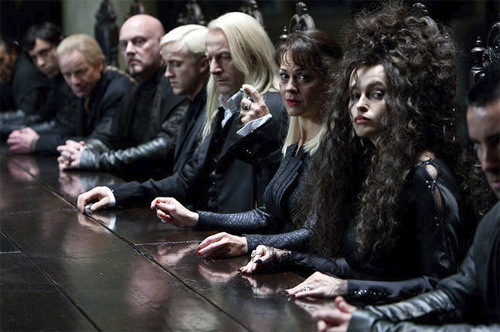 I wish we could have seen more Snape. I wish we could have seen more Bellatrix and Death Eaters in general. For reasons of being true to the plot, I wish a little more would have been done to really show the power of the locket, and how angry and nasty it made the person wearing it. It was really a huge plotline in the text. But selfishly, its much more enjoyable this way with just the gist of the issue getting across.
I'm so curious to know if non-readers could follow the plot and what someone who's never read the book would think. Does it made sense? Are you able to understand the complexities at hand? Did you like it? I'm not sure if the details that were dropped or rushed were plot vital, I'm so biased from having read the books too many times.
All in all this movie was amazing. I can't wait to see it again, and it's actually inspiring me to give my least favorite book in the series a good re-read. I laughed, I cried — I was on the edge of my seat the entire time.
Rating: 5 / 5 Stars