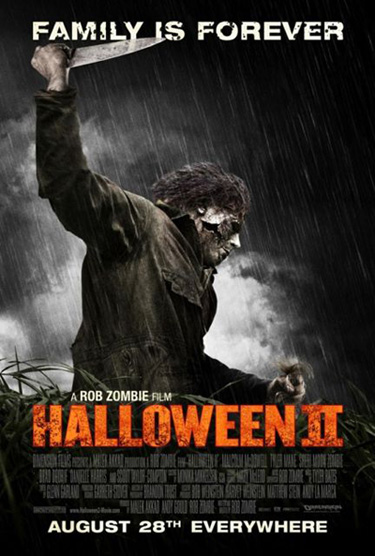 Starring: Malcolm McDowell, Scout Taylor-Compton, Tyler Mane, Brad Dourif, Danielle Harris, Sheri Moon Zombie
Director: Rob Zombie
Written By: Rob Zombie
I wanted to like Rob Zombie's Halloween II. I am a big fan of his reboot of the original Halloween, and for that reason as I sat in the theater watching Halloween II I tried to force myself to like the film. In theory, Halloween II has all of the characteristic horror movie elements that have elevated modern-day slasher movies and thrillers like Wolf Creek, Haute Tension, My Bloody Valentine, and the new Friday the 13th to the top of my favorite movies list: blood, gore, gratuitous violence, nudity, fist-clenching, eye-covering suspense, even a warped sense of justice — but while Rob Zombie's original Halloween reboot still felt strongly grounded in reality, his sequel has me actively debating the phrase "jumped the shark."
The idea of jumping the shark is more appealing to me with regard to Halloween II mainly because I can't stop hoping that Rob Zombie hasn't started churning out self indulgent, masturbatory pieces of crap because he wants to be "artistic." In my opinion, Rob Zombie has a great talent for creating the type of horror movies that audiences today want to see, and the fact that they are not films that will be held up as examples of the best that filmmaking of the twenty-first century has to offer is nothing to be ashamed about. I like to imagine that Zombie was trying not to create something that defied the traditional summer horror movie genre, but an entertaining gore-fest that happened to incorporate a degree of surreal imagery not characteristic of his previous film in an effort to illustrate what the human mind is capable of after undergoing extreme emotional and psychological trauma. That being said, I suppose it's just as likely that Rob Zombie spent too much time watching 1920s German expressionist films between making Halloween and Halloween II and at some point thought, "Hey! I could do that!"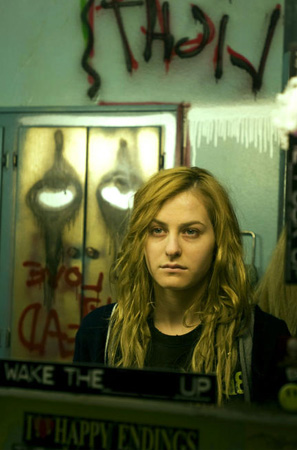 When it comes to sequels, I am a stickler for certain types of consistency. The most important aspects of a film that must remain consistent between installments in a franchise are those that help to establish the foundation of the story: the characters (actors) and the setting. In Halloween II, Zombie succeeds in recreating the little town of Haddonfield, IL — the site of the first Michael Myers incident — while simultaneously expanding and aging it. More than a year has passed since the attack and Laurie Strode is now living with her friend Annie (who also survived Michael's attacks) and Annie's father, Sheriff Brackett, after the death of her foster parents. Thankfully, all of the original actors returned for the sequel: Scout Taylor-Compton as Laurie, Danielle Harris as Annie Brackett, and Brad Dourif as Sheriff Brackett.
Unfortunately for Scout Taylor-Compton's character, Michael Myers's body mysteriously disappears somewhere between the neighborhood where she shot him at the end of Halloween and the county morgue where the autopsy is to be conducted. When we find Laurie over a year later, she is plagued by night terrors, heavily self-medicating, and still deep in the throes of post-traumatic stress disorder. Little does Laurie know that Michael may be alive and may still have plans for his baby sister. This is where the film began to fall apart for me: in Halloween II, young Michael Myers is no longer played by Daeg Faerch, whose portrayal of the young psychopath in Halloween is extremely disturbing, to say the least. Instead, newcomer Chase Wright Vanek plays Michael Myers as a child. While Vanek may be a very talented young actor, he fails to capture the same chilling nature portrayed by Faerch.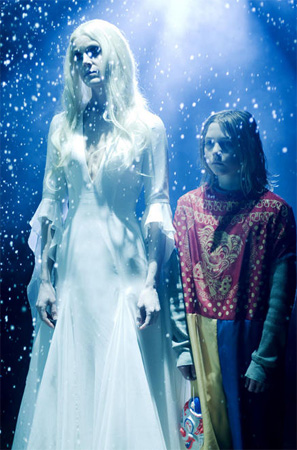 If Vanek's role as young Michael were limited to flashbacks of young Michael with his mother in the mental institution where he lived for the majority of his life, the damage would've been minimized, although his portrayal of the sullen, disturbing young boy that we remember from Halloween is somewhat out of character given the degree of affection he shows for Deborah Myers (again played by Zombie's wife, Sheri Moon Zombie), the amount that he speaks to her, and the types of things that he says ("I love you, Mommy" is a frequently repeated phrase throughout the film). Given the change in characterization and actor as well as the scope of his role and the frequency with which Vanek appears throughout Halloween II, more of an effort should've been made to get Faerch back (anyone who was upset about Maggie Gyllenhaal's replacement of Katie Holmes in The Dark Knight will understand what I mean).
Although I hate to admit it, Halloween II will probably grow on me over time. Once I overcome the disappointment I felt when I realized that Rob Zombie and I definitely do not agree on what the film should be, I think I will be able to appreciate it for what it does offer: more of our favorite psychotic serial killer, Michael Myers. If Rob Zombie envisions the next installment in his Halloween franchise with the ghost of Deborah Myers leading Michael from place to place as he searches for his long lost baby sister, then he has every right to realize that vision. I simply take solace in the fact that it also means that I have every right to be unhappy about the result.
Halloween II certainly will get your adrenaline pumping, but don't be surprised if you find yourself laughing at some of Michael's absurdly random visions as well.
Movie Rating: B-