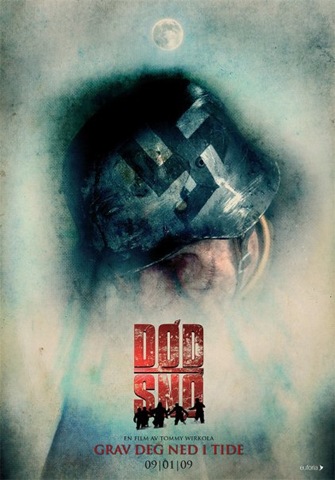 Dead Snow is a Norwegian horror film from director Tommy Wirkola that got all kinds of buzz at Sundance. I mean, get real, it's Nazi zombies. As I sat down to watch the movie tonight, I told my wife, "It's hard to mess up Nazi zombies. You take zombies, make them Nazis, and you've got a good movie. Maybe toss in some pirates and ninjas riding robots for good measure".
The story isn't a shocking one: eight Norwegian medical school students go to a remote cabin for Easter holiday and are soon visited by a mysterious stranger with a story. They drink, they *ahem*, and they have a good time until they find a mysterious box under the house and then all hell breaks loose.
There are a lot of reviews out there saying that without the Nazis, this is just another zombie movie. The truth is, those people are right. Even with the Nazis it's not exactly a complex story. But I submit that a zombie movie is a zombie movie and for the most part there's not going to be a lot there to really blow you away.  Wirkola isn't reinventing the genre here, he's adding another fun piece to a particular type of movie that's meant to be, well, fun. Dead Snow is a lot of fun. Is it The Godfather? No, it's not. But will you have a good time watching it if you enjoy a good zombie movie? Yes, you will.
If you like this sort of thing, you should watch Dead Snow. Not to "spoil" anything for you, but people will be eaten, dismembered, and will try to escape. Zombies will look stupid, will eat people, and will probably smell horrendous. There are chainsaws, hatchets, snowmobiles, and a particularly "touching" love scene involving an outhouse. Oh yeah, did I mention that the zombies are Nazis?  As Renee Zellweger would say, "You had me at Nazi zombies".