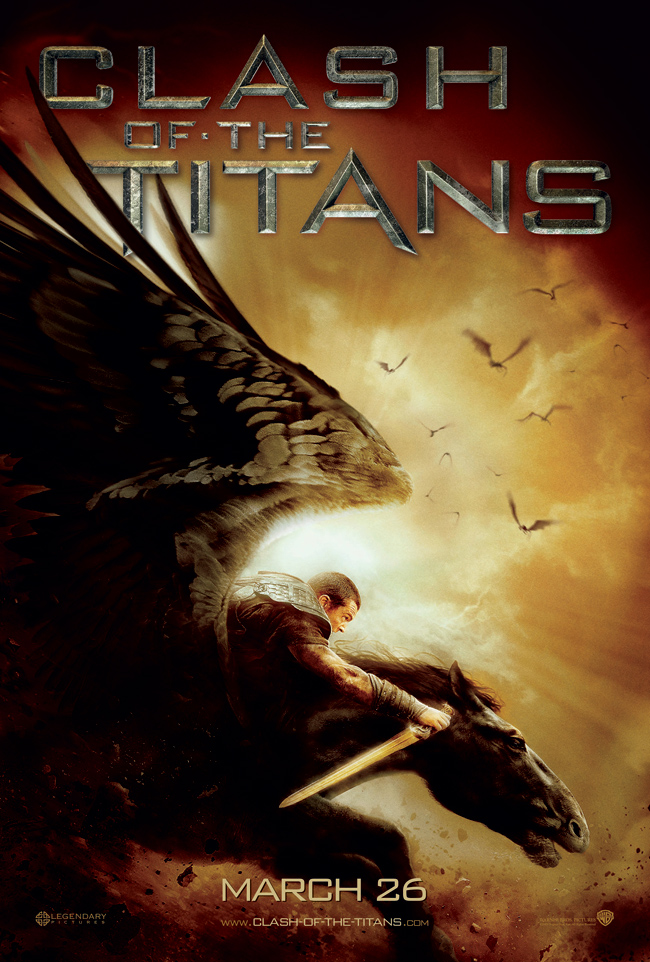 Review: Clash of the Titans (2010)
Director: Louis Leterrier
Screenplay: Travis Beacham, Phil Hay, Matt Manfredi
Based On: Clash of the Titans (1981)
Cast: Sam Worthington, Liam Neeson, Ralph Fiennes, Mads Mikkelsen, Gemma Arterton, Alexis Davalos
Rated: PG-13
Of all the movies that have been put into Hollywood's Big Box O' Remakes, Clash of the Titans arguably had the right to be there. The original was done about thirty years ago and actually is pretty dated (unlike some of the movies getting the remake treatment lately). With the advancements in what filmmakers can do today, this was the perfect genre and material to update.
That being said, this movie can be summed up in one word: redonkulous.
Oh, boy. Before I get into why I would choose to sum up this movie with one made-up word, allow me to save you some time and money by saying that if you saw the trailer you pretty much saw the entire movie. It showed you everything that would have made for an awesome reveal in the movie. Big, long, tedious kraken reveal? No thanks, Movie! You showed me the goods for free on TV! Because of this, the trailer left me feeling more enthusiastic and excited about the genre and the story than the actual hour-and-fifty-minute movie did. The people sitting next to me were literally falling asleep during the first half of the movie. I can only speculate on why their eyelids suddenly became too heavy the minute Titans started, but I'm pretty sure it wasn't because movie theaters are the best places to take naps.
The flow of the story felt off. That's the simplest way to put it. It was slow in the beginning, and then made a mad, sloppy dash for the finish line at the end. There was hardly any time given to character development, so you didn't really care when they all died. It also didn't feel like there was enough Mt. Olympus time (I had no idea that Danny Huston played Poseidon, and I couldn't make out who was who when all the gods/goddesses where standing around watching Earth). I'm not saying that this is the type of movie that requires deep character studies. It's supposed to be a fantasy/action movie, so clearly it doesn't. However, giving the viewer more time to care about our ragtag band of heroes or giving the viewer the chance to recognize Apollo or Hermes in the pantheon probably could have boosted the enjoyment factor a little more.
That being said, I actually did enjoy what little time Mads Mikkelsen had on screen. I honestly could have watched an entire movie about his character over Perseus, and that's what surprised me most when coming out of this movie. I thought Sam Worthington was completely underwhelming here. What happened to the guy that, after sitting through Terminator Salvation, I thought was going to be the awesomest thing in genre movies since the pulse rifle?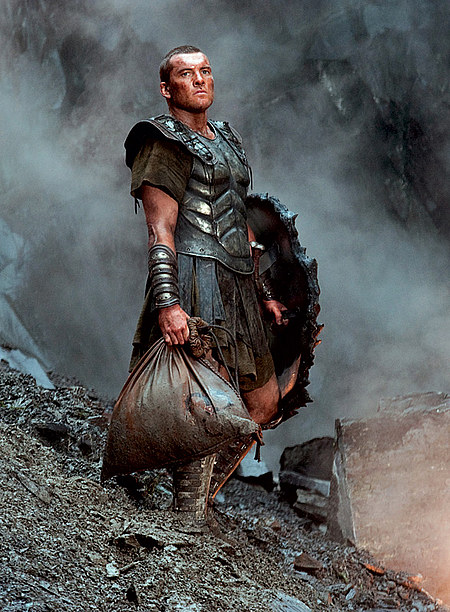 Throughout the entire movie, Perseus continually claims that he can fix this situation with the gods "as a MAN" and not a demigod or with gift given to him by Zeus (his bio-father). It doesn't come off the way they intended it to, which I think was supposed to be that "we can do it" kind of moral booster thing. It really just feels like he's whining and needs a juice box and a cookie to calm him down, but I can't tell if that's because of the way Worthington chose to play Perseus or because Perseus was just written that way here. In either case, I couldn't have cared less if he was successful in stopping the scuffle between Zeus and Hades or if he saved Andromeda. I was kind of hoping the kraken would do us all a favor, get sick of being someone else's pet, and destroy everyone starting with that crazy religious zealot who just might have been the best actor in the entire flick (after the two guys who played the hunters).
My other major issue here would be the CGI. Presumably, the special effects for genre movies are light years ahead of what we had thirty years ago. I would gladly trade the Ray Harryhausen stop motion Medusa for the CG'd one here. For me, obvious CGI doesn't make a good substitute for practical effects. Ever. The fact that they made the djinn (which was surprising to see in a movie about Greek mythological figures) and the Fates practical effects and didn't with Medusa left me gobsmacked.
I was the odd man out on this issue with the people I went to see the movie with, but Medusa's CG'd human face took me out of what little suspension of disbelief I had in this movie. I'm not sure why they didn't just use the fashion model they motion captured for the animation in the movie instead of the motion captured animation. Am I calling for a comeback of the cheddarfest sword fights with claymation skeletons? As tempting as that is for a practical effects junkie like me, no. Am I trying to say that there's something visceral about seeing practical effects that CGI can't get to yet? Yes, and there are plenty of directors and effects houses out there who get that. If you can do it as a practical effect, especially when it comes to characters with faces, I really think you should do it as a practical effect. Because, while the Medusa fight was the best fight of the movie, it looked like a modern-day version of Who Framed Roger Rabbit — live action with animation.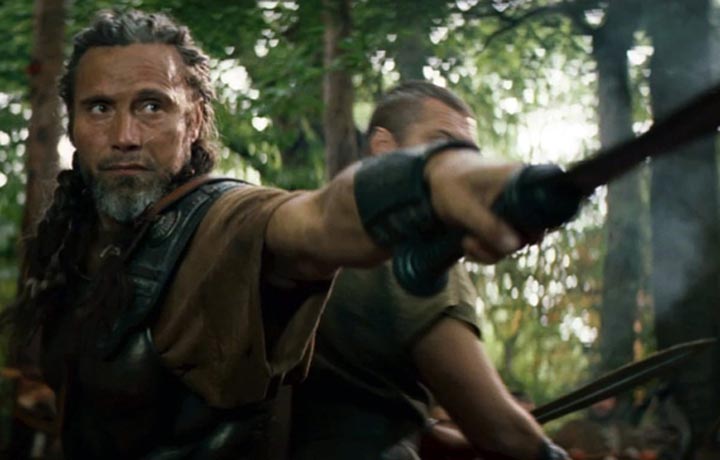 So, what exactly made this movie "redonkulous"? The fact that the first movie that came to mind when trying to compare it to something was the movie Krull. Clash of the Titans is this decade's version of those corny fantasy movies from the '80s that you'd equate with a low budget and a cast full of actors who aren't big names yet, if ever. Only, this is a big budget movie and it's full of actors whose names people know, so you leave the theater feeling like you just gave away your money for something you'd have happily enjoyed on a Saturday during a Syfy movie fest. There was nothing this remake improved upon other than getting Liam Neeson into that crazy Zeus beard and having him say a line of dialogue that is being recited in bedrooms the world over as we speak. It didn't even improve the cheese factor the original had (that last exchange of looks between Perseus and Zeus notwithstanding), and if you're going to remake a movie, one would think you'd improve on something from the original. I own Krull on DVD and just about every crappy, campy genre movie there is. I'd be hard pressed to buy this when it comes out on DVD.
This movie did not leave me with the feeling that I needed to strap on a pair of sandals, a leather skirt, and go run around town swinging my hoplite infantry sword about wildly while quoting lines of dialogue from it. And that's what a genre movie should do, get you excited about something. Not even the squeal I suppressed as I turned into a 12-year-old girl at the sight of a herd of pegasus could make me excited about this movie.
Fun Fact: the character Kegan from Krull was actually one of Liam Neeson's early movie roles.
Rating: 2.5 / 5 Stars