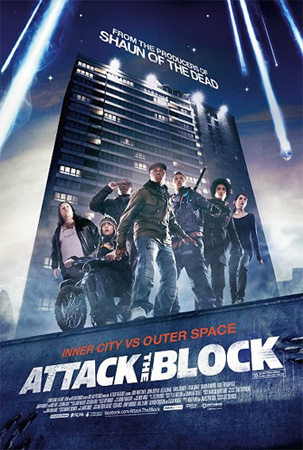 Review: Attack the Block
Director: Joe Cornish
Writer: Joe Cornish
Cast: Jodie Whittaker, John Boyega, Nick Frost, Luke Treadaway
Rated: R
In the directorial debut of Joe Cornish, this British adventure movie manages to present the familiar adolescent-finds-an-alien storyline in a way that's both fresh and entertaining. Attack the Block delights in retooling expected story lines, almost daring the audience to think they know what's going to happen next.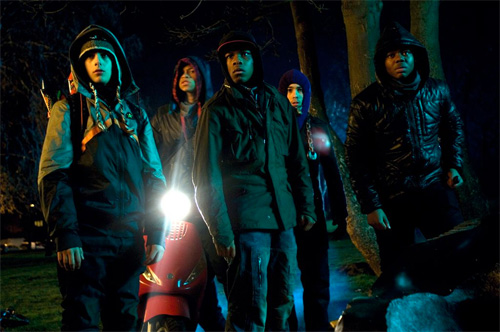 Instead of landing in the suburbs, the grizzly aliens of Attack the Block make first contact in the streets of South London. A tough neighborhood for anyone, including resident Sam (Jodie Whittaker), the alien landing breaks up a mugging by a hooded street gang lead by Moses. Brilliantly acted by John Boyega, Moses turns the gang's attention to the newest resident on the block and attacks the alien after suffering scratches to his face and his pride. Events spiral out of control and the teens soon find themselves in the middle of a much larger invasion. Using skills learned on the street, Moses and his friends enlist Sam, marijuana seller Ron (Nick Frost) and Ron's customer Brewis (Luke Treadaway) to battle alien and human foes.
The casual violence and crime shown is especially poignant considering recent events in England. The movie doesn't make excuses or handwave the occurrences, but offers looks into a world that's considered alien to many. There's no talking head moments and, despite the teenagers' disagreeable introduction, the audience finds themselves rooting for them.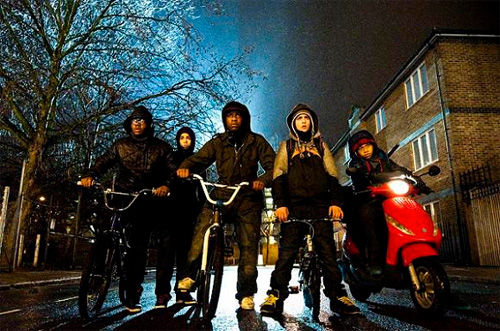 Showings in America don't offer subtitles but any audience who's spent time with BBC America should be able to pick up the vernacular without any difficulties. You might even walk out of the theater wanting to introduce "bruv" into your vocabulary.
Attack the Block is what summer movies should aspire to be: entertaining, comedic and fun with a couple of explosions thrown in. It's still in limited US release — if Attack the Block isn't available in your city make sure to grab the DVD when it's released. You won't be disappointed.