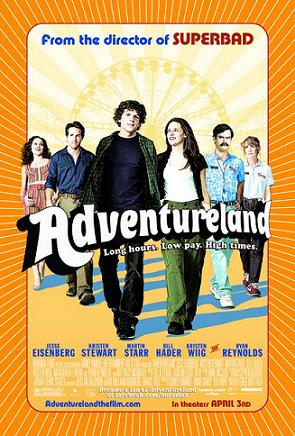 Adventureland is a more mature offering from Superbad's Greg Mottola.  Read what Kelly has to say about the latest "geek coming of age" tale. Spoilers ahead!
Directed by: Greg Mottola
Produced by: Sidney Kimmel, Anne Carey, and Ted Hope
Wrreviitten by: Greg Mottola
Starring: Jesse Eisenberg, Ryan Reynolds, Kristen Stewart, Martin Starr, Bill Hader, Kristen Wiig, Margarita Levieva, Mark Miller, Mary Birdsong
Distributed by: Miramax Films
Release date(s): April 3, 2009
Running time: 107 min.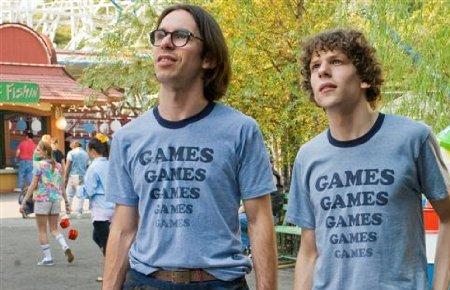 Synopsis: It's the summer of 1987, and James Brennan has graduated from college and is certain about where his life is going and how he's going to get there. He's been accepted to Columbia in New York and has a dream European vacation planned, only to have the bomb dropped that his father is being transferred and now all of the plans are out of their financial reach. Not only have all of Brennan's plans been dashed, but he must now find a summer job.
The only job he is qualified for turns out to be working the pathetic gaming booths at Adventureland, an older theme park where the paint is chipping and sugar pumped kids roam with their obnoxious parents. He starts making friends out of the quirky cast of characters and after an incident where he is forced to give away a prize he isn't supposed to give away he becomes intrigued by fellow employee Em.
Em and James embark on an awkward relationship fueled by mutual attraction and perhaps the fear of vulnerability. Claiming not to want to put his guard down, James effectively does and starts falling for the enigmatic Em, while she lives a somewhat double existence between her growing feelings for James and her affair with married park maintenance man Mike Connell. A series of miscommunications and bad timing leaves James with the knowledge of what Em has been doing and leaves their burgeoning relationship dead in the water.
Only after Em and James realize that they both have made mistakes and poor judgements do they realize they care about each other. They meet again after both independently quit the theme park in New York. The film ends with the two rekindling their relationship and is in many ways the resolution to both of their "coming of age".
Review: I love the "geek coming of age" story as much as the next guy, and I have to say this one had a lot of heart. I enjoyed Superbad, and Eisenberg can come across as a slightly older Michael Cera, but there was more meat on the Adventureland bones. Superbad had a run of slapstick and awkward situations, those brief episodes being more memorable than what may or may not have been the plot. Adventureland has some of the same young adult transitioning into the real world awkwardness, but in my opinion its more relatable.
Adventureland certainly has its moments of blatant immaturity, but it's not outlandish or beyond what you would expect from the age group this movie depicts. It's nice to have a coming of age movie that doesn't just focus on the high school crowd. This is the movie for those of us being forced into the real world after getting our degrees, a situation I'm quite familiar with at the moment. Clarity of purpose doesn't always happen right after high school graduation, for some of us it takes a bit longer. A younger high school crowd will enjoy it just as much as I did, but I'm glad it didn't pander to the youth.
That said, the film did have its drawbacks. While Eisenberg was awkwardly charming, Kristen Stewart suffers from some of the same wooden acting problems I mentioned in my Twilight review. For a good part of the movie she seems dazed and confused that she's supposed to be Em and not Kristen with the stuttering, awkward conversation gaps and pushing-her-hair-back-mannerisms we've seen before. However I will say that during the one really emotional scene in which she breaks things off with Ryan Reynolds' character only to be called out, misunderstood, and effectively dumped by Eisenberg's character, I actually believed she was upset.
I really wanted more out of her as an actress, but maybe she's still working on her acting chops. Being a fan of the Twilight series, I can only hope. I digress. For the most part the acting is well done and the characters are complex and interesting. If you're going to see a movie in the near future this should be the movie you see. It might not have all of the shtick of Superbad, but in the end I think it will be more memorable. I'd definitely give this movie an 8 out of 10.