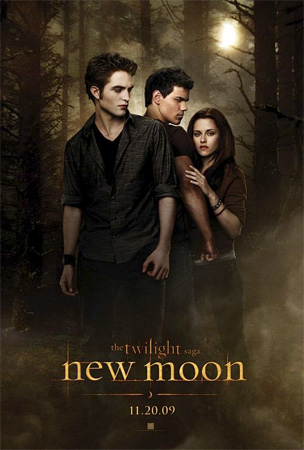 Director: Chris Weitz
Screenplay: Melissa Rosenberg
Based On: New Moon by Stephenie Meyer
Cast: Kristen Stewart, Robert Pattinson, Taylor Lautner
Rating: PG-13
The cinematic adaptation of author Stephenie Meyers's popular Twilight series continued this weekend with the release of the second installment of the franchise, The Twilight Saga: New Moon. The film, which was released on November 20, 2009, broke the midnight screening box office record previously set by the Harry Potter series with an astounding $23.6 million earned from the midnight screenings alone. In its first day, New Moon took in $72.7 million, breaking the $67.2 million opening-day record previously held by The Dark Knight. According to the Associated Press, the film totaled $140 million in its opening weekend, making New Moon the third-largest weekend gross in box office history behind Spider-Man 3's $151.1 million opening weekend and the $158.4 million grossed by The Dark Knight during its opening weekend.
Although it was obvious that New Moon would do well at the box office despite the quality of cinematography and acting in the movie, less obvious is why Twilight fans, and the more fanatical "Twi-hards" (really, really intense Twilight fans), are so obsessed with this series of book adaptations. The first film, which was released in November 2008, is a cinematic abomination. Casting choices were terrible not only from an aesthetic perspective but, as audiences not blinded by unconditional love for the characters soon found out, based on the quality of performance as well. Despite the fast-spreading belief proliferated by Kristen Stewart's  performance as Bella Swan in both Twilight and New Moon, blank stares, lip-biting and a bland, melancholy attitude doesn't equate to good acting. Similarly, Robert Pattinson's emaciated, somewhat mechanical performance as the vampire Edward Cullen doesn't even equate to mediocre acting. Unfortunately for both actors, the fact remains that neither Kristen Stewart nor Robert Pattinson is even remotely attractive enough to mitigate their terrible performances, especially when compared to Taylor Lautner's rendition of Bella's Quileute friend Jacob Black and his fellow "wolf pack" members: Chaske Spencer (Sam Uley), Kiowa Gordon (Embry Call), Tyson Houseman (Quil Ateara), Alex Meraz (Paul), and Bronson Pelletier (Jared).
While Pattinson looks even more emaciated than he did in Twilight, Tyler Lautner's transformation between the first and second films is extremely aesthetically pleasing and he and the other werewolves provide some three-dimensional characters that stand in stark contrast against the eerily hollow portrayals that vampires receive in New Moon. Unfortunately, Kristen Stewart's physical appearance requires a very high level of willing suspension of disbelief from audience members not already infatuated with the Twilight series. While individuals who read the Twilight books understand why both a vampire, Edward Cullen, and a werewolf, Jacob Black, are so infatuated with an average high school teenager like Bella Swan, those audience members unfamiliar with Stephenie Meyers's series are left to wonder what exactly it is that such supernatural beings see in Kristen Stewart's character, especially given how mopey, uninteresting, and overacted her character is in New Moon.
Fortunately, the cinematography of New Moon is significantly better than that of Twilight, most likely due to changes in the production team. While Twilight was directed by Catherine Hardwicke (Thirteen, Lords of Dogtown) with cinematography by Elliot Davis, who apparently favors slow, rotating close-up shots of actors' faces, New Moon was directed by Chris Weitz (About a Boy, The Golden Compass) with cinematography by Javier Aguirresarobe, who seems to have a better understanding of how to frame a shot successfully. In addition, Twilight film editor Nancy Richardson (Thirteen, Lords of Dogtown) was replaced by Peter Lambert, who worked in the Editorial Department for Love Actually, Children of Men and Hannibal Rising, among other films.
The Twilight Saga: New Moon tells a condensed version of Meyers's second novel of the same title. New Moon follows Bella Swan as she tries to pick up the pieces of her now-desolate life in Forks, Washington after Edward leaves town in an effort to protect Bella from the vampires that continually surround her. Edward realizes that he must extricate himself from Bella's life in order to protect her after a paper cut received during her birthday party has his vampire brethren trying to suck Bella dry.  The love triangle that will haunt the remainder of the Twilight series develops when Bella begins to spend increasing amounts of time with Jacob Black, who, although younger than Bella, clearly loves his misfit female friend.
The highlight of New Moon is definitely the gratuitously shirtless Quileutes. Shrieks of excitement were heard around the theater each time that Lautner, Spencer, Gordon, Houseman, Meraz, and Pelletier appeared scantily clad onscreen, muscles glistening, and given Pattinson's frightening appearance throughout the movie, the Quileutes provide viewers pained by the poor acting displayed by several of the main characters with something pretty to look at as they wait for New Moon's 120-minute runtime to progress. By far the best (and perhaps most obvious) quote of the film is Bella's comment to Jacob as he carries her in his arms: "You're kind of beautiful, you know?" But Jacob Black (and likewise, Taylor Lautner) probably doesn't need to be told that he is beautiful. It's extremely apparent. After Eclipse is released next year (and Breaking Dawn, after that, if the fourth book in the series is adapted as well), it will be interesting to see what other projects Lautner, Spencer, Gordon, Houseman, Meraz, and Pelletier will join.
Rating: 2 / 5 Stars