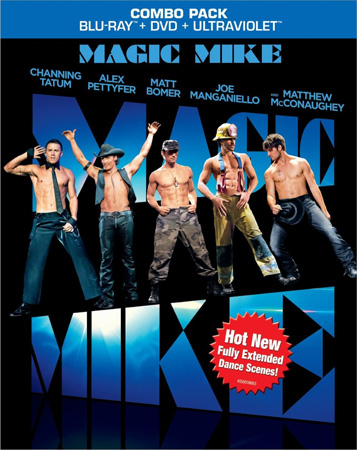 I'll be the very first to admit that I had no interest in seeing Magic Mike when it was in theaters. The movie's marketing pushed it as being an entirely brainless beefcake parade, two hours full of greased up Hollywood dudes thrusting their junk at the camera. I have no problem with movies that skew for the audience Magic Mike sought, but I'm just not a part of that demographic. I likely never would have even given the film a chance if a review copy hadn't shown up here on Blu-ray. After sighing and sticking the disc in the player, I realized I'd been entirely mislead. Magic Mike is much more than its marketing lead me to believe, and it just might be a movie you need to see, too.
When he was 19, Channing Tatum worked as a stripper in Miami, Florida. Director Steven Soderbergh and writer Reid Carolin used that as both a springboard and a selling point for getting Magic Mike off the ground. While the setting and atmosphere recall Tatum's own past, movie's plot is entirely fictional, allowing for some scary craziness to ensue. Tatum plays the titular character, Mike Lane, who has been stripping in Florida for more than half a decade by the time the movie starts. Mike befriends Adam (Alex Pettyfer), a 19-year-old new hire on the construction job Mike works as one of his several day jobs. After running into Adam in Tampa's club district, Mike brings him along to his night job at the male strip joint Xquisite, owned and run by the aging and flamboyant stripper Dallas, played by Matthew McConaughey.
Adam is aimless in life, and Mike decides to mentor him, encouraging him to join the merry band of clothes shedders at the club. Adam's straightlaced sister Brooke (Cody Horn) is less than thrilled by the idea of her brother being a stripper, and Mike promises to keep an eye on Adam. Even as Adam's star is rising at Xquisite, Mike is tiring of the lifestyle. He's been saving all the money he's made from stripping and doing his other various jobs to invest in his entrepreneurial venture. Mike wants more from life than easy dancing money and an endless stream of women. He longs for the American Dream and wants to make it work for his own life. That's where the true heart of Magic Mike can be found. By night, Mike thrusts and gyrates his way through countless dance routines and beds a neverending train of women (notably including Olivia Munn as Mike's off-and-on psychiatrist fling Joanna). By day, he longs for something more meaningful, and he hopes to find that in a furniture business he dreams of starting.
Magic Mike shares a lot of DNA with Boogie Nights. Both movies, seen on the surface, are about wild people living on the edge of sexual extravagance and frequently toppling over that cliff. Beneath the voyeuristic glee of witnessing people living these crazy lives, both movies dig deeper into their characters and reveal that these porn stars or strippers all are actual people that recognize the ludicrousness of what they have become or are becoming. They want the same kinds of success, love, and happiness that people who don't take their clothes off for money want, and through that empathy they connect with the audience on more than a carnal level. These are characters laid (often literally) bare as they struggle with the strange circumstances in their lives to reach some sort of peace. Both movies present quests for that American Dream, and both show how the path can twist and convolute along the way. Boogie Nights has a deeper and more poignant American Dream story, but the same hooks definitely are there in Magic Mike, delivering just as much self doubt and angst.
Of course, Magic Mike still is just as watchable as a movie about hot dudes stripping.
There's not a whole lot of extra features included on the Blu-ray. The three extended scenes on the disc all are extended dance sequences. No great character moments or big reveals there. The Blu-ray also packs in a "Dance Play Mode," which is about twenty minutes of all the dance scenes from the movie slammed together. In other words, Dance Play Mode edits out what makes Magic Mike a great movie. That said, there's definitely an audience for this feature, and I'm sure a lot of viewers will love having twenty unbroken minutes of manflesh on their HD screens. The final bonus feature is a short behind the scenes clip that lasts about seven minutes.
Magic Mike might have been your favorite movie of the year, or it could have been a film you avoided after seeing the first trailers. Either way, it's a movie worth seeing. Magic Mike released on Blu-ray on October 23, 2012, and is in stores now.