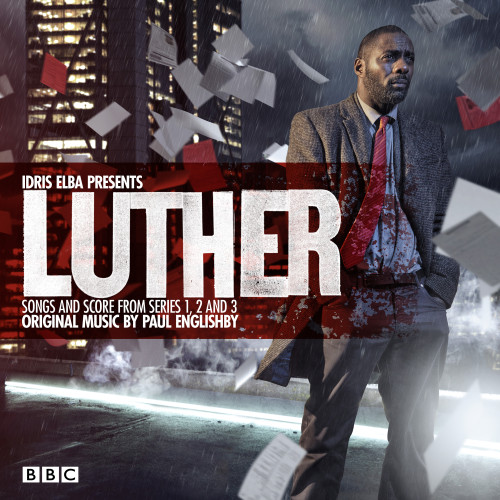 For three series, viewers were held in suspense over the trials, tribulations, and unorthodox investigative techniques of a troubled London copper in the hit BBC drama Luther. Fans of the show can now relive the suspense with this compilation soundtrack containing music selected from across the 14 episodes of the show. Highlights from Paul Englishby's background score are interspersed with an interesting mix of songs from a wide variety of artists to create an album experience that is sure to entertain both fans of the show and those who have never seen an episode.
Paul Englishby's composing experience ranges from television and film scores to music for stage productions, including those of the Royal Shakespeare Company. For the score to Luther, he does a great job of reflecting the tone of the show in the music. Whether accompanying DCI Luther's darkest, most brooding moments, or the suspenseful hunt for a suspect, Englishby gets it just right.
While Englishby's score is great, however, it is the collection of various artists showcased across the three series that make this soundtrack so awesome. The album starts, like every episode of Luther, with Massive Attack's "Paradise Circus," its relaxed beat and melancholy melody setting us up for the drama to come. The rest of the cuts were selected to play over various episodes' closing credits. In this promotional video put out by Silva Screen, Idris Elba explains that the songs were chosen to be a high-energy way to take the audience out of what they had just seen and set them up to look forward to the next episode. In this I think they definitely succeed while still maintaining the overall darkness of the show. Cases in point: the original version of "Don't Let Me Be Misunderstood" by Nina Simone, and Marilyn Manson's cover of "Sweet Dreams (Are Made of This)" are both much more in keeping with Luther than the more upbeat versions of these songs that we're used to hearing. The styles run the gamut as well, from the jazzy blues and heavy metal of the aforementioned two songs to Robert Plant's folk-like "Satan Your Kingdom Must Come Down" and everything in between.
I can't say that this soundtrack is always enjoyable, unless you enjoy music that keeps you on edge and in suspense. It is a great ride, however, and a great addition to any music collection.
Track Listing:
Massive Attack – "Paradise Circus"
"The First Case"
The Heavy – "Big Bad Wolf"
"Carnage"
Gil Scott-Heron – "Me and the Devil"
"Luther Does Things His Way"
Robert Plant – "Satan Your Kingdom Must Come Down"
"John Luther"
Nina Simone – "Don't Let Me Be Misunderstood"
"Unlucky Young Couple"
Emiliana Torrini – "Gun"
"Attack In The Attic"
Suede – "She"
"The Children"
Joan As Police Woman – "Flash"
"Double Crossed"
Marilyn Manson – "Sweet Dreams (Are Made Of This)"
"He's Behind You"
Hanni El Khatib – "I Got A Thing"
"Alice"
Grinderman – "Palaces of Montezuma"
Kasabian – "Black Whistler"
Rating: 4 / 5 Stars