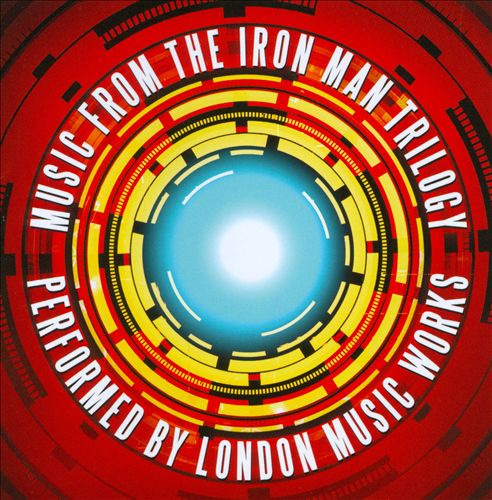 Earlier this year, the third installment of the Iron Man movies came out. And the ending (which I won't spoil) didn't seem to lend itself to an Iron Man 4. So, while we were left to wonder how Iron Man would live on in the Avengers sequel, London Music Works released a compilation of music from the Iron Man trilogy. Today, I'm here to review a selection of songs from that.
Movie: Iron Man
Song: "Merchant of Death"
This track is the second in the line up, and starts with a low electric bass-like instrument that immediately sets the tone. It then breaks out into a heavy rock sound and has definite action feel to it. I could see it being played during an action scene, maybe a theme for describing Tony and his weapon manufacturing.
Movie: Iron Man
Song: "Mark I"
This third track starts off very soft, with a kind of eerie Middle Eastern desert feel, before building into an intense action-y feel. It's almost as if this was meant to be used to show Tony and Yen-Sid building the suit and then making their escape. As the song goes on, it switches from the action-y feel to a quick and frantic tempo. This is most likely when they escape. Near the end, the song turns more orchestral and could be used when Tony is flying away in the Mark I.
Movie: Iron Man
Song: "Iron Man"
This track is fifth on the list, and is very soft in execution, building in intensity very little, and changing emotional direction halfway through, before building to the Iron Man theme we all know and love from the movie. It's easy to tell where this could be used: at the end of the movie, where they're setting things up for the inevitable Iron Man 2.
Movie: Iron Man 2
Song: "Sledgehammer V2"
The first track from the Iron Man 2 set is very heavily rock at the start, possibly for the opening of the movie, and during the second half, it switches to a more orchestral feel and fades out. This is most likely an exposition piece that gives atmosphere to a scene that's setting everything up for the rest of the film.
Movie: Iron Man 2
Song: "Iron Man Battles the Drones"
This fourth song starts out very orchestral, then slowly gains a rock feel before building and falling again. Then, it becomes intense once more and takes on a frantic tone. It's very clearly used for the scene in Iron Man 2 where War Machine and Iron Man himself face off against the drones that were sent out.
Movie: Iron Man 2
Song: "I Am Iron Man"
The last song in the Iron Man 2 set is very heavy with an orchestra feel and feels very much like a hero's ballad. The righteous have prevailed, and it's time for the hero to rest. The ending of this particular track closing off with a bang, setting everything up for the final installment in the series…
Movie: Iron Man 3
Song: "Attack on 10880 Malibu Point"
The second track in the Iron Man 3 set needs no explanation, really. We all remember the scene in Iron Man 3 where the Mandarin's forces attack Tony's house. This song obviously takes place during that moment. Tony suits up, goes to destroy the attackers, and the epic action sequence is perfectly illustrated by the music. When Tony retaliates, the music takes on a heroic feel. When things go wrong, it takes a sinister turn. When all seems lost, the music builds and ends with a sinister feel as Tony's house is destroyed.
Movie: Iron Man 3
Song: "New Beginnings"
The hero's house is gone. He's hopelessly down, but not out. He works tirelessly to fix himself and the suit back up. This third track has a very determined and strong feel, and it's most likely played during a moment of healing, or realization that Iron Man is NOT invincible, and that underneath the metal exterior, he's still VERY human and VERY vulnerable. Toward the end of this track, the determination dissolves into a very resolute feel. Tony knows what needs to be done, and he will do it. It then takes on a very concentrated form as Tony sets to work to accomplish what he needs to.
Movie: Iron Man 3
Song: "Can You Dig It (Iron Man 3 Main Titles)"
A very frantic and jazzy take on the music of the series which was played during the credits of Iron Man 3, if I remember correctly. It's very fun, and sounds like the perfect way to end a series. It closes off all the avenues and leaves no stone unturned. It's easily my favorite of the bunch.
---
There you have it. Three songs from each set in the collection. There are a total of 15 songs, so to see the ones I didn't go over, you'll have to buy the collection when it comes out, and I highly recommend it. London Music Works did a phenomenal job with this collection, and I'd say it's worth every penny. If you love Iron Man and the movies, you'll love this collection.