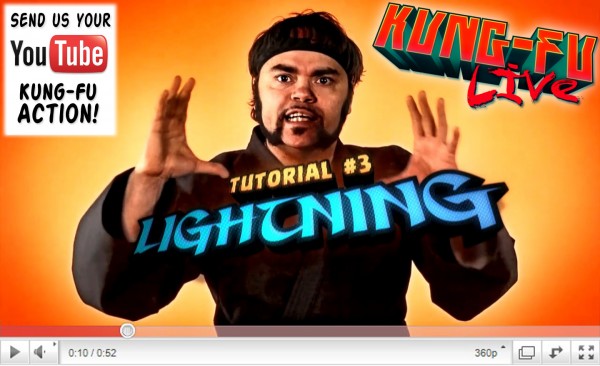 Virtual Air Guitar Company has launched a YouTube campaign and video page on its website to promote their new game Kung-Fu LIVE, which is now available for download from PlayStation Network. They sent us the details on the contest that accompanies this new YouTube page:
In addition to the latest trailers and off-the-wall tutorial videos, the page will feature players from around the world showing off their best, worst, most bizarre, insane, ridiculous, and COMPLETELY crazy fighting styles which could net them kung-fu star status and some rare butt-kicking gear from the independent team at Virtual Air Guitar Company.

Players will need to email their YouTube videos to kungfuvideo@virtualairguitar.com to be considered for placement among the top ranking Kung-Fu LIVE martial-artists in the world. The first 20 entries will receive exclusive Kung-Fu LIVE gear, including a rare bandana and signed photographs of international video game celebrity Sensei Oskari himself. Each week, players and viewers will then be able to vote for their favorite videos on the site, and even more free prizes and goodies will be up for grabs!

"Since our launch this month, we've seen a seriously positive response from the fans who each have their own unique way of taking down enemies using every move they can imagine," said Teemu Maki-Patola, CEO of Virtual Air Guitar Company Ltd. "Seeing people playing, fighting, laughing, and performing some crazy moves is a big part of why we made this game, and now we're offering all of our biggest fans the chance to share the fun they have with their kung-fu prowess with the rest of the world!"

Kung-Fu LIVE, from Helsinki–based independent game developer Virtual Air Guitar Company Ltd., transforms everyday gamers into real life kung-fu action heroes. With their advanced FreeMotion technology, players can finally put themselves directly into the action when they download the game onto the PlayStation3 computer entertainment system.

In its review of the game, GamePro lauded its sense of ridiculousness, saying "Some games are unintentionally goofy, and some, like Kung-Fu LIVE, intentionally cultivate the goof." Gaming site Joystiq also praised its sense of humor and serious workout appeal, saying "Fans of Kung-fu pulp or those who want to sample motion-controlled gaming without breaking the bank should find enough stupid fun in KFL to warrant the $14.99 download. Just don't blame me if you can't lift your arms in the morning."

Kung-Fu LIVE has been published independently by Virtual Air Guitar Company Ltd., and provides a fast, fun, and action-packed experience while ushering in a new era of full-body motion gaming. Kung-Fu LIVE is available now on PlayStation®Network for just $14.99 USD in North America, and only €13.99 EUR / £10.99 GBP in Europe.
If you are interested in learning more about Kung-Fu LIVE, visit the official site or look for more details on the Facebook page for Virtual Air Guitar Company, and be sure to follow the game on Twitter.