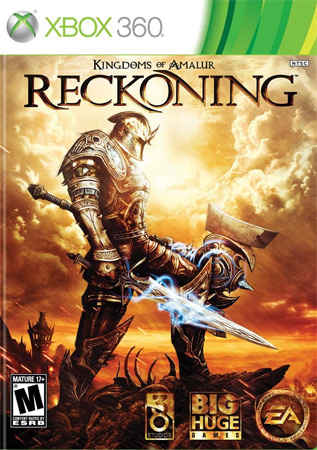 2012 has just begun, but the roleplaying video game market already is becoming pretty crowded with Skyrim a recent addiction and Mass Effect 3 looming in the wings, not to mention a slew of other recent RPG releases that likely have been keeping your attention. In the midst of those behemoths comes Kingdoms of Amalur: Reckoning, a long awaited first release from Curt Schilling's 38 Studios.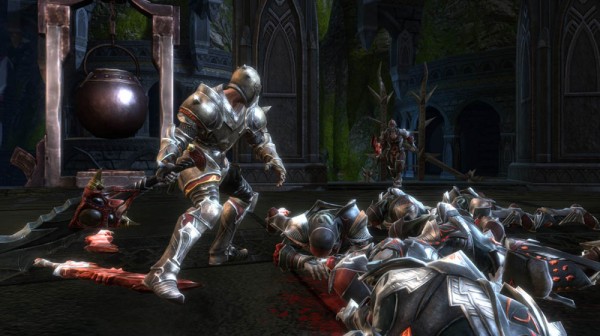 Anticipation has been high for this game, given the cadre of big-name talent behind its production. Reckoning's head designer is Ken Rolston, the man behind two of Skyrim's precursors, Morrowind and Oblivion. Comics artist, Image Comics founder, and infamous baseball owner Todd McFarlane is the art director. Completing the grand triumvirate is fantasy author R.A. Salvatore, who has penned the story of Reckoning, as well as 10,000 years worth of history for the game world. Reckoning is 38 Studios' first foray into Amalur, the land they plan to use as the setting for an upcoming massively multiplayer RPG. Reckoning itself originally was going to be that MMO, but the project transitioned into a single player experience after 38 Studios acquired Big Huge Games in 2009. Even though this first entry in the franchise is a solo outing, it still has a lot of the familiar trappings of the massively multiplayer genre.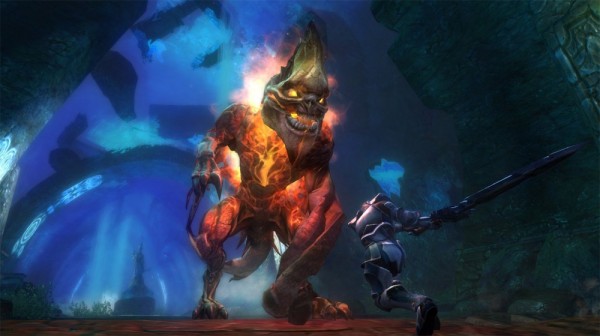 Reckoning focuses on one region of Amalur called the Faelands. It is there that immortal beings called the Fae coexist with mortal humans, elves, and gnomes. The Fae and much of Amalur's lore derives from Celtic faeries mythology, lending some familiarity to this otherwise brand new fantasy world. The faeries of Amalur are not of the Tinkerbell Disney persuasion, but rather are mystical beings with their own societies and factions, and there also are villainous offshoots like the mischievous Brownies. The Fae are divided between the Winter and Summer Courts, separate ruling bodies within the Faelands. A subsect of the Winter Court is the Tuatha, an aggressive band of warriors led by Winter Fae Gadflow on a quest to purge Amalur of its mortal inhabitants. The resulting conflict is the Crystal War, which threatens to drown the entire Faelands in blood.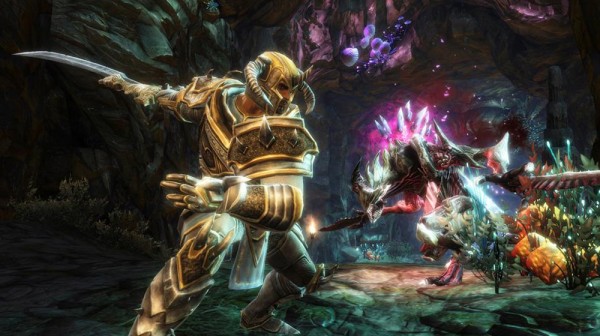 Your character is one of the Faelands' mortals, and you begin the game already dead and on a cart being trundled along by gnomes. The gnome scientist Fomorous Hugues has developed a Well of Souls with an aim at resurrecting fallen mortals. The Well is an ongoing project that has not worked until it manages to revive you after your corpse has been dumped onto a grotesque heap of other unfortunate bodies. Fate and destiny play a great role in the lives of the inhabitants of the Faelands. Each person, mortal or immortal, has a specific fate that can be read by oracular Fateweavers. Due to the predestined nature of the world, it is common knowledge that the Tuatha will win the war and decimate humanity. When your character returns from death unnaturally, though, you end up outside the realm of fate. Having already fulfilled your destiny to die, you no longer have a fate, and you become an unexpected variable that very well could alter everything the Fateweavers thought they knew about the future.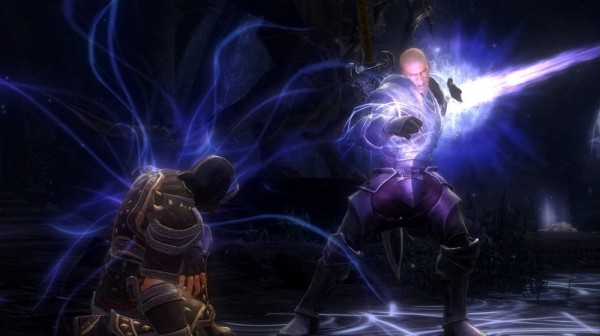 Since you begin the game as a Fateless One, everything about your character progression is up to you. The character creation process offers you a choice of four races. Each tries to nudge you in a general class direction, but you honestly could run in any direction with any of the four starting races. From there you will pick your starting destiny, which is represented as one card from a Tarot-like deck. The initial destinies available for selection include the first steps along the usual paths of the warrior, the mage, and the thief, although it's clear from the beginning that you will be free to change your destiny along the way and even combine paths for unique hybrid classes.
The gameplay is open world and gives you a lot of freedom to explore. Quests are structured in a very familiar MMO format. You'll talk to an NPC, who will set a task for you. You'll need to follow a waypoint on your map to the location where you can perform that task, and then you'll return to the quest giver to collect your experience and rewards. Reckoning very much is a game based on a quest loop that constantly dangles cool new abilities, upgrades, and loot to entice you into more and more questing. The quests are divided among a main quest line, numerous faction based quests, and an abundance of side quests. There is a lot less depth and creativity present in most of the side quests, but the faction and main questlines provide plenty of engaging moments and rewarding plot developments. You're unlikely to run out of things to do, as there are literally hundreds of quests to find throughout the Faelands.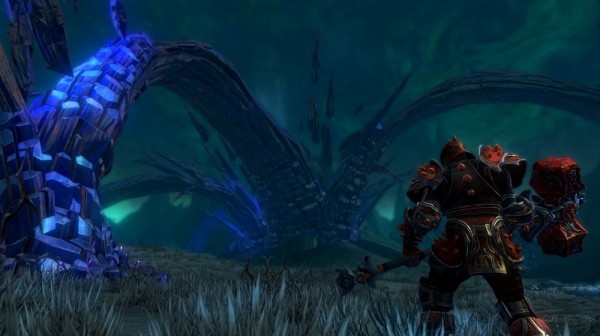 Combat will feel familiar to anyone who has played the Fable games, but Reckoning takes the mixed melee / ranged model and refines it for a deeper and more fun experience. In general in the Xbox 360 version of the game you will perform melee attacks by hitting the X button, use ranged attacks with the Y button, and cast spells by pulling a trigger while hitting a button. Having all these options available at all times makes combat fluid and enjoyable, and as you level up you'll be able to turn your basic attacks into chains of pure bad guy shredding awesomeness. Each time you level, the game presents you with two ability screens. The first lets you pick a specific ability (lockpicking, blacksmithing, alchemy, stealth, etc.) to upgrade. The second gives you path-specific ability trees that will let you spend points to enhance specific areas of your character's sorcery, might, and finesse.
Reckoning is a colorful game with character and world proportions and designs reminiscent of Warcraft. Coming many years after World of Warcraft began its world domination, Reckoning takes a lot of the artistic tenets of Azeroth, refines and beautifies them, and evolves them into its own world of fantastical creatures and magic for Amalur. With the single player MMO-like gameplay and the somewhat similar look of the world, Reckoning easily feels like the next evolution of a more enjoyable WoW. Much like WoW, the quest loop does eventually feel a little repetitive, but fans of loot and leveling always will have a reason to keep playing.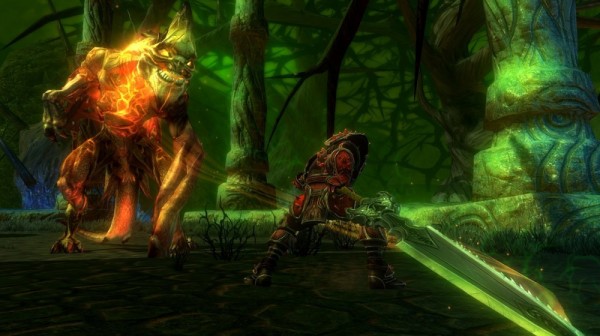 Kingdoms of Amalur: Reckoning comes from an outstanding lineage of creators and makes an impressive first entry for 38 Studios and their new fantasy franchise. Though it bears some similarities to The Elder Scrolls' open world gameplay, Reckoning is a simpler and more direct game than Skyrim. Fans of fantasy roleplaying with Fable-like combat will enjoy this one, as will anyone with an interest in Celtic and faery mythology. Reckoning released on February 7, 2012, and is available for the Xbox 360, PlayStation 3, and PC.