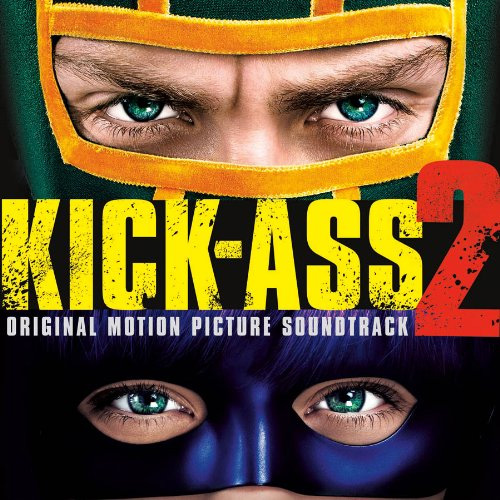 Alright! Friday saw the release of the sequel to 2010's comic book movie Kick-Ass. And I'm here today to take a look at the soundtrack for the movie Kick-Ass 2.
When you have a movie with a concept as free as Kick-Ass, you have to be free with the music as well. There's a lot of action, but there are also a lot of goofy bits and even moments that need to be treated with seriousness. So when picking songs for the soundtrack, you have to take care and find songs that complement the scene. If done right, many of the songs can be just as effective as the choreography, camera work, or special effects. I'm going to highlight a few of those today.
WARNING: Some of these songs are a bit NSFW.
Lemon – "Pussy Drop"
In this song, it's a bit of a refreshing role switch. Usually, when you have a song like this, it's a male singing about the subject matter. But in this song, it's clearly a female. Kick-Ass is a movie that's known for taking turns that are out of the ordinary. So it should come as no surprise that this song is a bit surprising. But what's good about it is that it's played seriously. They could have easily made this song a joke, and been played during a goofy scene. But the way it is now, I can see it being played during an action sequence.
Hanni El Khatib – "Nobody Move"
This song has got a real kind of "city" feel to it. What I mean by that, is when you're walking through the city and you see all this graffiti and wear and tear on the buildings, you have a certain vibe then. This song, to me, exudes that vibe. So when I listen to this song, I picture Kick-Ass in New York in a real dirty area, fighting his way through an alleyway. That kind of feel is perfect for Kick-Ass.
Union J – "Carry You"
Lastly, with every movie full of action, there has to be a moment of loss. In the first installment of the Kick-Ass series, this came when Mindy lost Big Daddy after he got burned by D'Amico's goons. I feel like this song, with its somber but uplifting sounds, would come during the recovery to that moment of loss.
The whole soundtrack has a bit of an electronic feel, but that comes with the more modern take on things.
I haven't seen Kick-Ass 2 yet. But in the next two weeks, I hope to see it and observe how each of these songs and more were used. I hope they were used effectively. Kick-Ass was a great movie. Let's hope Kick-Ass 2 lives up to the first one.
Track Listing:
James Flannigan – "Yeah Yeah"
Hanni El Khatib – "Nobody Move"
Union J – "Carry You"
Chloe Howl – "No Strings"
Lemon – "Pussy Drop"
Danko Jones – "Dance"
The Bees – "A Minha Menina"
The Go! Team – "Bust Out Brigade"
St.Snot – "When The Saints Go Marching In"
Glasvegas – "Euphoria"
Ozma – "Korobeiniki"
Marco Polo & Torae – "Danger"
DJ Fresh – "Motherquake"
Jessie J – "Hero"