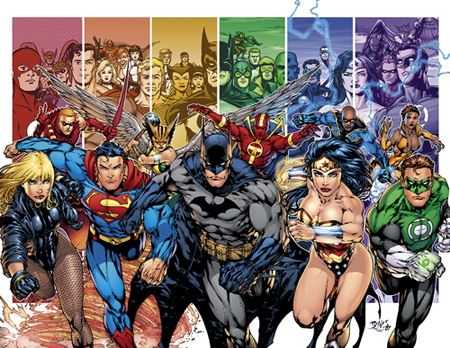 Comic book flicks are all the rage these days, AND they're bringing in quite a pretty penny. So, surely, if they could just get MORE heroes into one film, they could get MORE MONEY!
Well, trust me, they tried. DC/Warner has been through quite a few Justice League of America screenplays and have talked with directors like George Miller (Happy Feet, Mad Max). There were rumors of a film called Justice League: Mortal slated to be released in 2011. There were young names attached at one point, like Adam Brody, D.J. Cotrona, and Armie Hammer. But regardless, it seems the chances of a JLA live action film ever seeing the light of day have been crushed and destroyed by the companies' inability to get their crap together, with the exception of the current Batman series, their only "successful" current film franchise. At one point they were going to make a JLA flick without the Bat, then they were going to do it in place of the third Batman flick, then they were going to turn the newest Superman film into a JLA film by introducing the other characters. And apparently Joss Whedon attempted to breathe life into Wonder Woman as well. It's just a great big mess of rumor and speculation that has surely died a necessary death. It Just. Won't. Happen.
But what if? What if we got a JLA movie that didn't suck? What if we saw a JLA flick that reached its maximum potential and wasn't flooded with a cast of talentless Abercrombie and Fitch models? COUGHCOUGHSMALLVILLECOUGHCOUGH… sorry, I had something in my throat.
So, like my favorite magazine articles of old, I'd like to have a little old school "Wizard Casting Call" and explore who I personally would think make an incredible Justice League of America. Let's begin!
Superman & Batman
Alright, despite the script being total bollocks, I really liked Brandon Routh as Kent in Superman Returns. It's not his fault Singer and Co. have cancer of the craft. And I don't think I'm alone is thinking that Bale is as Bruce as Bruce can get. (well maybe aside from Clooney, who played him gay… which he is.) So in my movie, they're keeping their roles as Superman and Batman.
Wonder Woman
Now I know people tend to give the role of WW to Amazonian-style action-ready beauties like Monica Belucci and Kate Beckinsale. And I'm not saying they in particular wouldn't be good Wonder Women. But that's just not what I see in the character. I always thought WW should be a strong feminine figure, as opposed to the butch likeness of Xena: Warrior Princess. I think that someone like Selma Blair would bring a modern edge to the character and breathe some needed new life into this fairly common stereotypical hero.
Green Lantern (Hal Jordan)
I don't know if I even have to defend this one. Jude Law as Hal Jordan. He can play charming, charismatic, and detrimentally flawed. I think he's perfect. Sorry, Fillion.
Green Arrow
This is probably my favorite. Arguably one of the greatest talents of our time, I think Leo would deliver an incredible Ollie Queen. The guy hasn't delivered a bad performance in 9 years (could've done without The Beach though, again, can't blame the actor for the script). His characters in films like The Departed, Catch Me If You Can, and Blood Diamond (amongst others) all show he's more than capable of handling someone as smart, cunning, and invested as Green Arrow.
Martian Manhunter
We'll just forget about that whole Juggernaut thing and let the guy that naturally reminds me of a (bloody) alien actually play one. Vinnie Jones has the look, the stature, and pure bad-assery (it's a word) mixed with enough of the necessary sensitivity to make Martian Manhunter the very introverted and multi-dimensional character I have always found him to be.
The Flash
This is actually hard to cast because I don't know who I'd rather see, Barry Allen or Wally West. In any case, I like the idea of The Flash being sort a smart mouth fast-talking ball buster. And I think that Supernatural bad boy Jensen Ackles could run with the role.
Shazam
Patrick Warburton. Enough said.
Black Canary (Dinah Laurel Lance)
The blonde bombshell needs wits, a cunning attitude, athletic ability, and serious sex appeal. Just head to the corner of Anystreet Rd. and Hollywood, and you'll find what appears to be a perfect match. Needless to say, attractive blondes are a dime a dozen. And I'm not casting any of them. I'm casting television's sexiest brunette, Evangeline Lilly, for a variety of reasons: 1. Because I think the Black Canary is the kind of woman that can get anyone to do whatever she wants, and Lilly has that same presence. 2. Because female roles in superhero movies (with the exception of maybe Jean Grey in the X-Men franchise) are all played by the obvious choice and played the obvious way. And I think Lilly won't fall in line. 3. She has the edge. and 4. Because I can't get that scene of her as a blonde on Lost out of my head.
Aquaman
Hmm…. Aquaman….. well…. who cares, really?
No. I Kid… I'm sure they'll have water missions in my imaginary film. So, well…. I think he was born for the role.
And there it is. Oscar worthy JLA.