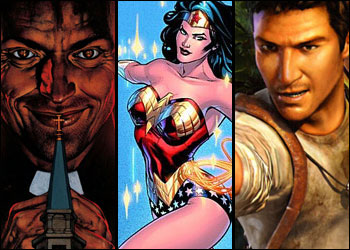 When you love a story, it's only natural to want to share it with the rest of the world. In olden days, traveling minstrels would sing poetry to all listeners, and troupes would stage skits based on local stories and legends. The modern version of that is Hollywood's propensity for adapting every book, video game, and comic book under the sun into a big budget film or TV show. Sometimes the results are satisfyingly representative of the source material, as HBO's upcoming Game of Thrones series appears to be. And then there are those that miss the mark and irreparably hobble the public's perception of the original source. Here's a look at five upcoming TV and movie adaptations that already look dire enough to cause alarm.
Preacher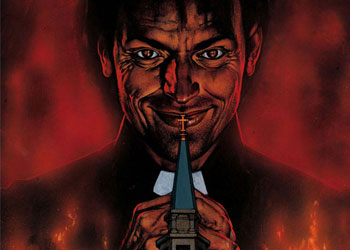 What it's about: Garth Ennis's classic comic series from Vertigo tells the story of Jesse Custer, a small town Texas preacher who has lost his faith. In the midst of his drunken downfall, Jesse becomes the host for Genesis, the immensely powerful offspring of an angel and a demon, giving him the power of the Word of God. When Jesse speaks, people are compelled to follow and obey him. Fearing the power bestowed upon this human, God flees Heaven, and Jesse goes in pursuit, aiming to make the Almighty answer for the suffering visited upon humanity. The resulting chase is an epic tale of moral ambiguity, personal responsibility, and faltering faith in the face of ultimate truth.
How it's being adapted: Preacher has been through countless opportunities for adaptation, and it's been in and out of many hands and formats. At one time it was going to be a TV miniseries, and at another it was going to be a movie trilogy. Everyone from Ben Affleck to Cameron Diaz to Samuel L. Jackson has been rumored to be attached to the adaptation. Now director D.J. Caruso has confirmed that he's making the movie.
Where it's already gone wrong: Bringing such a religiously controversial story to mainstream Hollywood is already a risky proposition that seems destined to be watered down. D.J. Caruso compounds the worry in a recent interview at Cloneweb, translated by MTV. As predicted, he names his personal acting monkey Shia LaBeouf as one of the people he wants for the film (surprisingly as Arseface, the young victim of a self-inflicted gunshot wound). Caruso then touts I Am Number Four's Alex Pettyfer as his pick for the Saint of Killers and Star Trek's Chris Pine as his man for Jesse Custer. While Pine might be able to pull off Custer, there's no way any comic fan would buy 20-year-old British actor Pettyfer as the rugged, cruel, and ancient cowboy Saint.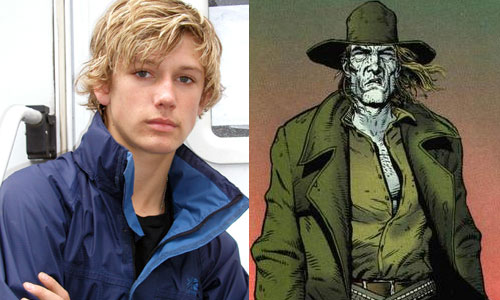 Additionally, Caruso describes the production with, "I think when you have these crazy characters, that are not necessarily politically correct, there's something generally attractive to those characters and those elements." "Not necessarily politically correct" sounds a bit mild for a story that has one protagonist addicted to a misogynistic and abusive lifestyle, another harboring real and present vengeance against the Christian God, and a key villain acting as a protector for the inbred and incapable last scion of Christ. All of this seems like very hot water for the director of Disturbia and Eagle Eye, and it has the early potential to be nothing more than a preacher-as-superhero road trip movie. The final kiss of death is his confirmation that writer John August is struggling with adapting the 66-issue comic series to make the whole story fit into one movie.
Wonder Woman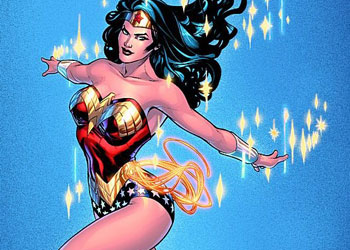 What it's about: Wonder Woman is an Amazonian goddess who is sent to the realm of mortals where she becomes a champion and superhero. Created by psychologist William Moulton Marston and designed by artist Harry G. Peter in the 1940s as a propaganda figure, Wonder Woman would begin her career fighting Nazis but eventually moved on to superpowered baddies. The core of the character is her mythological origin as Diana, princess of Themyscira, making her a great and powerful female hero. Also key to the character is her American patriotic imagery, as are her signature power bracelets and golden lasso of truth.
How it's being adapted: Wonder Woman previously had a successful adaptation as a TV series starring Lynda Carter in the '70s, and Joss Whedon came close to making a modern movie adaptation. That fell through, and veteran TV showrunner David E. Kelley now is bringing the character to NBC in a new live action TV series starring Friday Night Lights's Adrianne Palicki in the title role.
Where it's already gone wrong: Known for his Boston-based dramas and courtroom sagas, Kelley seemed a strange fit for a superhero story. Add to that the early and bizarre details leaked from folks who had read the pilot script, and the whole thing began to sound like a recipe for disaster. NBC's official description of the show reads, "a reinvention of the iconic D.C. comic in which Wonder Woman — aka Diana Prince — is a vigilante crime fighter in L.A. but also a successful corporate executive and a modern woman trying to balance all of the elements of her extraordinary life."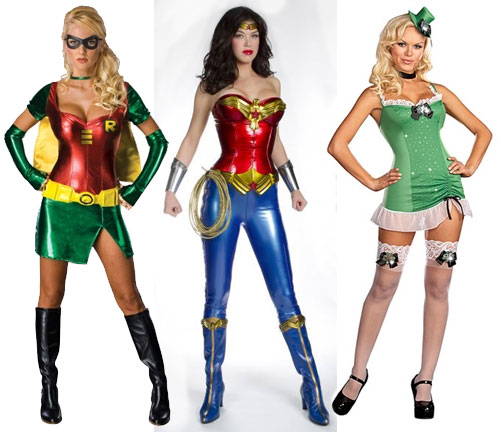 All accounts of the pilot are that it is ham-fisted and rife with cringeworthy dialogue, not to mention that Kelley himself doesn't sound too sure about what he's doing in a recent interview with Vulture: "It's not really what I do; it's not a genre that's in my wheelhouse. But then I started thinking about, 'What if there were such a person in today's world and what must it be like to be her?' And I was imagining the sense of social isolation that she must feel, that she indeed would probably be a rather complicated beast." Wonder Woman is a pinnacle of virtue and heroism. She is not a character who should spend significant time navel-gazing and lamenting her hectic Uptown Girl life. The final capstone is the horrendously gaudy costume Palicki will be wearing in the show. It looks like a cross between scary fetish wear (which, admittedly, original creator Marston might have been cool with) and something you'd find on the discount rack at Party City.
The Smurfs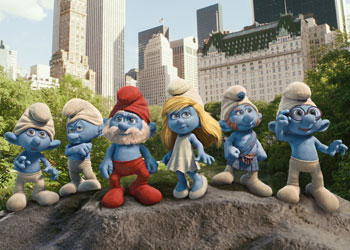 What it's about: Little blue people live happily in mushroom houses in the woods and occasionally foil the plans of the evil human Gargamel and his cat Azrael. Originally created in the 1950s, the Smurfs became cartoon icons of the '80s, a classic era of Saturday morning animation.
How it's being adapted: The Smurfs are getting the Chipmunks treatment this August when they arrive on the big screen as 3D animated characters alongside live action human co-stars. Neil Patrick Harris and Jayma Mays play the human couple who discover the diminutive Smurfs when the ordinarily woodland folk end up in New York City.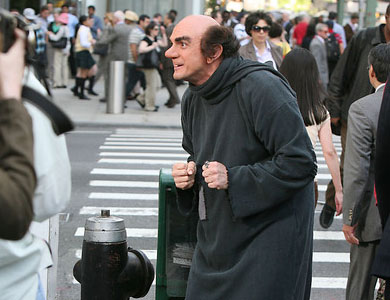 Where it's already gone wrong: If the above description hasn't already answered this one for you, I don't know what will. The Smurfs, previously adorable and lovable, now border on the realm of nightmare fuel. Alvin and his buddies made a pretty successfully cute transition into the third dimension, but Papa Smurf and his cult look more like wicked blue dwarves on a soul-devouring quest. The humans haven't fared much better, with Hank Azaria's Gargamel looking decently like his 2D animated counterpart but more like someone who needs to have a sit-down with Chris Hansen.
X-Men: First Class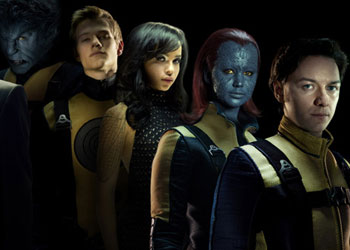 What it's about: Before they were the leaders of rival mutant groups, Charles Xavier and Erik Lensherr were friends with opposing viewpoints on how best to work with or against humanity. Xavier eventually would form the superheroic X-Men, while Lensherr would become Magneto, the master of magnetism and leader of the overly self aware Brotherhood of Evil Mutants.
How it's being adapted: Following three previous X-Men movies and one Wolverine spinoff, Fox is doing an ostensibly in-continuity reboot of the film franchise with X-Men: First Class. Matthew Vaughn directs this upcoming prequel / sequel for a summer 2011 release with an all new cast that includes Michael Fassbender as Magneto, James McAvoy as Xavier, January Jones as Emma Frost, and Kevin Bacon as Sebastian Shaw.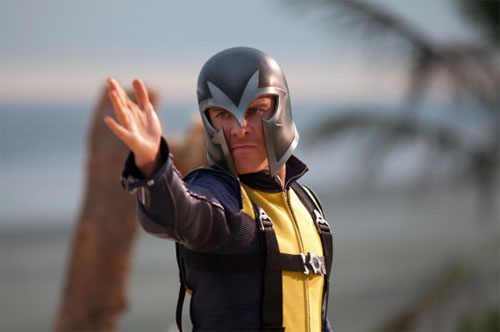 Where it's already gone wrong: While the previous X-Men movies have monkeyed with the comic book timelines and previously established continuity, this movie looks to be throwing everything against the wall and seeing what sticks and what falls off in a sloppy mess on the floor. From the start it is guilty of the most common crime of comic book movie adaptations in that it's loaded to the gills with too many characters. Everybody from Beast to Mystique to Havok to Darwin to Banshee to even more obscure characters like Angel Salvatore will be making appearances. To be fair, X-Men: The Last Stand was profoundly guilty of the same thing, but you'd think they'd have learned something in the five years since its release.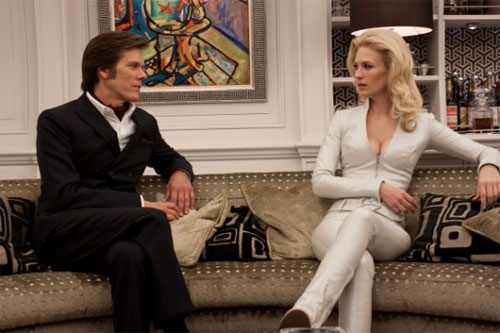 Making matters worse are some bizarre casting choices. Kevin Bacon as the Black King of the Hellfire Club seems just weird. Were Ray Winstone and Ian McShane both busy that week or something? Shaw will be hanging out with the White Queen, Emma Frost, whose actress had a few worrying comments about the production when she spoke to Female First: "Poor Matthew Vaughn is going to have to edit it in three days. I think it was unrealistic for them to think they were going to make such a huge movie in whatever we had — two months or something. So of course we went over. The fact we've had to push the wrap date but they haven't moved the release date is really interesting to me. I guess they must know what they're doing." Not exactly a ringing endorsement of a movie that already looks like it's cramming too much story from too many timelines into one film.
Uncharted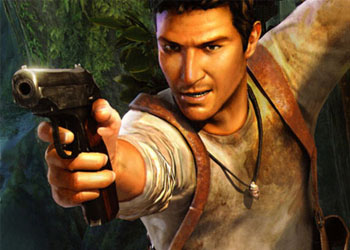 What it's about: Nathan Drake is a fortune hunter and adventurer in the vein of Indiana Jones and Lara Croft. In his PlayStation 3 game series he explores the world, fights bad guys, and goes on crazy pulp-inspired adventures, always with his shirt half untucked and his wit ready.
How it's being adapted: Acclaimed and established director David O. Russell is adapting Uncharted for the big screen. His vision of the movie is markedly different from the game's original story, as he wants to turn Uncharted into a family crime drama with Robert DeNiro and Joe Pesci as Nathan Drake's father and uncle in a ring of international art thieves.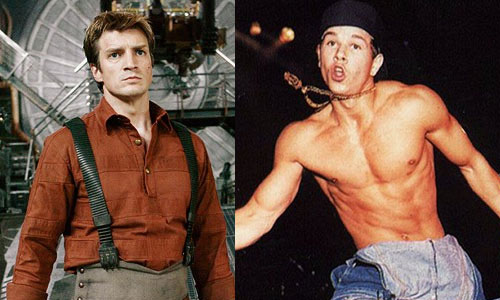 Where it's already gone wrong: Succinctly, the biggest problem with the Uncharted movie is that it's not going to be Uncharted. Nothing David O. Russell has said about the movie indicates that his adaptation will have even a passing fidelity to the source material, beyond perhaps the lead character's name. Indeed, the director has gone on record saying that he knows what fans of the game franchise want more than they do: "As far as I'm concerned, I'm very respectful as far as the core content and spirit of the game, but beyond that it's my job as a filmmaker to make what I think is going to be an amazing movie. People have to trust that and let that go, I think."
Internet fandom and general common sense has long pegged Firefly's Nathan Fillion as the only realistic choice for the lead role of Nathan Drake, but Russell's track record and Mark Wahlberg's own statements indicate that Wahlberg is virtually a lock for the part, respect for the character be damned. Everything about the production indicates that Russell just wants to make a crime family movie and nabbed the Uncharted license for some brand recognition. One of the rare video games that was ripe for a good movie adaptation will be robbed of its opportunity when this unrecognizable clod drops into theaters.