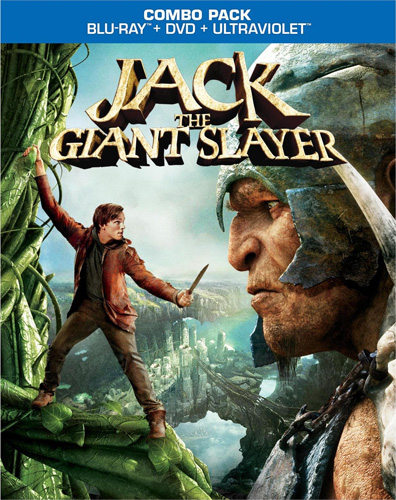 Believe it or not, we are living in the middle of a fairy tale zeitgeist. Maybe it started with Vertigo's Fables comic series. Maybe it picked up steam from ABC's Once Upon a Time. Or maybe it's even an offshoot of the vampiremania that Twilight inspired. Whatever the reason, fairy tales are the new hotness, and we've been seeing an incredible amount of classic stories getting modern retellings over the past few years. One of the most recent is this year's Jack the Giant Slayer, the Brian Singer-led adaptation of the familiar tale of Jack and the Beanstalk. The movie released in theaters in March and is arriving on DVD and Blu-ray today.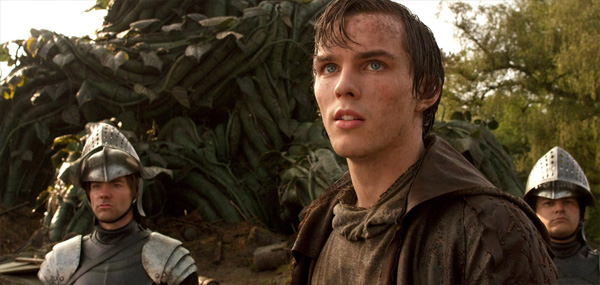 Jack the Giant Slayer had to climb its own miles-high beanstalk to get made. It started out as Jack the Giant Killer way back in 2005, well ahead of many of the other fairy tale adaptations that would beat it onto cinema screens. It was to be an ambitious and heroic tale, loaded up with CG effects and directed by D.J. Caruso. Along the way the film underwent rewrites, staff changes, and a title change before Brian Singer ushered it into box offices, possibly too late to be unique enough to cash in on the hype surrounding high concept fantasy fare. The movie pulled less than thirty million dollars in its opening weekend, a disappointing return for a film with a budget that neared two hundred million. It really is a shame that it didn't do better, because Jack the Giant Slayer ended up being a truly fun movie that, while not as wonderful as classic fairy tale films like The Princess Bride, certainly is better than more recent attempts like Red Riding Hood.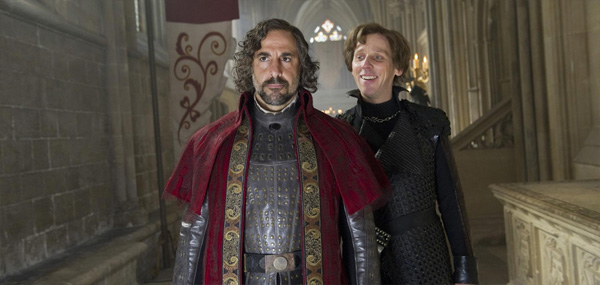 Nicholas Hoult (Skins, Warm Bodies, X-Men: First Class) plays the titular Jack, a farm boy who lives with his uncle after his father died and left the farm untended. Jack is a good kid but lives with his head in the clouds of legends and fantasy, much to his uncle's chagrin. Without Jack's dad around to work the land, the farm has fallen onto hard times, and money is hard to come by. As we all know from the familiar story, the uncle sends Jack to town to sell their only horse, in the hopes of gaining enough money to get through just a little more time on the farm. These sorts of plans tend to go awry at the start of adventure movies, and so it is with this one when a series of encounters leads Jack to crossing paths with the realm's Princess Isabelle (Eleanor Tomlinson) and the captain of her guard, Elmont (Ewan McGregor) before accidentally selling his horse to a monk in exchange for a sack of beans.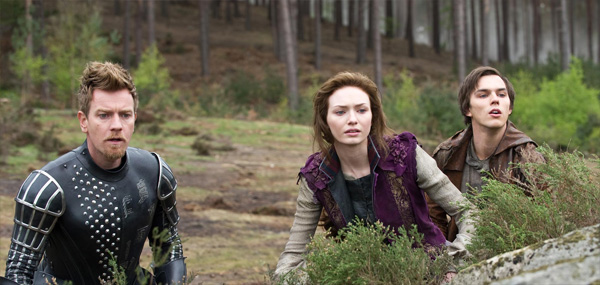 Meanwhile in the castle, Isabelle's father, King Brahmwell (Ian McShane) is having his portrait painted and finalizing plans to marry his daughter off to the absolutely nefarious-looking Lord Roderick (Stanley Tucci). Positive that he's done a fine and noble thing by arranging this loveless marriage, the King is oblivious to the fact that Roderick actually is every bit as nefarious as he looks. Roderick has secret plans in motion that somehow involve those beans the monk gave to Jack, and he's going to do anything he can to get them back. It seems like a safe bet that his plan has something to do with growing a beanstalk up to the land in the clouds where the mythical giants live, given that both Jack and Isabelle are enamored of the old heroic tales of the giants and that Jack's newly acquired beans very likely will yield said stalk.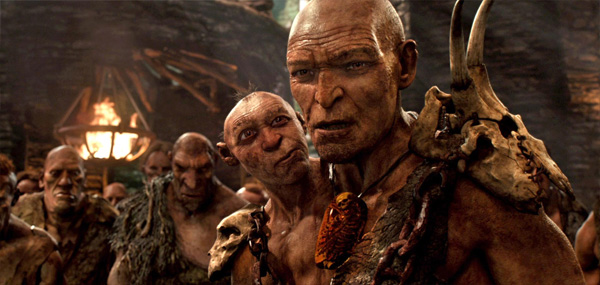 The fairy tale plays out somewhat faithfully to its origins, but there are some political machinations and heightened action sequences added for good measure. The special effects are put to good use here, alternately looking clearly and intentionally unreal during storytelling sequences toward the beginning and shifting to a fantastical but not quite realistic look as the movie progresses. The giants come near that infamous uncanny valley, looking just human enough to be convincing but still lacking some essential spark that would sell them as living beings. Perhaps their being not humans to begin with helps push their design and CG out of that dangerous valley. Bill Nighy and John Kassir play the two heads on the lead giant, and they provide a satisfyingly vicious villain to crush and occasionally devour our heroes. From the design of the giants to the look and feel of the land and beanstalk, the movie has a great otherworldly air that serves the story well.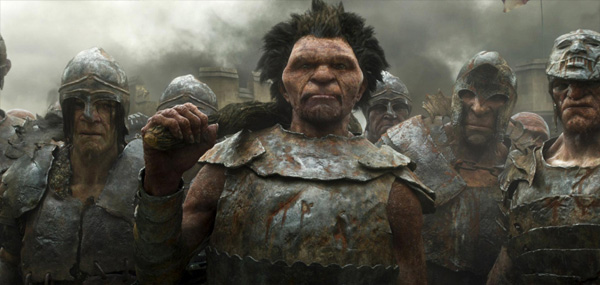 Loaded up with action and adventure from beginning to end, Jack the Giant Slayer is an exciting movie that has a lot of high flying combat and derring-do but surprisingly little blood or gore. As such, it's a good pick for a family movie night. The bonus features that come packed onto the Blu-ray reinforce the film's position as kid friendly, with most of the features incorporated into an on-disc beanstalk climbing game. The Become a Giant Slayer feature has you clamber up the stalk in order to find and play its several behind the scenes bits and featurettes. There also are eight and a half minutes of deleted scenes and a three minute gag reel that aren't tied into the beanstalk game.
Jack the Giant Slayer is a refreshingly good and fun entry into the slate of modern adaptations of classic fairy tales. It doesn't quite have the heart of the best this genre offers, but it's one of the most enjoyable of these flicks we've gotten in a long time. The movie released on home video today, June 18, 2013, and is in stores now.