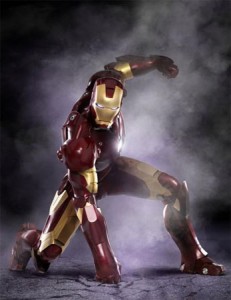 IESB was at the red carpet premiere for Iron Man yesterday, and it sounds like the cast and crew already are prepping for the sequel! According to IESB:
Downey's trainer, Brad Bose, told the IESB that he starts training with Downey just after this final premiere in LA (Downey has had a few months off in between going to work on Ben Stiller's TROPIC THUNDER). Then, he will have him ready to wear the suit again in just 5 months. This time around he wants to put an extra 10 pounds on the actor, for a little more bulk.
This would have Iron Man 2 beginning production in early 2009. No official word has come down about a sequel yet, but the studio probably is just waiting to see precisely how many piles of krugerands they rake in this weekend.
Source: IESB