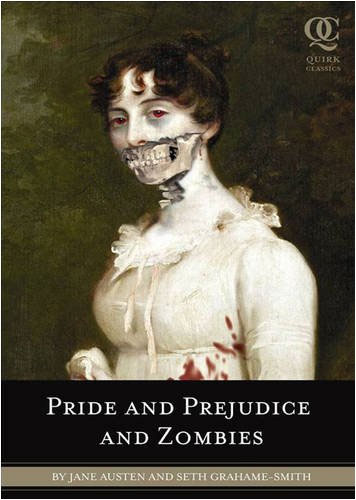 Seth Grahame-Smith is a screenwriter/author and general horror junkie whose literary credits include How to Survive a Horror Movie: All the Skills to Avoid the Kill, The Big Book of Porn: A Penetrating Look at the World of Dirty Movies, and The Spider-Man Handbook: The Ultimate Training Manual and whose screenwriting credits include a TV series titled Vendettas, a miniseries called The Most, two episodes of History's Mysteries as well as an appearance in His Name Was Jason: 30 Years of Friday the 13th, a made for TV look at the Friday the 13th franchise released this past February.
Lately, Seth's name has been all over the news as word of his most recent project, a mash-up of Jane Austen's literary classic Pride and Prejudice titled Pride and Prejudice and Zombies, has circulated along with details of the bidding wars going on between Hollywood studios for the novel's movie rights. Recently, I was given the opportunity not only to read Seth's novel, but also to speak with Seth himself about a number of topics, including the writing process involved with a mashup, the subject matter he chose to work with, and initial reactions to Pride and Prejudice and Zombies. Here is an abridged transcript of the phone interview I conducted with Seth (just the juicy parts, of course):
Paige: I had taken a look at some of the other books, at least at the titles, that you've written and it looks like those are for the most part all original works, as opposed to Pride and Prejudice and Zombies.
Seth: They're all original and they're all humor books… you know, the first book I wrote was a sort of funny, encyclopedic look at the porn industry. Kind of the history of it, the weirdness of it, you know, the different cultures and countries behind it. I wrote a book about Spider-Man, which is like a mock training manual. I wrote a book about horror movies, but it was a survival guide. That was a way for me to have fun and do a comedic thing about horror, the horror genre, which I love and have always been a fan of. And I did a book of apology letters on behalf of George W. Bush, so… I guess it's kind of weird—you can't really look at the trajectory of the books I've written and go 'Oh, well of course he did that next.' Every next book seems to be a random left turn, which I like because it gives me a chance to do different types of writing and tackle a whole different range of subjects.
Paige: I was wondering what it was like to sit down and start writing from a full text as opposed to sitting down and just starting from scratch.
Seth: I think it was a little easier, in some ways, because Jane Austen did all of the heavy lifting for me. She has this brilliantly plotted, brilliantly written novel that just works well on every level, and so I didn't want to really mess with the structure of the novel too much. The difference was that I read through the book twice, carefully, making notes in the margins and highlighting things, and working out the logistics of what I was going to change—"Well if I change something in chapter 7 I have to change something else in chapter 15″, so on and so forth, you know?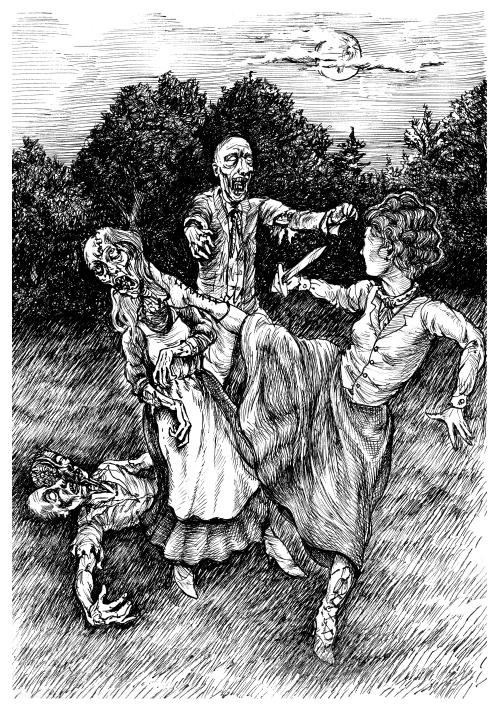 Paige: Right, right…
Seth: But I also had to figure out, "Well, where do I want to put all these new scenes that never existed in the original novel at all?" So I tried to evenly space out some of the more extended zombie sequences that run on for two pages at a time. So yeah, in some ways it was easier because all the plotting and most of the work was done. But the hard part was changing so much of the book but then trying to maintain the themes and be true to some of the characters and some of the outcomes.
Paige: I was very impressed with how well the new parts were integrated into the old parts and I was wondering about that whole process; how do you take your original ideas and work them into an existing structure? Does it make it more difficult?
Seth: Well, thank you because the greatest compliment that I can get is that the new stuff is not obviously different or jarring for people to read than the original text. I basically just studied the way that Jane Austen wrote and I tried to emulate it as best I could, you know. Um, and that was the fun part for me, the, the part that excited me most about getting to write this book was getting to write these gratuitous, action, super you know, gory sequences but then to write them in the language of early nineteenth century England. The example I give is instead of saying, "Mr. Darcy crossed the room fast," Jane Austen would write, "The gentlemen sauntered across the ballroom with no shortage of alacrity." It was just a more poetic way of speaking and writing back then.
Paige: I've read a number of reviews of the book and there's a very strong divide in how it's being received. I was wondering what your reaction to that is and if you've received any kind of feedback from readers?
Seth: Sure. I've received all kinds of feedback, but here's the surprising thing to me: most of the people that have written about the book up until this point have not read the book. There are some people, yes, who just automatically dismiss Pride and Prejudice and Zombies off-hand and don't even want to hear about it, but I have to say even the hardcore "Jane-ites" (the Jane Austen fans), by and large they have been really cool about it and really excited about it and received it really well and with a good sense of humor. So my reaction is yeah, of course there have been a couple people who I've heard from and it's just been a like "How dare you, sir?," but I think they're reacting more to the concept than to the actual book itself. When I find out who's taking offense to this, it's usually people who are just taking offense to the idea of the book.
Paige: That definitely seems to be a trend among the reviews that I've seen online.
Seth: Yeah, like the Amazon page has talkback forums that people are arguing over this and any time that the book is mentioned in a blog there are people that say, "This is the best idea ever" and "I want this," and there's another guy that says, "Oh this is, it's just gimmicky and lazy." I mean, I agree with gimmicky, but I take exception to the lazy. If you hate the premise, if you hate the title and you don't think this would be any fun, then you're not going to have fun reading the book.
Paige: It was really interesting the way that your addition to the novel almost seemed to complete several of the characters, who were a little bit easier to relate to this time around.
Seth: Well, a lot of the stuff that's in there has been updated to make things a little more readable, but also—there was the professor in the New York Times article about the book, and I don't remember her name, but she said that doing this book makes sense because the book is just giving these characters a larger canvas to be who they already are. Elizabeth Bennett hasn't really changed from the original Elizabeth Bennett in the book, she just has a bigger canvas to be this fiercely independent, sharp-tongued woman. Now she's just a fiercely independent, sharp-sworded woman.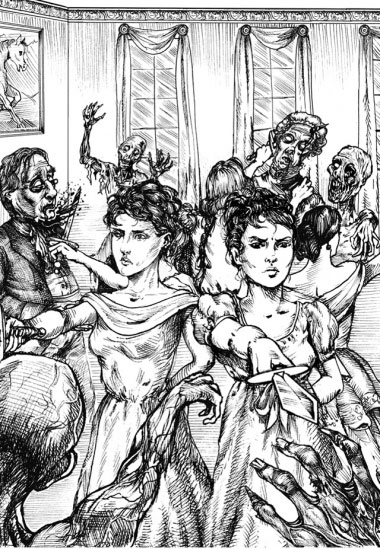 Paige: Some people might comment that the market is oversaturated with zombie movies and books, so in light of that, why zombies?
Seth: I can't take credit for the idea—for it to be zombies. I worked with an editor at Quirk named Jason Rekulek on about five books before this book and he had this idea to do a mashup of some kind with classic fiction. So he had made all these lists of classic literature and then all these lists of things like vampires and werewolves and zombies and robots and whatever. For some reason he just thought that there was something to Pride and Prejudice and zombies, and he called me up and he said, "What do you think about this title? I have this title," and I immediately knew what the book needed to sound like and be like, so I worked on it and I plotted it out and wrote up a big proposal and the publisher got on board with it. It just seemed funny to me… for some reason, doing vampires in nineteenth century England wasn't as surprising as doing zombies. Zombies are a very modern horror character, you know. They only really pop up after 1950, so there's something more modern about adding zombies. There was just something more fun about it than, say, adding a werewolf or a vampire, which you might expect in old England.
Paige: The reason that I was contacted about you having written the book and getting a chance to speak with you was that the movie rights for the book were being hotly contested in Hollywood. There continue to be more and more articles showing up online about Pride and Prejudice and Zombies, everyone wants to make it a movie, but there's really no resolution and I was wondering if you might have any more information on that?
Seth: Well, here's what I understand because it's the publisher that's doing the deal, so I'm kind of on the sidelines to be honest with you. From what I understand, there's going to be an announcement about a deal next week. We're all under an embargo not to say anything more than that until it comes out next week. I think that the actress that might be announced next week is probably the perfect choice. That's all I can say.
Paige: It seems like there may be kind of some hesitation among male readers, despite the fact that there have been zombies added, to go back and either read for the first time or re-read something that they might describe as a "boring chick novel." I was wondering what you might say to people who are of that mindset?
Seth: They oughta give it a chance. If they think that it's a novel about a hot young girl who kicks ass and kills ninjas, and cuts the heads off of zombies, and wrestles deer to the ground with her bare hands… I understand that the original Pride and Prejudice is definitely not on a lot of guys' reading lists, but I would say to those guys, if you're going to read one version of Pride and Prejudice in your life, let it be this one.
Paige: Would you consider writing another mash-up of a literary classic in the future?
Seth: I would consider it but I don't think I would do it any time soon. Obviously there's a temptation because the book's been so well received for me to do War and Peace and Zombies or Crime and Punishment and Zombies or something. What I'm doing now is something more original but still in the historic fiction world. I'm working on an outline and samples for a historical horror novel. Hopefully there will be more coming out about it soon, but we're still in the pitching stages so again I'm embargoed.
Paige: What would be your favorite horror novel and what is your favorite horror movie?
Seth: My favorite movie of all time is The Shining, the 1980 version with Jack Nicholson by Stanley Kubrick. My favorite horror novel of all time… hmm… that's a good question. You know, I haven't really thought about that. I used to devour these Stephen King books like candy when I was a kid. You totally stumped me with this… I love the original Bram Stoker's Dracula. The epistolary novels—novels told through letters and things like that, that's brilliant in and of itself.
Paige: [laughs] Well I really, really appreciate you taking the time to talk with me.
Seth: Yeah, absolutely. It was good talking to you. No problem.
Stay tuned for our upcoming review of Pride and Prejudice and Zombies, now available at Amazon, Barnes & Noble, etc. and keep an eye out for updates on Seth's latest projects.