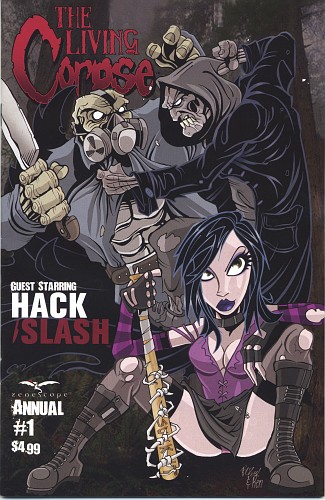 "Haven't you kids learned anything from horror movies?" – Corpse
Recently released by independent comic book and trade paperback publisher Zenescope Entertainment is the latest addition to The Living Corpse comic series: The Living Corpse Annual #1: The Living Corpse vs. Hack/Slash in The Legend of the Jersey Devil. Although I had never heard of this series before, the Annual #1 caught my attention by including guest stars Cassandra "Cassie" Hack and Vlad of Tim Seeley's popular series Hack/Slash. After reading The Living Corpse Annual #1, I recommend the series, which takes a look at zombies from a different perspective than usual.
Written by Ken Haeser (The Jersey Devil #6, 11-12; The Eyes of Asia #1-4) and Buz Hasson (Fleshrot: Tales of the Undead #1-2; The Eyes of Asia #4), The Living Corpse Annual #1 features the author and illustrators' latest comic creation, a reanimated corpse with a conscience who has resigned himself to a new, self-appointed purpose: keeping the peace and balancing the scales between the natural and the supernatural in the world by hunting haunted landscapes for vampires, witches, werewolves, and other dangerous monsters.
Although The Living Corpse gives readers a more stylized version of Cassie Hack and her larger-than-life, ass-kicking counterpart, Vlad, devoted Hack/Slash fans will be relieved to know that the duo remains true to Tim Seeley's original. Much like the increasingly popular Hack/Slash, The Living Corpse features bold, eye-catching illustrations (courtesy of Buz Hasson, colors by Ken Haeser) that make its characters pop off the pages as they run around the New Jersey woods looking for the Jersey Devil, which is rumored to be terrorizing anyone dumb enough to set foot inside the forest.
The Legend of the Jersey Devil is an entertaining read, complete with near-nudity, creative protagonists and antagonists, hot chicks, light gore, and some unbelievably disgusting scenarios… but I'll let you check those out for yourself.
Featured Monsters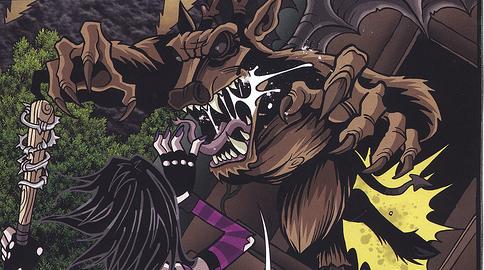 Name: The Jersey Devil
Danger Level: Low
History: The sixteenth son of a witch named Mother Leeds, the Jersey Devil has the head of a goat, wings of a bat and hoofed feet. According to legend, the Jersey Devil has terrorized remote stretches of New Jersey woods for hundreds of years, frightening tourists, hikers and high school teenagers alike.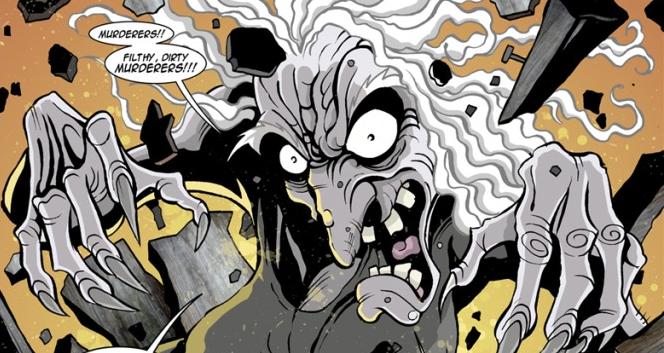 Name: Mother Leeds
Danger Level: Medium
History: Mother Leeds is a witch living in a cabin in the New Jersey woods with her son, the Jersey Devil. She is extremely protective of her children, but is not dangerous unless provoked. Even when provoked, Mother Leeds would rather send her demon offspring to do her dirty work than fight herself, no matter how enraged she might be.
For more information on The Living Corpse, Zenescope Entertainment, or to purchase your own copy, check out Zenescope Entertainment's Web site: http://www.zenescope.com. For more information on Hack/Slash and creator Tim Seeley, head over to Devil's Due publishing's Web site: http://devilsdue.net/.
Cool fact: Cover B for The Living Corpse Annual #1 was done by Hack/Slash creator Tim Seeley.