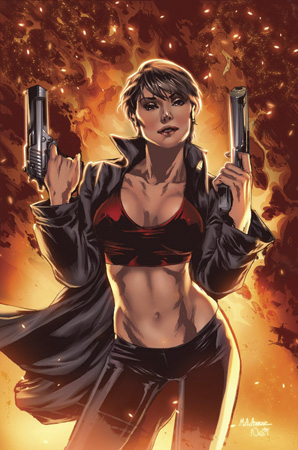 Trisha Frank. That is the name of the little blonde-haired girl who haunts hired gun Mercy Dante. Orphaned at a young age by a hitman named David Frank, Mercy followed in her parents' murderer's footsteps, growing up into a tall, voluptuous hit-woman with little compassion and a lot of money in an off-shore bank. Instead of exacting revenge upon David himself, Mercy chose to punish him in a more enduring manner: she put a bullet in his daughter's head (never heard of Mercy? Check out Grimm Fairy Tales #29). But taking the life of an innocent little girl in an act of revenge has consequences, as Mercy soon finds out. For the past seven months, Trisha's vengeful ghost has followed the hit-woman everywhere she goes-even into the bathtub, where Mercy seeks solace from her life of murder and corruption.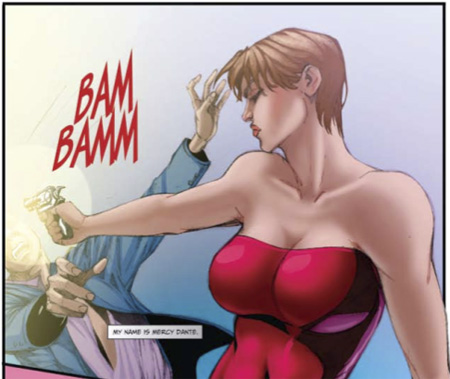 Enter Sela, who many of you may remember from past issues of Grimm Fairy Tales. A mysterious vixen that conveniently appears at opportune moments in a person's or family's life, Sela attempts to impart important lessons on individuals like Mercy with the help of the rather large book of fairy tales she carries with her. In this issue of Grimm Fairy Tales, Sela seeks out Mercy and offers her an opportunity to make amends for all of her wrongdoings, including killing Trisha Frank. Unable to resist the allure of leaving her taunting ethereal companion behind, Mercy blindly agrees to Sela's deal for redemption. Sela magically transports Mercy back in time seven months to the night when she killed Trisha, giving her another opportunity to make the right decision. Unfortunately for Mercy, Sela never explained how Mercy would achieve salvation… or what price she would have to pay to do so.
Another colorful addition to the Grimm Fairy Tales series, Grimm Fairy Tales #41 is a prequel to an upcoming Zenescope Entertainment 5-issue miniseries titled Grimm Fairy Tales: Dante's Inferno. Staying true to the visual style of the Grimm series, Grimm Fairy Tales #41 features bold, eye-catching colors, characteristically busty women oozing with sex appeal, and some rather graphic violence (for comic book standards, that is). I highly recommend that you check out Grimm #41 once it is released, and be sure to get your copy of Grimm Fairy Tales #29 to read up on Mercy Dante's past.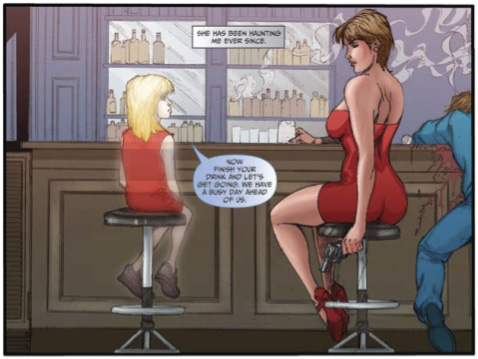 Grimm Fairy Tales #41 is set for release on Wednesday, August 26, 2009. For more information on or to purchase issues of the Grimm Fairy Tales series visit Zenescope's official web site, where you can also find information about Zenescope and the other comics and TPBs that the company publishes.