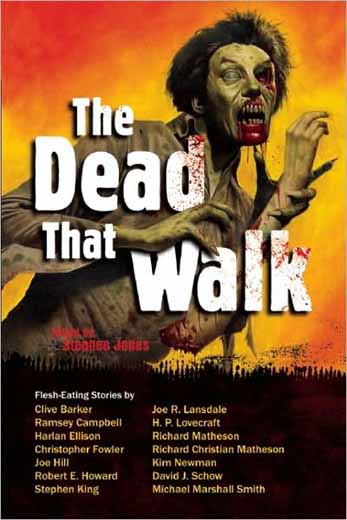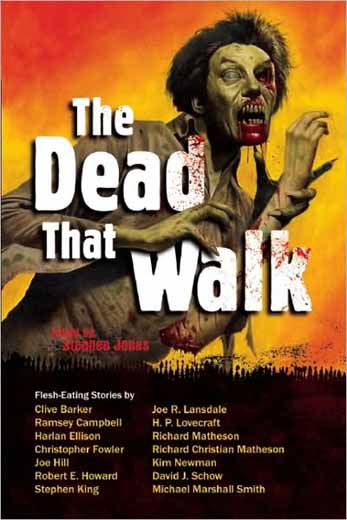 Title: The Dead That Walk
Editor: Stephen Jones
Publisher: Ulysses Press
Release Date: November 3, 2009
At one time, I wasn't drawn to zombies. I know, I know, it's a travesty to say, but there you go. I just never had the urge to seek out zombie-related media. And then I started watching zombie movies, which was a bit of a shock. Eventually I started reading zombie books and short stories as well, just to expand my horizons. However, I'm still a hard-sell on good zombie media, so when I was offered the chance to read The Dead That Walk I wasn't sure if I'd like it. However, I was pleasantly surprised with the variety of short stories, covering a whole range of plots. I think you will be, too.
The collection, published by Ulysses Press in 2009, had a wealth of well-known authors within its pages. Stories by Stephen King, Clive Barker, Harlan Ellison, and H.P. Lovecraft were just a few. However, it wasn't these authors that stood out for me. It was the stories that had alternative approaches to the zombie mythology. The outcome of the survivors of the coming zombie apocalypse, children who have been turned, and what happens when the zombie virus jumps species were all explored in some of my favorite stories from the collection.
"Where There's a Will" kicks off the book in wonderfully creepy fashion. Charlie wakes up in a coffin and must fight his way out of the grave in order to get topside again. He thinks it's all a sinister joke and has vowed to exact revenge on the pranksters when he finds out who buried him alive. Too bad he's not too strong on the alive part. What happens when you don't know you've been dead for seven months? Well, it might come as quite a shock. And in Mark Samuels's story "The Last Resort" we get to delve into the mindset of Henry Davies, who is defending his home against the zombie hoard. We all know the common theme of survivors rising up and putting forth extreme courage in order to defend themselves and stay alive. Usually the hero triumphs and all is well. However, it's a never-ending battle and eventually you'll probably burn out and just want it to end. Henry has reached this point, so when he can't fight anymore, he does what he has to do. Better dead than undead?
Children who have been turned are interesting to me. I mean, children in horror movies are creepy already, but when they're eternally young and just want to eat your brains, they're extremely creepy. This collection gives us two great examples of children who are undead. In "The Long Dead Day" a man must take his own daughter's life after she's been bitten by a playmate. It's a horrible situation to be in, but it must be done. And he has to kill his wife beforehand to save her the pain of watching her child die in front of her. However, once his entire family is gone by his hand, he can't shoot himself because he's not strong enough yet. You know he will be one day, but today's not that day. In "A Call To Temple" a mother has sought the help of science to cure her son of the zombie virus. When science fails her, she takes him home, intent to caring for him on her own. That didn't work out so well, so she sadly returns to the clinic so that they can experiment on him in hopes of saving others in the future. However, she's not about to let her son be a lab rat on his own, so in a final act of motherly love, she lets her son bite her, thus turning her into a zombie as well. Like son, like mother.
There are two especially quirky stories in this book. The first is "Midnight At The Body Farm." I've always been fascinated with that place, as they study the effects of decomposition on the body. However, what would happen if the dead are the only ones left? Decomposing bodies inside the fence, arisen undead bodies outside the fence, and only Hector Bolivar left to see it all. It wasn't the aspect of one lone survivor that drew me to this story, but instead the fact that it has a zombie deer in it. Yep, the virus has jumped species. How can you not love zombie deer? And in another quirky turn, "The Silent Majority" casts the zombie light on a well-known political figure. Richard Nixon has come out of the grave and he's going to barter peace. I loved the fact that his legacy was repaired once he became a zombie. That's just inventive and fun. Plus, he's got a good sense of humor. I liked that.
So, if you're a fan of the zombie genre, or if you're just dipping your toes in, this book is sure to appeal to you. I have to say, after reading this, I might have been turned into more of a fan. The dead are rising and sometimes they're very fun to watch.
Rating: 4 / 5 Stars