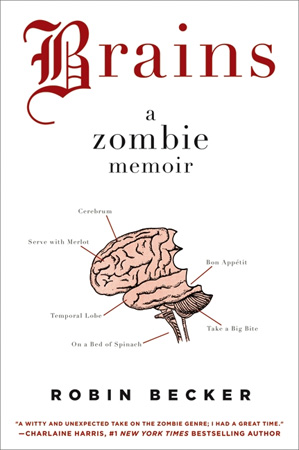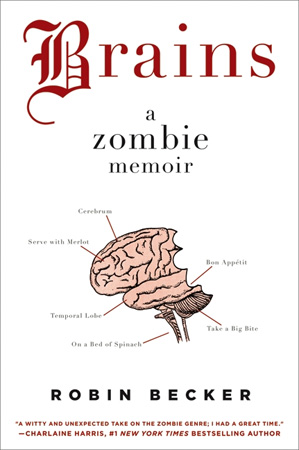 Title: Brains: A Zombie Memoir
Author: Robin Becker
Publisher: Eos (HarperCollins)
Release Date: May 25, 2010
Author Robin Becker's debut novel, Brains: A Zombie Memoir, depicts a post-apocalyptic America devastated by a zombie plague unwittingly unleashed during a scientist named Stein's Nazi-like experiments to create "the perfect person." Readers are introduced to Brains's post-epidemic world through the first-person narration of college professor Jack Barnes, a sentient zombie with the unusual ability to write and a strong desire to establish a society in which humans and zombies can live side-by-side. Barnes faces a number of obstacles in achieving his societal goals, however, not the least of which include his inability to speak, his personal appearance, the stigma associated with being one of the living dead and, of course, a newfound passion for "braaaaiiinnnssss."
When Jack Barnes discovers that his transition from human to zombie did not strip him of his capacity for coherent, intellectual thought, he sets out in search of his maker, Stein, and any other sentient zombies he can find. Barnes is unable to prevent himself from continuing in death (or un-death, as the case may be) what was so familiar to him in life — mainly writing, hence providing us with the narrative, and (unfortunately for readers) judging those around him. Flashbacks to Barnes's life depict an arrogant, self-aggrandizing individual whose sole purpose seems to be making flippant, snarky remarks about pop culture and society at large that are designed to assert how much smarter he is than everyone else around him.
As such, Barnes is an ideal candidate to become one of the "elite" living dead — an individual who in life valued himself above others is, through the deaths of hundreds of thousands of other individuals and an unnatural (albeit messy) immortality, given a legitimate reason to value his own existence above that of other zombies. As his professorial background demands, Barnes immediately begins to divide zombies into well-defined categories, grouping those missing more than half their bodies at the bottom of the social pyramid and grouping those with more than half a body at different positions in the social hierarchy based on their abilities. Of course, Barnes and the other "special" zombies that he finds — one that's fast, one that can speak, one with medical skills, etc. — are placed at the very top of the pyramid and, as a result, are afforded such benefits as the privilege of eating first and being insulated by expendable peers in times of danger and violence.
Brains: A Zombie Memoir examines the traditionally overlooked question of what happens in the aftermath of a zombie outbreak, specifically the fate of zombie stragglers once some semblance of order is restored. As other writers have concluded, zombies are relatively easy to contain and dispose of once the initial shock of their existence wears off and their numbers begin to dwindle. In Brains, the United States military is mobilized and traveling cross-country exterminating the zombie hoard and collecting a small number of zombie specimens for Stein's examination. Barnes's quest to find Stein lands him in the clutches of the military, and the resulting travel narrative helps to soothe the irritation that readers are likely to experience as they are forced to endure Barnes's ongoing penchant for "witty" observations. Driven by a desire to find out "what happens next," readers will be surprised when they find themselves at the end of Becker's short novel, distracted throughout by their inevitable love-hate relationship to the narrator.
Becker's novel is a solid attempt at innovation in an oversaturated genre, and fans of zombie fiction will enjoy Brains: A Zombie Memoir for its unique elements (a pregnant zombie, you say?) and short duration. Those unfamiliar with this genre of fiction should look elsewhere for an introductory novel, however, especially if they have had the misfortune of knowing an individual like Prof. Barnes, since doing so makes the novel that much more difficult to read.
Rating: 2.5 / 5 Stars