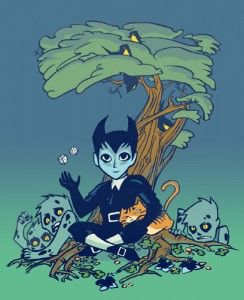 Jemma Salume is only twenty years old, but don't let her youth fool you. She has already packed a powerful punch in the comics world. You may have seen her published works and never realized it. Hailing from San Francisco, California, the nicknamed "Bad Girl of Comics" has already drawn for Project: Rooftop, Dean Trippe's Butterfly, and Oni Press. Jemma chats with Fandomania about her school, art and not so ordinary life.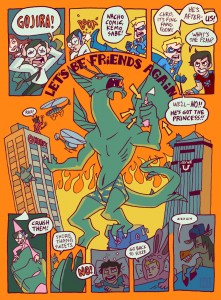 Who would you say is the biggest influence to what you're doing in your life right now? Have you met them?
Way to put the toughest question at the beginning! I'm still learning, and I find a new artist to worship every week, so it's difficult to separate the genuine influences from the stuff I just like. I will say that if I had never found Hellboy when I was fourteen, I wouldn't have stopped reading all the lame stuff I was reading at the time. Mike Mignola isn't so much an obvious artistic influence, I guess, but his work certainly put me on a good path early on. I hope I meet him someday when I've learned to control my fangirl "talking in incomprehensible squeaks to the famous person" reflex.
I believe I've already asked this question in two separate interviews but I cannot help it. I've always been curious to know what sorts of things artists and writers do to get their creative juices flowing. Can you describe your working environment?
If I didn't have ADD before, I'm probably pushing myself in that direction. Following links through Japanese illustration sites or flipping through comics and art books I don't remember buying, listening to Katamari Damacy music, texting a friend, usually all at the same time — That's what's going on in my work environment. As long as I have sketchbook in hand, I'm set.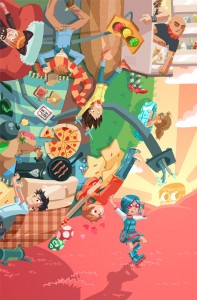 I adore your and Dean Trippe's collaboration on a Scott Pilgrim piece that was featured in Scott Pilgrim – Full Colour Odds & Ends 2008. How did the two of you come up with the concept?
As far as I remember, Dean contacted me out of nowhere in the middle of the night and told me to draw something Scott Pilgrim-related. I wanted to include a lot of the little details from the books that stuck out in my head, like Wallace's bacon and the Vegan Police, so Ramona rolling up Scott's friends and half of Toronto into a Katamari ball seemed like… the only logical choice at the time. Wow, having it in writing like that is a little scary. Midnight! Honestly! On a school night!
What are your favorite medias to work with?
I really like watercolor and acrylic paints, but most of the things I have online are drawings inked with Microns or brush pens and colored in Photoshop. Dean got me obsessed with Col-Erase pencils at SDCC, and those are my new favorite sketching tools.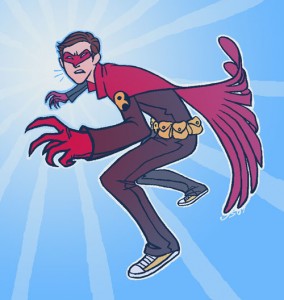 Your Bart Allen, Stephanie Brown and Robin redesigns on Project: Rooftop were phenomenal. I'd love to know your thought process while designing.
This is going to sound hugely dorky, but I close my eyes and imagine that I'm the character, and then imagine what they'd like to wear and why. So Stephanie Brown is cute street clothes because she wants everyone to see her when she kicks butt, and can't pay for Kevlar. Dick Grayson is trying so hard to look like a Casanova but is totally channeling an elf instead. Jason Todd doesn't know why he has to dress up before he punches guys, but knows it's a good idea to humor the guy with the pointy batarangs. You get the idea. This is what made me keep doing redesigns after that first Bart Allen drawing — I'd be reading a comic and then get thrown out of it, because there's no way X character would ever want to wear that.
You attended San Diego Comic Con this year. Can you describe some of the highlights of your con experience?
Jeez, it's only a month gone, but it already feels like a blur! Let's see. Thanks to the inimitable Jason Horn, I got to have a lovely chat with Landry Walker and Eric Jones. I got to see the "John Lasseter and Hayao Miyazaki are best friends" panel. I hung out with Ming Doyle! I met you, Jessi! I went to the Eisners! I… almost talked to Frazer Irving! And then I got murdered by the dude from Assassin's Creed. I was mourned for many seasons.
Are there any other conventions that you will be attending this year?
I am definitely going to the Alternative Press Expo in San Francisco this October. No idea what side of the table I'll be on, as of this writing.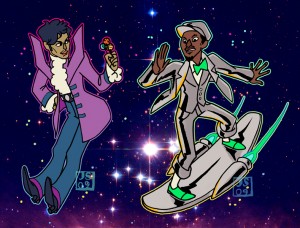 You've been quoted that you wanted to go into illustration at the early age of fourteen. Were there any other career aspirations before that point?
For a long time I was really set on being a ballerina, or a scientist whose work involved dinosaurs or explosions, or an exploding scientist ballerinasaur.
You attend the Academy of Art . What is your major?
Traditional Illustration, kickin' it oldschool.
Does your interest in comics influence the kind of work you turn in for projects?
In the classes where that kind of expression is called for, yeah — but you have to realize, I'm only starting my third year now. The lion's share of the classes up to this point have focused on beating some sense into people. It doesn't matter how much you like Osamu Tezuka if you forget to tilt the ribcage right, etc, etc. Art muscles being trained and all that.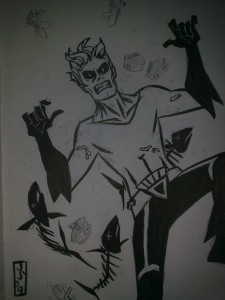 You and I collaborated on a Blackest Night Aquaman piece. Care to tell me how you feel about our fishy friend?
You know what that guy needs? He needs a shark for a face. I think people would like Aquaman way more if he had a shark for a face. Would Aquaman be a zombie now if he had a shark for a face? The answer is no, he wouldn't, because you can't just go and kill a guy when he has a shark for a face.
I'm just kidding. Aquaman sucks.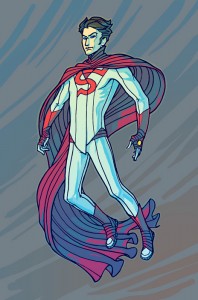 Marvel or DC?
To answer this I have to look into my heart. And when I look into my heart, my heart says:
"Dark Horse has BPRD! You wanna $%& with the eagles, you have to learn to fly!"
I'm amazed at how young and incredibly talented you are. What sort of environment did you grow up in that helped foster that talent?
My parents encouraged me to draw when I was little — it was a good way to shut me up in the middle of a tantrum and it was easier than buying me icecream. Then I grew out of the tantrums, but the drawing and the encouraging stayed.
CBR's Tim Callahan called you, "The Bad Girl of Comics"? How do you feel about the title and should I be shaking in my boots?
My brass knuckles say the title fits. But you don't have to worry, Jessi, because I like you.
What are you hoping to achieve in your future?
I'm going to draw fun stuff and get paid for it!