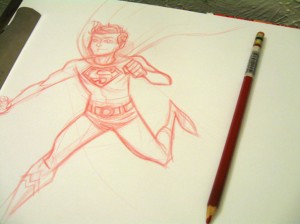 It was back in 2006 when I first came across Dean Trippe. He and his friend Jamie Dee Galey unintentionally instigated a meme on LiveJournal that put the site all in a frenzy with new takes on Batgirl's costume. Thousands of artists contributed to it, and it gave me something to look at on the internet one boring weekend. I didn't know who he was then, of course. Flash forward to present time: I was introduced to Dean at Heroes Con this past June, and I've been a fan of his many comic ventures since, including Butterfly, Project: Rooftop, and President Awesome.
This guy is no mild-mannered, run-of-the-mill comic book fan. He has a plethora of experience under his utility belt, including an actual degree in comics. I was fortunate to be able to sit down with the ever-so-busy Mr. Trippe for a quick chat.
First things first: children go through many phases of what they want to be when they grow up. For instance, I thought I was going to be a pastry chef and an actress when I was in elementary school. What was your earliest career choice and what did it take for you to get on the path you're walking now?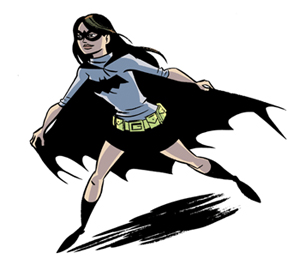 I remember wanting to be a superhero from a very early age. By late elementary school, I wanted to be a writer. In middle school, I was the kid in class who could draw. In high school, I had put these drives together, and was making superhero comics, but I didn't think for a second I had a shot at making comics professionally. I thought about law school or illustration. But when I was a senior, I received a catalog from the Savannah College of Art and Design, and in the middle of it was a section called Sequential Art, which seemed to be code for Comics. Since graduating, I've found the industry unbelievably welcoming, with friends and collaborators around every corner, always ready to help another creator into the field. There are always exceptions, but it feels like the hopeful message of superheroes, and the awesome capacity of the hybrid medium they were born into, have inspired those who work closely with them to be pretty superheroic folks. I'm thrilled to be doing what I'm doing, writing and drawing superheroes, and I don't ever plan on stopping.
Who would you say is the biggest influence to what you're doing in your life right now? Have you met them?
The only honest answer is Batman. And yes.
You've met Batman before, really?
Yeah, he's at like, every convention. I always thank him for everything.
I understand you recently spoke with Hope Larson at a panel on Women in Comics. I'd like to know why you've taken gender equality issues to heart, and what your thoughts are about it, being that you're a male in comics.
It was kind of funny, Hope asking me to be on that panel with her and Erica Well. The moderator's introduction was basically a history of women creators in the industry. I think Hope was worried there would be lots of superhero-related questions and wanted some backup. Of course, my presence guaranteed a certain level of superhero fixation, but it was fun. I guess growing up with two younger sisters led me to looking for female superheroes as awesome as the guy ones, with infrequent success. And in college, I noticed how a few teachers disregarded the female creators, and a few made a serious effort to make sure their voices were heard. In the professional world, I've seen a lot of the same thing. I don't have the power or understanding to counteract the ills of the comics industry, but I can at least say what I think and do my best to treat everyone — fictional or otherwise —equally.



Butterfly has to be one of the most adorable, kid-friendly webcomics I've read this year. What was the inspiration for your winged friend?
Butterfly was born as an answer to a question. I noticed that sidekicks always have weaker sounding names and iconography than their mentors. So if a bat is tougher-sounding relative to a bird, what's the next step down from there? I came up with Butterfly. It's a B-word and a flying creature, too. I started Butterfly with just the one joke, a sidekick of a sidekick, but it's grown into a strangely personal story about my life and superheroes. I feel very at home in that silly universe, and so do a lot of my friends, it seems. My pals John Campbell, Jason Horn, Vito Delsante, Brett Williams, and Jemma Salume have all joined me there from time to time to add to the awesome. Jemma recently took over the art chores, and the strip's never looked better. Like my other web-projects, it suffers when I get too busy with paying gigs or a lack thereof, but I don't think I'll ever stop telling Butterfly stories. It's my HQ.
President Awesome is a sporadically updated webcomic that satirizes our President's term in office. Care to tell me how you and artist Evan Bryce came up with it?

I'd had the idea for some Barack Obama strips during the campaign, but at the time was working two (and at one point three) jobs, and couldn't find the time. Also, the election was so exciting and moving, I didn't want to do something silly about it, I wanted to do something meaningful. But all my ideas were very silly. After the win, I figured I could break out the jokes, so I asked Evan if he wanted to join me on it. I write up a concept, send it over to Evan, he rocks it hard, and then I add in the colors. We're both on the verge of crazy busy time, now, so we've scaled back our updates, but we still love the project, and hope to have them collected once we've knocked out a good number.
Project: Rooftop is one of my favorite websites to not only look at re-imaginations of classic comic superheroes but to check out new talent in the art world. You discovered Jemma Salume and Evan Bryce this way. Would it be safe to assume that P:R is a showcase for fresh faces?

Yeah, P:R has been incredibly good to us. I started it with co-editor Chris Arrant because after the Draw Batgirl Meme, Jamie Galey and I stumbled into sparking, I was doing several smaller ones on my LiveJournal (Green Lantern, Supergirl, etc.), just for fun, and felt like there was just so much talent out there in the indie community, and a surprising amount of love for the familiar characters, even where respect for the current titles was hard to find. It also seemed to me like a lot of character redesigns in comics were arbitrary, not always character-specific and often not even visually appealing in terms of basic fashion design. The site's grown a lot since then, and we've been hosting these massive contests for the last couple of years. I'm thinking about getting away from the contests, actually, but P:R continues to find incredible new artists and give them a quick spotlight on our stage so editors and other creators can find them and get them jobs. The 2009 Eisner Award-winning anthology Comic Book Tattoo is a great example of a book that benefited from our haphazardly collected talent pool.

You've previously worked with John Campbell of The Hourly Comic in 2006 to create a Butterfly strip for AdHouse Books's Superior Showcase #1. A little bird told me that you're planning on taking his comic, Stevie Might Be a Bear Maybe and making it into a live action film. Any truth to that?
I have no idea how you could possibly have heard about this, but YES. I'm producing a short film based on the webcomic by John Campbell, directed by television's Ryan Callahan. John and I have talked about making Stevie into a short film for a couple of years now, and now that I'm in L.A., it turns out it's kind of easy to accidentally fall into making movies. We'll be announcing more about it soon, but the Stevie Might Be a Bear Maybe movie is really happening. OMG.


I've always been curious to know what sorts of things artists and writers do to get their creative juices flowing. Can you describe your working environment?
I know a lot of guys who listen to music, but because of growing up drawing in class, I feel like I work best with people talking in the background, so I usually queue up a string of hourlong dramas or new programs to have playing while I draw. I like things with snappy writing, like Veronica Mars, Breaking Bad, The Wire, and The West Wing. Shows I've already seen and movies I don't really care about (mediocre "New Releases") tend to work best. I also often throw on some Rifftrax films or MST3K episodes. As long as I have a storyline or some dialogue going to keep that part of my brain happy, and diet cola on hand, I can draw non-stop all day.
You were a part of the Eisner Award-winning anthology Comic Book Tattoo and attended the awards ceremony when it won. What thoughts were going through your head?

I couldn't believe it. I'm friends with most of the creators in that book, so it just felt so good win alongside them. I couldn't stop laughing, it was so cool.
I understand a couple of months ago your son had a birthday. What would you hope to leave behind in the comics world for his generation?
When I was little, I went through a lot of rough times. I honestly don't know who I'd be today without Batman and Superman in my life — reliable, strong, and true, as only fictional characters can truly be. They are the best heroes of this age, and they get better every decade, thanks to the contributions of the thousands of mostly poor artists and writers who have poured their hearts into making them worthy of their cultural status. I mean, we've told more stories about Superman and Batman than we've ever told about any fictional characters… ever. I think most of what people think they learned in their lives actually came from stories, good or bad. I just want to add my two cents to the Batman and Superman mythos and leave behind a few new stories too.