Recently, I had the opportunity to speak with James Urbaniak about his contributions to the popular [adult swim] cartoon series The Venture Bros. James provides the voices of several of the series's regular characters, including Dr. Rusty Venture, his brother Jonas Venture, Jr., and a villain called Phantom Limb. Currently in its fourth season, The Venture Bros. is an animated adult series that follows the adventures of super-scientist and former child star Rusty Venture, his twin sons, Hank and Dean Venture, their bodyguard Brock Sampson (voiced by Patrick Warburton, voice of Joe Swanson on Family Guy), and the various villains that are constantly trying to off the Venture family (including but not limited to The Monarch, Sgt. Hatred, and Phantom Limb).
The first season of The Venture Bros. ran on [adult swim] in August 2004. The series was created by Christopher McCulloch, who voices Hank Venture, Sgt. Hatred, The Monarch, Henchman 24, Col. Gentleman, and various other characters. Another major player in the development of The Venture Bros. is Doc Hammer, who voices Dr. Girlfriend, a.k.a. Dr. Mrs. the Monarch, Henchman 21, Billy Quizboy, and Kevin Moppet. Below you can read the transcript of my conversation with the voice of Dr. Rusty Venture!
Paige: From what I gather of what you've done on The Venture Bros., you voice Dr. Rusty Venture and The Phantom Limb, is that right?
James: That's right. I also do Jonas, Jr.
Paige: Oh, okay, I didn't know that.
James: Dr. Venture's parasitic — well, formerly parasitic — twin.
Paige: Yes, that's right. How did you get involved with The Venture Bros.?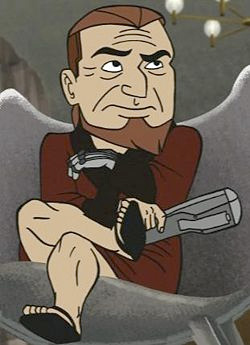 James: Well, I had a roommate in New York in the mid nineties, a guy named Bob Sikoryak. He's a cartoonist and through him I met a bunch of animation and cartoon guys in New York at that time, and Jackson Publick was one of those guys that I met. And Bob used to do these slideshows — these evenings where he would invite cartoonists to show their work at bars and performance spaces. Not to show animation, just to show like panel cartoons and things.
Paige: Mmhmm…
James: And Bob would show these strips at these evenings, these slideshows, and he would have the actor friends come in and do the voices. The dialogue in the word balloons and stuff.
Paige: Oh, okay.
James: So I used to do that a lot and Jackson used to come to those, uh, so that's I think when he first heard me do these different voices and characters. Then a few years ago, after one of these slideshows, Bob introduced him to me at a bar afterwards and he said — Jackson said, "I've got uh, I'm going to do this pilot for [adult swim] and I'd love you to be a character" and he showed me these pictures of Dr. Venture and the other characters and we recorded this pilot and time went by — a month or something — and then he said, "Well, they're going to make it a series!" And now, fast forward and here we are recording the fourth season. It all worked out.
Paige: Yeah! So the pilot that you first recorded for [adult swim], did that turn out to be the first episode of the first season or was it kind of a start over once the show was picked up by [adult swim]?
James: I don't remember how they aired — I think it's, well I don't remember exactly but I think it might be a separate thing. Because we did the pilot and then the pilot aired, and then after the pilot they agreed to do a first season. So I think the first episode of the first season — yeah I'm remembering now — the first episode of the first season I'm pretty sure is not the pilot, and the pilot's actually a separate thing.
Paige: Mmhmm…
James: And the pilot actually looked a lot more primitive. [laughs]
Paige: [laughs] Well, they tend to.
James: [laughing] And ah, then the first season… The look of the pilot and the animation is actually a lot cruder than the show became.
Paige: Well I know sometimes the pilot becomes an episode, sometimes it's not aired and sometimes it's aired later.
James: Yeah, it aired and it's on the DVD for, like I think the first season as an extra, but it's not officially episode one. Sort of a "pre-episode."
Paige: What's your favorite aspect of working on The Venture Bros.?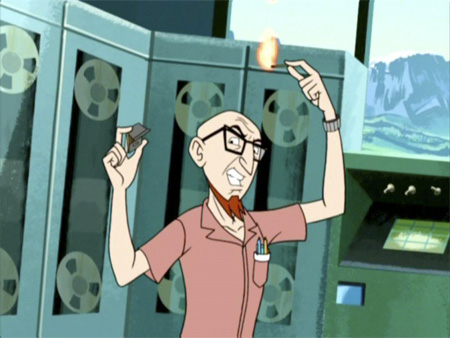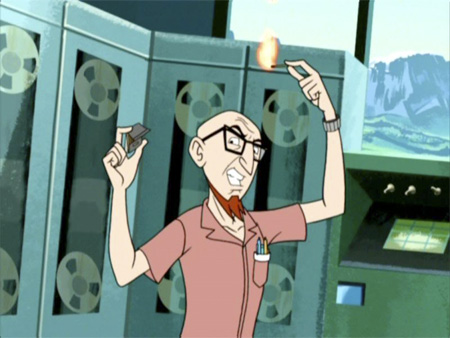 James: What's my favorite aspect?
Paige: Yeah, what do you enjoy most about it?
James: My favorite aspect is, ah, hanging out with Doc and Jackson. [laughs] They're great guys and I miss them because I moved to L.A. two and a half years ago and they're based in New York. So the bulk of the production of the show is done in New York. They talk to — they record me in L.A., usually with them on the phone from New York.
Paige: Oh, okay…
James: So I don't get to see them in person as often. I just was in New York for two months, which was very nice, and we recorded a bunch of episodes while I was there. But just the whole opportunity of being in a sort of beloved cult show. It's very nice. And meeting the, you know — not everyone I meet knows the show, but those that know the show are often intensely fond of it. [laughs]
Paige: [laughs] That's certainly been my experience with the show, and a lot of the people that I know who know of The Venture Bros. really, really like it.
James: [laughs] Yeah, yeah.
Paige: Since you voice three of the characters I don't know if that will influence your response to this, but do you have a favorite character on the show?
James: Um… I guess, uh… they all have their own place in my heart. [laughs] I don't think that Dr. Venture is necessarily the favorite, but that's sort of the default character, the one that I do the most. So Dr. Venture probably is the favorite just 'cause he really is, you know, the main guy.
Paige: Yeah.
James: But I enjoy doing the other characters, and I actually always enjoy doing the little pick-up characters like now and then. In earlier seasons, not too much recently, I would occasionally fill in to be like "Cop on Street" or "Man No. 2" or something.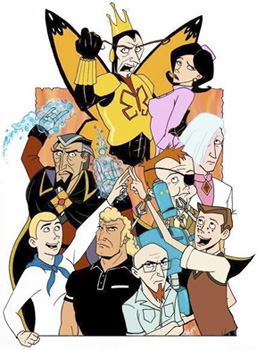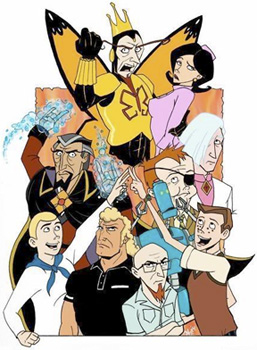 Paige: [laughs] Oh, okay.
James: But I don't do as many of those anymore. Whenever I would do a sort-of pick-up character the guys would always tell me that I sounded too much like Dr. Venture.
Paige: Oh, yeah, well I can see how that would happen sometimes. So are you involved at all in the creative process behind the show, or do you just do the voice, what they tell you, and that's it?
James: I just kind of do the voice. Yeah. I have nothing to do with the stories or the scripts — that's all Jackson and Doc. Um, very, very, very rarely I have ad-libbed a line in the booth that made it on the air, but that's really only been a handful of times. They write and direct very, very meticulously. So no, I have nothing to do with the stories or where the character's going. I just show up and record it.
Paige: It seems to work.
James: It works.
Paige: So when you actually were in the same studio as Jackson Publick and Doc Hammer doing the recording, when you were in New York, what is it like for you guys when you're all recording the voices and everything?
James: It's just really fun. I mean, Doc and Jackson are such delightful guys, and you… I mean they really work you. You don't just kind of knock off a few lines and go home. They'll have you, Jackson especially, they'll have you do several takes of even a throw-away line like little things and they just want the right quality, they're not happy until they really get that quality they want. Which is probably the reason the show works so well, 'cause there really is a detail to the characters and to the performances. It's a delightful, privileged position to be in, but it can be a fair amount of work. [laughs] We usually take two hours to go in there and record an episode.
Paige: Wow… that's interesting because I really don't know much about what goes on behind the scenes on an animated show, so it sounds really interesting.
James: Yeah, but it's really fun and those guys are just hilarious. You record for, I don't know, twenty minutes and then they take a cigarette break on the fire escape. If you're in New York you go out there with them and, you know, I don't smoke, I go out and talk to them while they smoke. And then you go back in, record some more, twenty minutes, half hour later another cigarette break, and so it goes, the afternoons.
Paige: Other than the slideshows you did that got you the gig on The Venture Bros. and then this show, have you done any other voice acting?
James: The Venture Bros. is the only animated series I've done, but I've done quite a lot of voiceovers for commercials and things like that. And this past year I've actually recorded two pilots, both which are for potential FOX cartoons.
Paige: Oh, really?
James: But I haven't heard anything about either of those. And I also did a pilot that aired on [adult swim] that a friend of mine named Michael Kupperman created. A show called Snake 'n' Bacon.
Paige: Ohh, okay.
James: With that, a couple airings on [adult swim] earlier this year but I haven't heard — to my knowledge there's nothing, they're not moving forward with that as a show. I would love to do another one, but uh… that hasn't happened yet. And many, many years ago I played a cop on an episode of Daria. [laughs]
Paige: [laughs] No way! That was an awesome show!
James: I never saw it. I never saw that episode, but apparently it's out there.
Paige: You just voiced it and moved on. [laughs]
James: [laughs] Mmhmm.
Paige: Other than the pilots that you just mentioned, are you working on anything else right now?
James: Well I was just in New York for two months while I did two movies. I did a low-budget, indie film that takes place at a high school where I play the principal, which I was very excited to do. It's always been a dream of mine to play an adult authority figure. And then I had a part in an HBO biopic about Jack Kevorkian.
Paige: Wow — really?
James: Yeah, the controversial assisted suicide guy. And that's a movie that stars Al Pacino and so I just did that. I play a reporter and I actually had a couple scenes with Pacino and that was very exciting.
Paige: How was it working on that with Pacino?
James: It was really fun. Barry Levinson directed it, and Pacino was a lovely guy, and it was exciting, you know? It's kind of surreal when you're working with someone of his status. [laughs] I go, "Here I am sitting with Pacino doing acting", and it takes on an epic quality. But that was wonderful and it was wonderful to be in New York for a while… and I've done a couple of other independent movies that were shot last year which will probably be submitted to film festivals this year. I'm waiting for some stuff to come out. Meanwhile I'm just back in L.A. waiting for the next job, whatever that may be — and I have no idea what that will be.
Paige: And work on season four of The Venture Bros., is that still going on?
James: Yeah, they split the season this year, so currently there are eight episodes that are airing. Then there'll be a break. Then later, in 2010, the back eight will air. So we're recording the latter half right now. Yeah, the guys wanted more time to write and so they made a deal with [adult swim] to say "What if we gave you" — normally, a season would be thirteen shows, but they said, "Here's the deal: what if we do eight, take a break, and then come back with another eight so you get three additional shows, but there's a break in between?"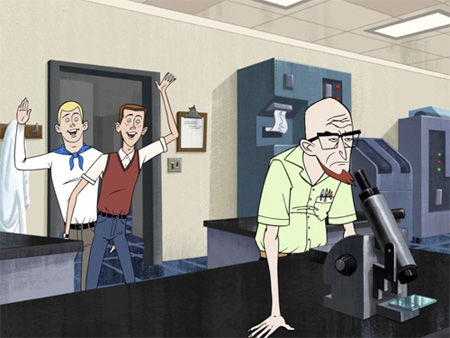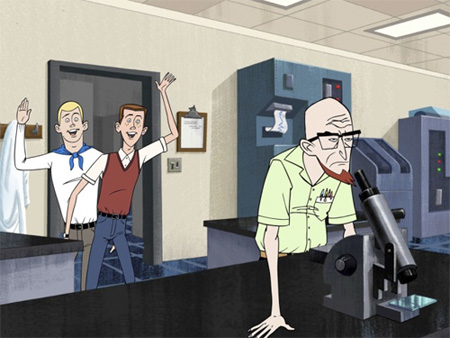 Paige: Mmhmm…
James: And [adult swim] agreed with that. So we're almost done recording. We've got maybe two more of the back eight to do, and then those will air next year.
Paige: Had they done that previously, breaking the season into parts?
James: No, there's been a long turnaround in the past, but this is the first real split season.
Paige: That's right, there was more than a season between seasons. [laughs]
James: Yeah, exactly. I always joke that it became like The Sopranos or something. It became this epic, year-long wait for the new season. [laughs] But, you know, it takes a lot of time to make these animated shows.
Paige: I would imagine that it does. Back to the other pilots and movies you have coming out, can you give us the titles or any more information on the projects or are they still under wraps?
James: Oh sure! I did a really fun indie called Drones, which would actually be right up the alley of your web site, I think. It's co-directed by Amber Benson and Adam Busch, who were both on Buffy. They're actors, but they're also directors and writers. And Drones is written by two very funny guys named Ben Acker and Ben Blacker. They're a writing team and friends of mine in L.A., and yes, their names are actually Ben Acker and Ben Blacker. It's not a joke.
Paige: That's awesome. I'm surprised that I haven't heard of that already!
James: Ah, Acker's a great big guy and Blacker's a shorter, skinny guy. And Drones is a workplace comedy with a science fiction angle. It's basically about how some aliens have come to Earth and have infiltrated the populace and at a typical, cubical office people try to figure out who's an alien and who's not. Meanwhile there's an alien love story going on [laughs] and I play the boss, and people wonder if I'm an alien or not. I won't give away whether I am or not, but it's very, very funny. We shot it, ah, a year ago and it's been a long process to finish the post production. But I believe they've finished it and they're going to submit it to festivals this year. So hopefully that will come out. It has a wonderful cast — a couple guys from Freaks and Geeks are in it: Dave Gruber Allen who played a guidance counselor or a teacher, I forget what he was exactly on that show, and a guy named Samm Levine, and lots of great people.
Then I made another independent film called Hello Lonesome, in which I play a lonely, ah, suburbanite who strikes up a relationship with a senior citizen who lives near me and who's a widow. We become this unlikely duo, we start this unlikely friendship which may be leading to a deeper friendship, if you know what I mean.
Paige: Yeah. [laughs]
James: [laughs] It's not so much a May-September romance as a September-November romance, I guess. [laughs] I'm no spring chicken myself. And then the last, or most recent movie, the high school movie that I told you about, is called Beware the Gonzo, and that's about a high school kid who starts an alternative newspaper in his high school and, ah, controversy ensues.
Paige: Mmhmm…
James: I play this well-meaning, aggressive principal who gets increasingly frustrated with him. There's some really great young actors in that, and I know they're working on submitting that to Sundance and places like that pretty soon, so hopefully — you never know with these independent films what's going to happen — hopefully they will be seen and they will come out. [laughs]
Paige: They all sound very interesting, so I'll definitely have to keep an eye out for them. That's all I have for now, but I want to thank you for taking the time to talk to me. We really appreciate it at Fandomania, and I'm a huge fan of The Venture Bros. so it was an honor.
James: My pleasure!
For more information on The Venture Bros., head to the [adult swim] official web site, where you can watch episode clips and a handful of full episodes, read episode guides, and much more. To stay up-to-date on everything James Urbaniak, check out his blog or IMDb profile.