I am a huge fan of the adult-focused programming of [adult swim], which shares channel space with the Cartoon Network ([adult swim] runs from 10:00pm – 6:00am EST). Even those of you who might not be familiar with [adult swim] have probably been exposed to a few shows that either are, or at some time were, aired during this programming segment — Robot Chicken, Family Guy, American Dad, and Futurama, to name just a few. Over my many years of staying up late and sleeping in, [adult swim] became one of the few places I could turn for a reliable mix of late-night programming that wouldn't put me to sleep (for better or for worse).
As an [adult swim] addict, the number of cartoons in my list of favorite television shows has become significant. One anecdotal example would be when I recently told my boyfriend that I had decided to get a tattoo of a monarch butterfly and he immediately assumed that I wanted a monarch butterfly because of my obsession with the [adult swim] series The Venture Bros., which features a villain who calls himself "The Monarch" and dresses like a giant butterfly (for the record, the monarch butterfly is in memory of my grandfather… long story).
Granted, my tattoo design will probably continue to engender confusion as long as I'm a fan of The Venture Bros., this discussion got me thinking… not about changing my tattoo, but about other people out there who might want tattoos based on [adult swim] programming. Little did I know what I would find as soon as I clicked the Google Search button…
1. The Venture Bros.
As you can probably tell from my previous statements, my favorite [adult swim] show is The Venture Bros., so naturally that was my first search. Although I expected more tattoos of Brock Sampson, the Venture brothers' large and imposing bodyguard, I was still amazed by what I did find.
Dr. Girlfriend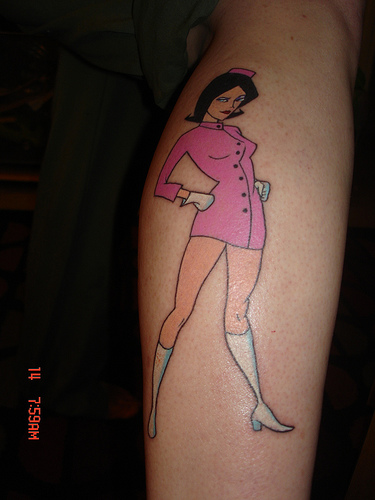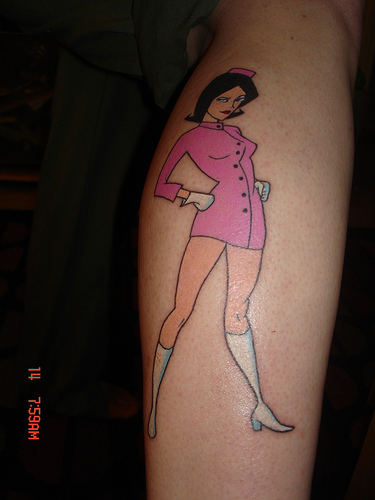 By katycatfight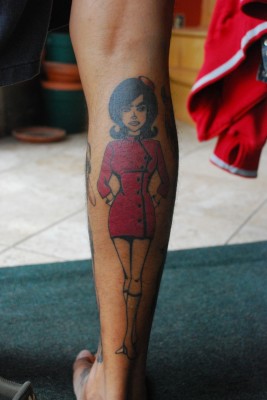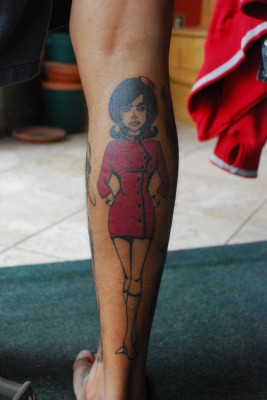 By mrjohnnyc
Dean Venture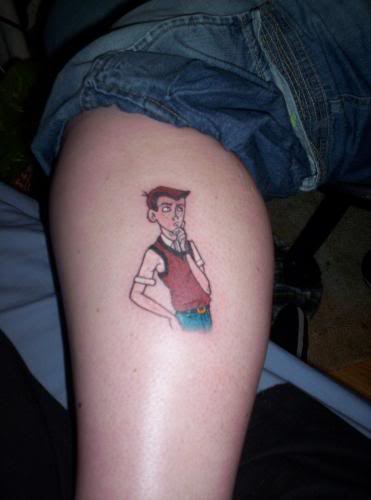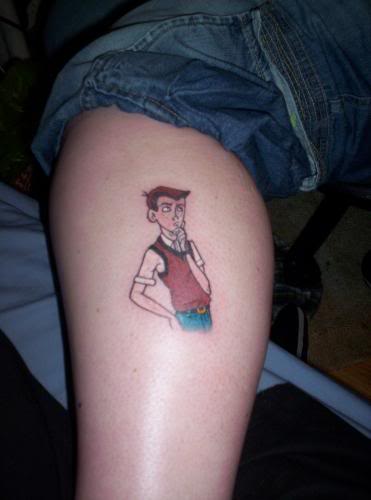 By Dean_Venture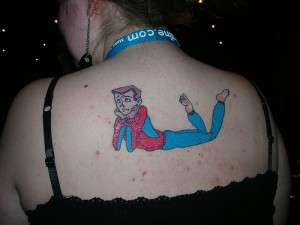 The symbol for the Guild of Calamitous Intent and the symbol for mercenary Molotov Cocktease's group of operatives, the Black Hearts: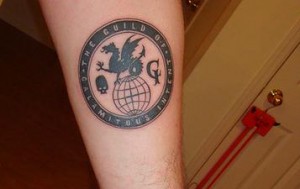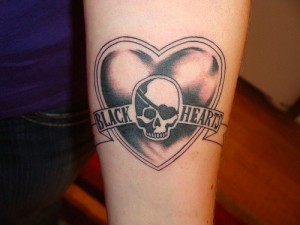 Both by dejavoo
2. Aqua Teen Hunger Force
Another one of my favorite shows to air on [adult swim], Aqua Teen Hunger Force (or ATHF as it's often referred to) took some warming up to. It wasn't until after the release of the movie, Aqua Teen Hunger Force Colon The Movie, that I really became a fan (although the movie had nothing to do with that, as I have yet to see it…). Unfortunately for the rest of the colorful characters, it appears that Meatwad, Master Shake, and the Moonanites are the post popular choices for ATHF tattoos:
Meatwad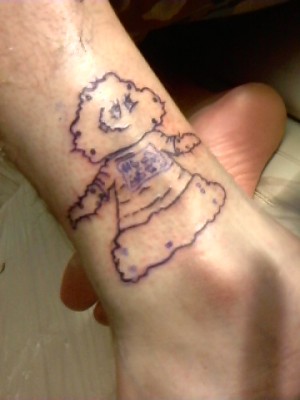 By Loonatik420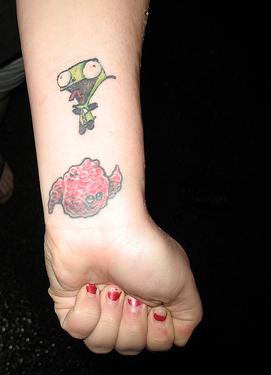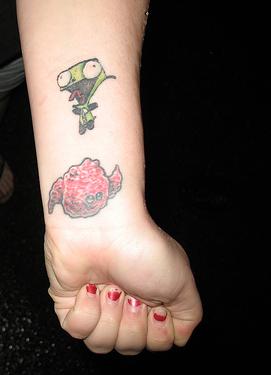 By ToddBox
Master Shake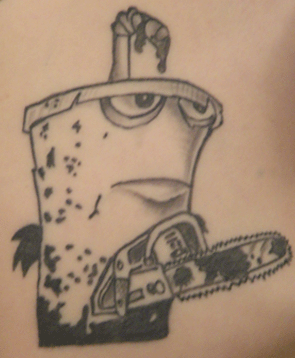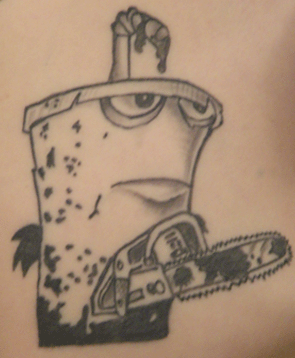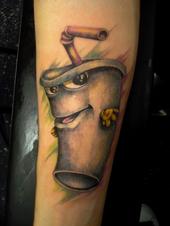 The Moonanites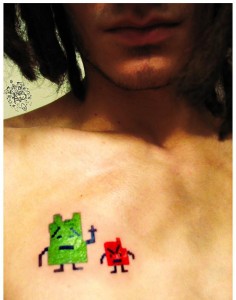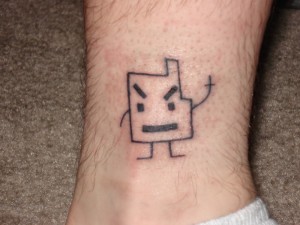 By brado_w
3. Futurama
Although no longer aired on [adult swim] (Futurama is now available in the early hours of the morning on the Syfy network), Futurama has a strong cult following. I was somewhat surprised, however, that there seems to be little interest in Futurama tattoos unless they are of Bender, the show's amoral robot. I guess Bender's lifestyle — which consists mainly of smoking, drinking, gambling, and griping about the circumstances that have left him working with a "worthless bunch of skin bags" — might be appealing to a certain mentality…
Bender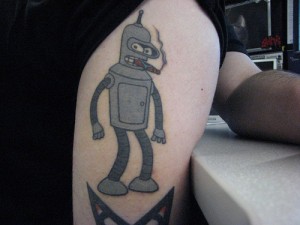 By mrtoxikk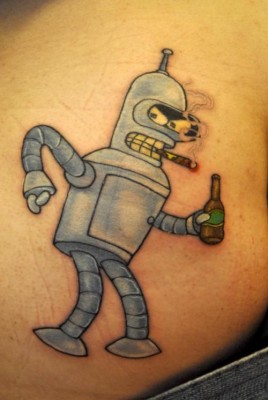 By terranceandphillip_unca fugas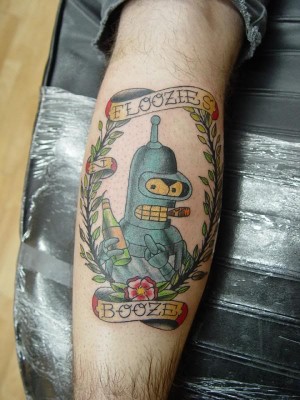 By ynotynot
The runners-up in this showcase are those individuals whose tattoos pay homage to The Drinky Crow Show, which began running on [adult swim] in 2008, and to actor Seth Green's sensational stop-motion animation/comedy series, Robot Chicken.
4. The Drinky Crow Show
Personally, I don't care for The Drinky Crow Show, but it seemed to do alright on [adult swim] (although the show was cancelled after its first season), so I figured that there must be people out there somewhere who are fond of its newspaper-comic-strip-style illustration, awkward and somewhat creepy characters (prime example: Uncle Gabby, the Irish monkey), and rather convoluted storylines. Naturally, I was right:
Drinky Crow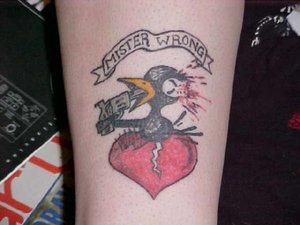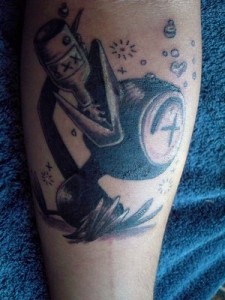 By egoe153
5. Robot Chicken
Who doesn't love it when a bunch of guys make a television series out of playing with action figures? For those of you unfamiliar with the series, the basic premise of Robot Chicken is that a mad scientist has built a chicken version of Frankenstein (only with a lot more robotic parts) and is educating the chicken by forcing it to watch scores of television screens displaying various shows and commercials simultaneously in front of it. This premise is, of course, only explained in the show's opening credits as the remainder of the 15-minute runtime features various satirical recreations of popular television shows, commercials, movies, toys, games, etc. Apparently someone out there liked the show enough to have its mascot, the robot chicken, tattooed onto his or her body. It's actually a pretty impressive tat, if you ask me.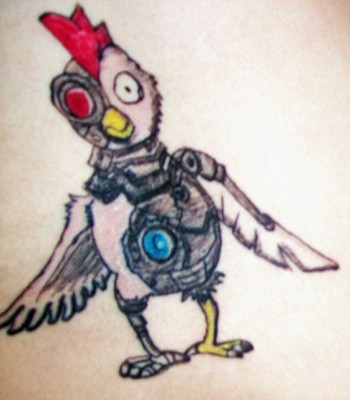 Do you have an [adult swim]-related tattoo that you'd like to share with your fellow Fandomania readers? Simply e-mail me at Paige@Fandomania.com and attach a .jpg of your tattoo. If I get enough responses (or if there are any that are kick-ass enough to stand alone) I'll post a follow-up piece and feature your tattoo!
adult swim
,
aqua teen hunger force
,
brock sampson
,
cartoon network
,
dean venture
,
dr. girlfriend
,
Fandomestic
,
futurama
,
robot chicken
,
tattoos
,
the drinky crow show
,
venture bros