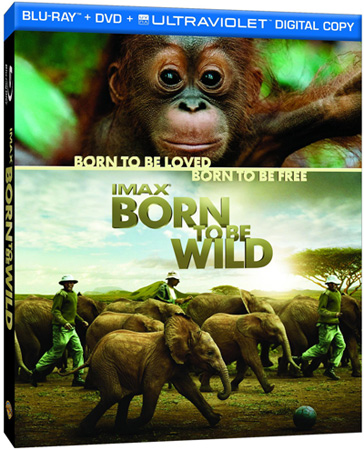 Earth Day is this coming weekend, so it's the perfect time for a documentary about baby orangutans and elephants. IMAX: Born to be Wild releases this week on Blu-ray, and we had a chance to check out the combo pack.
Morgan Freeman narrates this adorable and touching documentary, which runs approximately 40 minutes in length. Born to Be Wild's narrative shifts between an orangutan sanctuary in Borneo and an elephant orphanage in Kenya. Both facilities are run by women who love their orphaned charges as their own family. The centers have similar goals and methods, making them a natural pairing for the movie. The baby primates and elephants featured in the film have lost their parents to poachers, non-human predators, and various other tragic fates to which they likely would succumb themselves without intervention. The orphanages step in to help these little ones survive in a harsh world that already has claimed their parents. Both women run their programs with the goal of raising the infants until they are capable of living in the wild, at which point they send their now-grown little ones back to live among their own.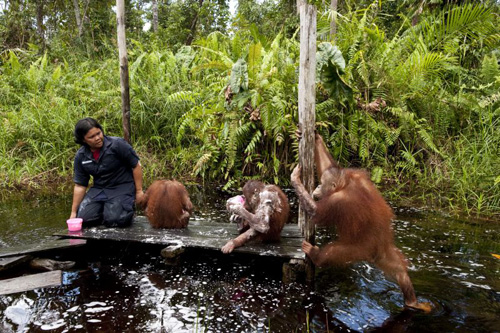 Dr. Biruté Mary Galdakis runs the facility for orangutans in Borneo, while celebrated authority Dame Daphne M. Sheldrick cares for the baby elephants in Kenya. Although time is spent with both women and their love for the baby animals is evident, the focus of the movie is on the animals themselves. We see their full cycle in the orphanages, from the time they arrive as confused and scared babies through their growing trust in their human caregivers through their eventual coming of age and graduation. The stories are touching, and the baby elephants' and orangutans' antics while in the centers overflow with cuteness. While the reasons for their needing such facilities are sad, the movie does a great job of acknowledging the darker parts of their lives without lingering on distressing shots or events. Born to Be Wild is a great movie to share with kids, as well as for anyone sensitive to seeing animal suffering. The overall theme of the documentary is one of hope and positivity as we see the lives of countless orangutans and elephants saved, enriched, and eventually sent back into nature to live free.
All the footage looks and sounds fantastic in high definition. Blu-ray and IMAX have spoiled us with high definition nature footage, and the gorgeous scenes of animals at play in their natural habitats really shows off the deep and rich colors of the rain forests and savannahs where they were shot. In addition to the main 40-minute feature, the Born to Be Wild Blu-ray release also includes six webisodes, as well as two trailers for the film. The webisodes all are in high definition like the movie itself, and each runs around two or three minutes in length.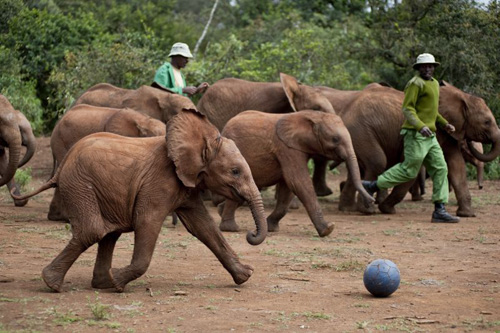 If you're looking for a heartwarming and cute film about animals to share with your family this Earth Day, you can't go wrong with Born to Be Wild. We all know and understand the uglier side of nature, but it's refreshing to find an animal movie like this one that spares us the bloody sights of predators and illness on the prowl that permeate other current documentaries. Born to Be Wild releases on Blu-ray and DVD today, April 17, 2012.