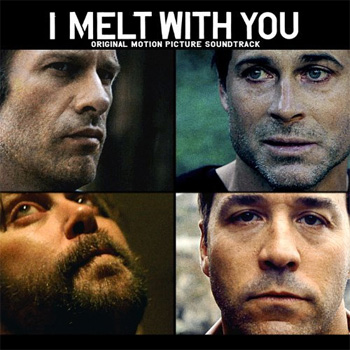 Title: I Melt With You
Artists: Various
Label: Lakeshore Records
Release Date: December 20, 2011
No matter what decade owned your youth, it's the best. I'll forever go with the '90s but will give the '80s credit for being righteous in many ways, especially their music scene. Nuwave anyone? So that leads me to a time machine in the form of a soundtrack for I Melt With You, the story of a group of friends in the midst of their 40s coming together for what they think is their regular yearly visit, when things take a turn.
Starring the wonderful Carla Gugino, the delicious Rob Lowe, and some guy some of you may know, Jeremy Piven, this cast's plots and action is set into motion with music from their yesteryears as well as some gems from the '70s and my beloved '90s. In the end, it's a mostly '80s roster ranging from title track, Modern English's "I Melt With You" (remade for the modern day and age) to the creepy sound of Galaxie 500's "Blue Thunder."
Speaking of creepy, from what can be told by the storyline of I Melt With You, it's bound to have its chilling parts. So it's no surprise that there were a couple of other songs in the bunch that if listened to alone on a rainy evening, would cause one to imagine the likes of Dahmer waiting in their closet. The current song, Julian Plenti's "Skyscraper," lacked words in the beginning and it was like walking through a darkened hallway and then coming upon a stranger when the vocals kick in. I can only assume this is in the part of the movie when things get real. That climactic part that has you yelling at the screen, "I knew it!" on repeat. Like "Skyscraper", Bauhaus' "All We Ever Wanted Was Everything" also took its time to get to the vocals.
While there were an insane amount from the rad decade, the surrounding also had a few in the mix. Filter's "Hey Man, Nice Shot" has already become synonymous with soundtracks; some may recognize it from Cable Guy, or maybe not. It screamed '90s alt, World Famous KROQ style. As for the swinging '70s, if you didn't believe it was an era of mushroom induced living, well, Funkadelic's "Maggot Brain" will sway you towards the light. To say it's psychedelic would be an understatement because by the end of this song you'll be seeing more colors than what's in George Clinton's locks.
So whether or not you were rocking an afro, Flock of Seagulls, or the "Rachel," one thing's for certain, you'll find a piece of your youth stuffed into I Melt With You's music, so long as guitar riffs and rock weren't offensive to you then and still aren today. It can be looked at as the mix tape of a man in his late 30s who not only still makes mix tapes and thinks they impress his eHarmony match, but also enjoys an eclectic mix of  the rock realm. And to make things better? Imagine Rob Lowe getting down to anyone of these tracks — you're welcome for the visual.
Track Listing:
Big Dipper – "All Going Out Together"
Galaxie 500 – "Blue Thunder"
Julian Plenti – "Skyscraper"
Filter – "Hey Man, Nice Shot"
Funkadelic – "Maggot Brain"
The Specials – "Do The Dog"
The Jesus and Mary Chain – "Just Like Honey"
Love And Rockets – "Kundalini Express"
The Pixies – "Caribou"
Bauhaus – "All We Ever Wanted Was Everything"
Modern English – "I Melt With You 2011"
Adam and the Ants – "Dog Eat Dog"
Deep Six – "The Lawn"
tomandandy – "Here"