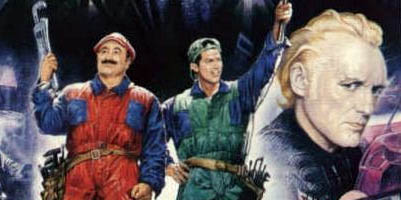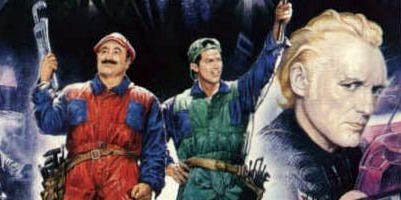 I'd like to welcome John Reid Adams to the Fandomania writing staff this week. John is an actor, writer, and director, as well as an avid fan of movies and TV. He'll be bringing you his opinions, along with a bunch of great top 10 lists, starting with this first one. –Jason
I have no problems with loving the same flicks as everyone else. Hell, It's great. It means that we're all united for the love of one thing. However, the thing that still separates us all is that occasionally there are those films that didn't hit everyone the same way, and you're the only one to which the film hit dead on target. You know what? That is nothing to be ashamed of. You know the old phrase, "One man's trash is another man's treasure." The ten films listed here are my trashy treasures, and dagnammit I ain't ashamed!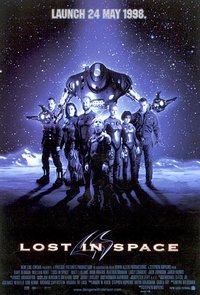 Most of the time when a they make a movie based on an old TV series it's an immediate death sentence when they stray from the things that made the source so memorable. Lost in Space is the exception to the rule in my estimation. The original TV series was of its time. At that point they believed that families were of that "Leave it to Beaver" mentality. It seems to me that the filmmakers understood that that wouldn't stand well if the movie stuck with that archaic lifestyle. Instead they updated the family's behavior to the 90's and what we end up getting is something more realistic. In this adaptation, we get a turbulent family who find themselves able to bond by inadvertently shooting themselves into the ass-end of space. This particular dynamic really aids the Robinson family's evolution throughout the film and the conclusion would've lent a lot to a sequel if such a thing happened. Not for nothing it would've been great just for an opportunity to see Gary Oldman poke fun at the robot.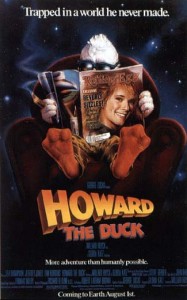 Okay, let's face it. The only reason we attack this film is because we were initially expecting some sort of Lucas style epic. Understandable, since Lucas, Spielberg, and their entourage, produced this film. I mean, what were you expecting? It's about a duck from outer space who chomps cigars, looks at porn and gets it on with a hot 80's rocker (Lea Thompson). I bet that if the exact same script was made by a different production crew, they probably would have received less flack. Then again If it was produced by a different crew they probably would've stuck to what worked in the script (ie: all the bits where Howard is trying to get himself settled in a new and different society.) You get the vibe that the whole Dark Overlord bit was tacked on. Like it was a recycled monster that didn't get used for Star Wars. Let's face it: the thing that works about this movie is the one thing that NEEDS to work. Of course that's Howard himself. The characterization is dead on and his behavior indicates that he probably could kick Donald's @$$. Donald is many things, but I doubt that he's master of Quack-Fu.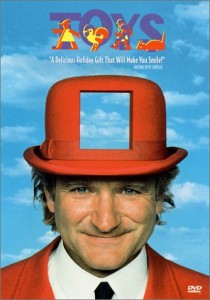 At the time this movie came out the anti-war themes of this film seemed veeeeery dated. Understandable since when Barry Levinson wrote the script while he was in college, the Vietnam War was still in full swing, and he attempted to get the script greenlit for years. It wasn't until he earned his prestige for "Rain Man" and "Good Morning Vietnam" that the studios were willing to let him produce his passion piece. I first saw this flick in elementary school, and at that age all you really needed to enjoy in this film are the whimsical visuals and of course Robin Williams, ideally cast as the seven year old trapped in a thirty-something body. Levinson understood what worked in his last collaboration with Williams in "Good Morning, Vietnam" and allowed Williams to let loose with his improv as much as possible. He provides more than enough enjoyment and laughter to fill the two hours of screentime. The film is also blessed with an insanely game cast (particularly Joan Cusack as Williams' loopy sister) who have absolutely no problem sharing scenes with Williams. Say what you want (and you probably will) about "Toys" but even the most vocal cynic can't deny that there really is a lot to love about this film.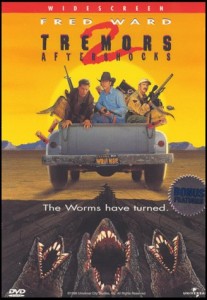 It's funnier than the first one. It focuses on the Fred Ward character of Earl Bassett. It builds on what was already established about the graboids in the previous film, and instead of trying to create new scares with the same old monsters, writer/director S.S. Wilson ups the ante by revealing the second stage of the graboids' life cycle (the final stage is naturally revealed in the third film). As a result we get, as Earl calls it, "a whole new ball game!" Of course the new ball game would not have been half as much fun without Michael Gross as Burt Gummer along for the ride. Though his character was extremely memorable in the first film, he finally got the chance to shine and I felt that through this sequel we finally realized who REALLY was the star of the franchise, and all things considered, it was "Tremors 2" which catapulted the character of Burt Gummer into cult film stardom. Which is why the subsequent films and the short lived (albeit highly entertaining TV series) focused entirely on Burt. With insanely quotable dialogue and extremely competent direction to boot, the only bad thing about "Tremors 2" was that it went straight to video.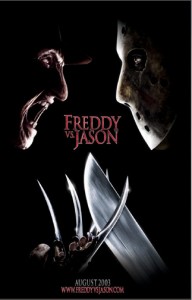 Unlike the "Alien vs. Predator" films, "Freddy vs Jason" never lied to us. It promised to put together the two horror movie titans and it wouldn't be a one-sided affair. The final showdown between the two is so perfectly staged that you're constantly trying to predict who would come out on top. Not like "AVP" where you knew the Predator was going to win because he was the lesser of two evils. "Freddy vs. Jason," on the other hand, set out to have an effective setup for the final fight and delivered the goods when the time was right. Another commendable trait of the movie is that the setup was actually well conceived and actually combines the two mythologies by picking up after "Freddy's Dead: The Final Nightmare" and "Jason Goes to Hell: The Final Friday" and actually takes the time to explain how Freddy stayed dead after "Freddy's Dead" and explained how Jason was resurrected (which "Jason X" failed to accomplish). My favorite bit was that there was a perfect reason why these two would want to fight even though they both set out to do the same thing. Sure, I won't deny that this was a horror fan's wet dream, but answer me this… When do you ever have a wet dream that you never enjoy?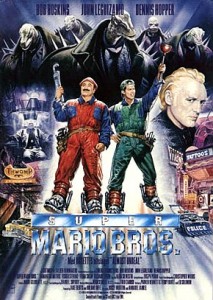 No argument and no doubt, "Mortal Kombat" is the best video game based movie, but one thing can't be denied is that "Super Mario Bros." got there first. The casting was ideal, the production design was meticulous, and it was evident that screenwriters Ed Solomon, Terry Runte, and Parker Bennett loved the game and they were actually able to take what is essentially a Japanese acid trip and made it into an eccentric sci-fi adventure. They strove to take the classic story of the game–specifically, two Italian plumbers, who stumble into a bizarre new world and set out to save a princess–and by holding back on the surreal aesthetic of the original games, they actually made the story plausible. The screenwriters were so aware of the source inspiration that notorious aspects of the game appear in the film in our reality. An obvious example is how the classic question blocks (which dispense useful items) appear in the film as the fungus which provided the heroes with useful items, and the movie even explained why it does that. They also gave us explanations as to A) Why Mario and Luigi can jump so high, B) The reptillian nature of King Koopa (Dennis Hopper), his cousins, and the citizens of his city, and C) The presence of Yoshi. These are fine examples of the screenwriter's attempts to make the nonsensical world of the game actually make sense, and when you think about it, they were able to make us believe that two plumbers could save the world.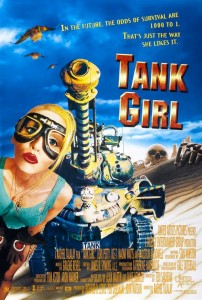 Throw in a kickass soundtrack arranged by Courtney Love, game direction from Rachel Talalay, who fought hard for her vision of the film, and finally, an absolutely electric performance by Lori Petty. She didn't just play the title character but allowed herself to be possessed by the character and owned every second of the film. It would indeed be safe to assume that were it not for Petty's extremely unique performance this film probably would have just diminished into obscurity. In my opinion, to agree with that would demean the film as a whole, especially since the rest of the film is so strong that it's almost like the film is an obscenely wild speed boat and the director and star are taking turns driving. It's not the smartest thing in the world, but dammit you're gonna enjoy the ride.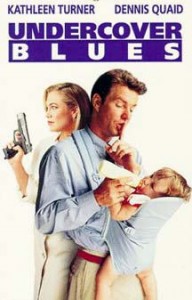 It's an insanely simple film. A comedy about two CIA agents on maternity leave in The Big Easy, who are asked to pull off an assignment on the side. So what makes this film so special? Three names…much like the movie, very simple. Dennis Quaid, Kathleen Turner, and Stanley Tucci. That doesn't sound like much, but trust me, that's enough. These three actors prove the remarkable truth that a decent script can only take you so far. If your actors are rubbish, then you might as well be wiping your butt with it. For this film we've got Quaid and Turner practically lighting up every scene with their irresistible chemistry. You can't help but get caught up in their enthusiasm in playing parents and CIA agents simultaneously. Then throw in Stanley Tucci as Muerte (aka 'Morty'), a petty mugger with delusions of grandeur, who is hell-bent on regaining his street cred after getting his butt kicked by an unarmed man with a baby. His persistence leads to a series of circumstances which cause him both immense pain and further humiliation. Tucci sells this character so well that even if the character is there to serve as a running gag throughout the film, you wouldn't care. After seeing Muerte's misfortunes you learn to love him and actually wish that the film were about him. Overall an enjoyable espionage romp with a family-film twist.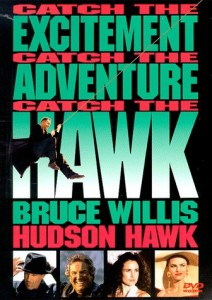 I don't get what was wrong with this movie. Perhaps audiences in the 90's were so obsessed with shedding the campy disposition of the 80's that they didn't want to embrace the outrageous, unbridled, madcap hilarity of this film. In this film, Bruce Willis sought to return to his comedy roots after becoming an action star almost overnight. Well, he succeeds because he is able to balance his cartoon like physicality with his smooth sarcastic coolness. Only Bruce Willis (teamed with Danny Aiello) could make us believe that you could rob a high security auction house while "Swingin' on a Star," and subsequently leap from multiple stories to escape. Under the direction of "Heathers" helmer Michael Lehmann, the film is injected with a sort manic energy, where even the dialogue scenes are fondly remembered with a sort of dubious reverence. At first glance, you're raising an eyebrow at a scene where Andie MacDowell talks to the dolphins. Then in retrospect, you cast analysis to the wind, and just crack up that she is making an utter ass of herself. As a result we get a smorgasboard of characters whose variety ranges from completely bizarre to totally insane. With that in mind, it's ironic how all of that fits together with an interesting (and seemingly elegant) plot revolving around the secrets of Leonardo DaVinci.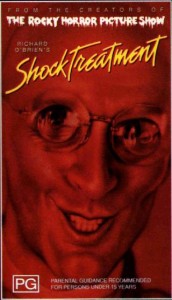 The unofficial follow-up to "The Rocky Horror Picture Show." The cast and creative went on record, declaring "Shock Treatment" to be a completely different beast than "RHPS." Most veiwers didn't like this movie due to the fact that they fell into the trap of comparing it to "Rocky Horror," and as a result, became so jaded that they completely ignored the film's many strengths. After thorough observation, it's clear that that the story (especially now) is socially relevant by satirizing ultra-conservative, materialistic Americana, where people are content to be slaves to the media and its powers of seduction. Who better to succumb to the seduction than our favorite slut Janet (Jessica Harper) who, after becoming an overnight sensation, leaves Brad committed in a insane asylum / reality show. ST is also armed with an outstanding score with playful music and lyrics. Standout numbers include "Bitchin' In The Kitchen," "Lookin' at an Ace," "Lullaby," and of course the title song. All of these display Richard O'Brien's brilliance as a songwriter, and combined with director Jim Sharman's skills you get this vibe that they really wanted to display their versatility. Well, when you compare the respective aesthetics of "Rocky Horror" and "Shock Treatment" in production, music, and story, you can see that the differences are not only intentional, they're obvious. The folly of the naysayers is that the wanted another "Rocky Horror." Unfortunately, the problem with wanting another "Rocky Horror" is that we would just be asking for the same thing. I'm not speaking for Richard O'Brien, but If I were in his shoes, and the past eight years of my life were devoted to just one of my creations, I'd be dead-set to try something completely different.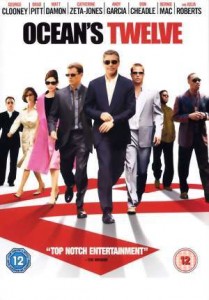 Granted it's not as slick, or as clever as Ocean's 11 or 13 but the one thing that isn't lost in this film is the sense of fun which exudes from the cast. You get the feeling that you're sitting in on a wild party with the coolest group of con men to ever grace the silver screen.