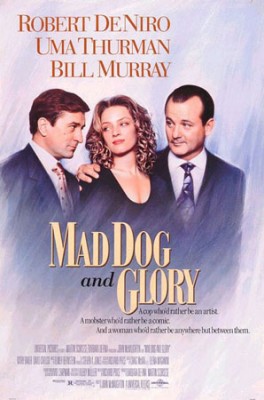 Hulu is by far the greatest thing to grace the Internet since that "badger badger" song. And luckily for us it has the single weirdest collection of completely random feature films! Everything from low budget B-movies no one has ever seen to flicks that have fallen into a pop culture abyss, Hulu is filled with a wide array of quality and not-so quality, and I would be lying to say I don't love 'em all. This week we're taking a look at a little gem called Mad Dog and Glory.
I have no idea how this movie escaped my radar for the past 16 years. Especially with the cast being what it is. It's an all-star team of modern film and television… only it seems a bit backwards.
I have this vision in my head of one of the pre-production meetings. They're all discussing the movie and one guy says "OK, so we've got this movie about a ruthless bully mob boss and this timid, weak-willed photographer. And we're thinking Bill Murray and Robert De Niro!" Then the head honcho says "That's Great! Robby De Niro will make a great tough guy picking on Bill Murray." Then the other guy says "Well… actually… Billy Murray is going to play the crime boss… and De Niro will play the wuss."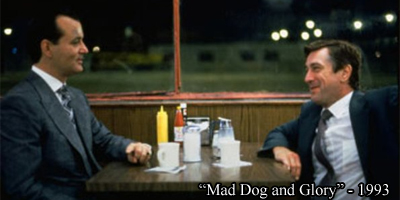 And thanks to that bold man, Mad Dog and Glory is a really fun and somewhat bizarre tale of what happens when the sarcastically nicknamed police photographer Wayne "Mad Dog" Dobie saves the life of hardened criminal Frank Milo. After Milo takes a liking to the soft spoken photog, he gives him a gift in the form of a young female companion named Glory played by none other than a 23-year-old Uma Thurman. Also in the cast is Golden Globe winner and Emmy nominee David Caruso (he plays a cop! I know it's somewhat hard to believe) as well as the Babe Ruth of supporting roles, Mike Starr. (I don't know what I meant by that either.)
Written by Richard Price (who also wrote one of my favorite films, Color of Money), and directed by John McNaughton (Wild Things), Mad Dog and Glory stands the test of time better then most movies from the early nineties. It's got everything I personally want in a movie. It has good laughs, great drama, and Uma Thurman's 23-year-old boobs. What more do you need? De Niro gives a stellar performance and plays the pathetic Mad Dog really well. His relationship with Uma, as unorthodox as it may seem, was very sincere and heartfelt, pretty much what you would expect from two power house talent. Within twelve months of the release of this film, A Bronx Tale, Groundhog Day and Pulp Fiction were also released. One could definitely say that Mad Dog and Glory is the product of combining three powerhouse stars in what many could argue was their absolute prime.
Mad Dog and Glory is definitely worth your time so check it out quick while you can! It's currently listed to expire on Hulu in just a week!