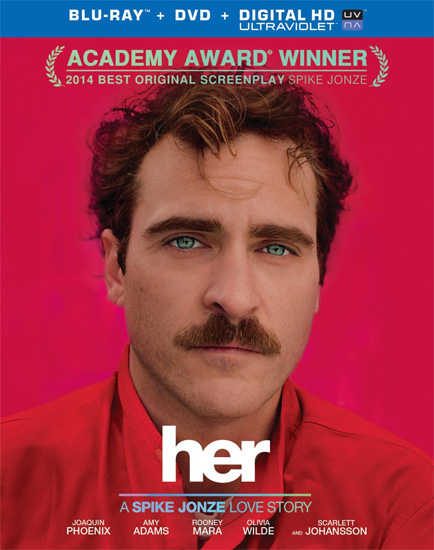 I'm a fan and follower of science fiction, quick to consume new books, movies, and video games to assimilate into my ever expanding sci-fi worldview. The last place I expected to find the most intriguing science fiction I've seen this year, however, was within this strange movie called Her. When Her originally released in theaters I heard that it was about Joaquin Phoenix falling in love with his Siri. And, you know, that's kind of what it is, but that description eschews all the philosophical nuances and atmospheric implications that come as part and parcel of this film. Her releases on Blu-ray this week, and I finally got a chance to discover what I had missed in the theatrical run.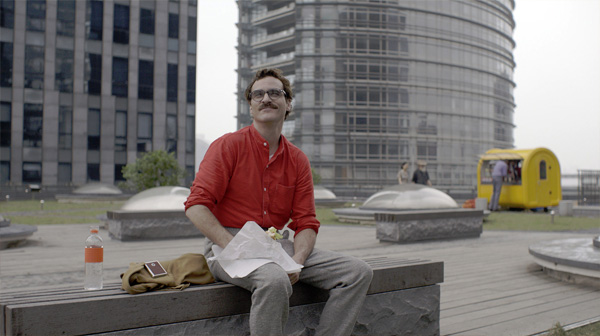 Her is a weird love story, but it's also near future science fiction. Most near future settings in sci-fi are only passably recognizable as a society connected to our own, and there usually are at least a few flying cars or robotic housekeepers to be seen. The future of Her is a much more tangible and believable one, barely different from the world in which we live today. Our obsession with consumer gadgets and specifically with our iPhones and Androids is very likely to usher us directly into Spike Jonze's vision sooner rather than later.
Like everyone else he knows and encounters, Theodore (Joaquin Phoenix) trundles through life with an earpiece in his ear and a mobile device in his hand or pocket. It's rare for him not to be talking to a computer, whether it's the one he carries with him, the personal computer in his home, or the system at work where he composes heartfelt letters for clients to send to their loved ones. Most people are connected to and through their technology but are isolated from each other, a short term trajectory that's all too easy to believe. As the technology becomes more complex and the AIs with which people interact become more lifelike, humans have less cause to engage with each other and more cause to retreat into their own cyber cocoons.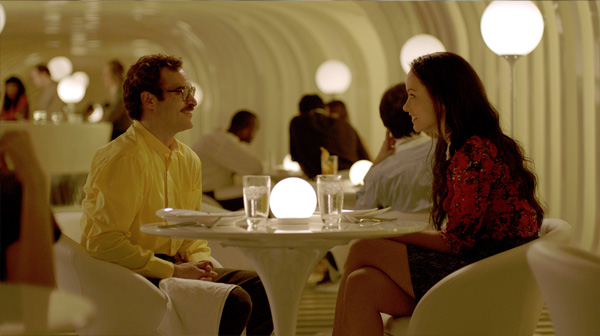 Theodore is something of a dichotomy in his modern and disconnected world. While he seems most comfortable working with machines, he possesses a keen sensitivity that allows him to express his emotions in especially eloquent ways. That skill makes him an excellent fit for his job at the letter writing company, and he regularly conveys beautiful thoughts and feelings for his clients, even as he struggles to understand his own place in emotions and love while he lives in denial of the divorce he's refusing to complete. This mixture of emotions and quirks primes Theodore for becomingly quickly enamored with the new operating system he purchases for his computer network.
Naming itself Samantha (Scarlett Johansson's voice), the OS is an advanced and learning artificial intelligence that helps Theodore with his computer tasks but more importantly befriends and seems to understand him. As Theodore becomes more reliant on Samantha's companionship, she begins to learn about humanity and perhaps even about her own place in the world. Before long, their relationship becomes romantic, and they are each other's constant partners. We're still a ways off from that sort of companionship being an accepted norm, but Theodore's relationship with his computer is barely on the fringe of oddity in his society.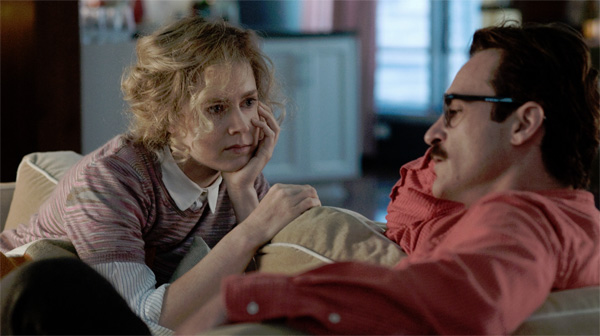 There is a sweetness and a naivety to Theodore and Samantha's love story that makes what could have been a really creepy movie into a more universal and understandable one. Everyone wants and needs to be accepted and loved, and the desire to find certain truths about the universe and one's role in it is a common one. That's what Her delivers. As Theodore, a generally sensitive and caring guy, tries to make love work, Samantha struggles to understand what life even means. The subtleties of their journeys give Her a depth uncommon to most romantic movies and especially unique to the unusual sub-genre of romantic science fiction.
Most of the movie has Joaquin Phoenix acting in spaces by himself, talking with Scarlett Johansson's disembodied voice. His performance in these solo scenes is enthralling, but he also interacts remarkably and, in turns, awkwardly with his costars. Amy Adams plays Amy, Theodore's best friend and a video game designer who shares some of his existential maladies, as well as some of his methods of coping with the world. Chris Pratt plays her somewhat strange and off-putting husband Paul, while Rooney Mara is Catherine, Theodore's estranged wife who haunts his memories and is an ever present specter in his life. Olivia Wilde also makes an appearance as a blind date for Theodore toward the beginning of the film.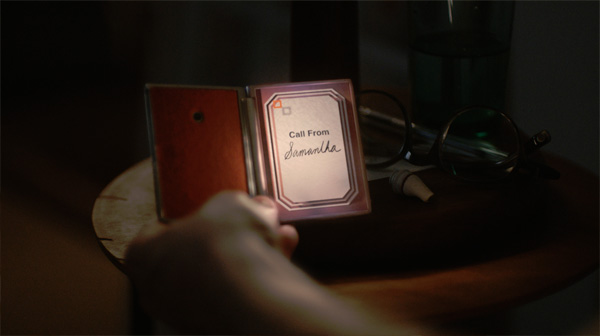 While it is science fiction and deals with some weighty and classic sci-fi issues, Her resists the very real temptation to fly off into Battlestar Galactica origin story territory. After a while, you almost can forget that Samantha is an artificial intelligence, and the movie becomes simply a love story about two people trying to find their respective ways. It's a must-see for fans of romantic movies but also for fans of science fiction who are interested in stories about identity, the nature of humanity, and humans' places in a technological world.