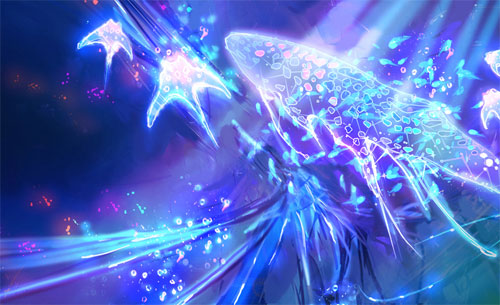 Earlier this week, game publisher Ubisoft announced their new Project Hope initiative that teams them with R&B Artist Ne-Yo to help Japan. Through Project Hope, Ubisoft and Ne-Yo have committed a $100,000 donation to help the relief efforts after the devastating earthquakes and tsunami that struck Japan earlier this year. Additionally, Ubisoft has pledged an additional dollar donation for every score higher than Ne-Yo's high score in the Kinect game Child of Eden. They'll continue to build on their donation one dollar at a time through July 4, up to a maximum additional donation of $20,000. If you think you can top 306,800 on the Evolution archive's "Normal Kinect" leaderboard, this is your chance to help raise the funding toward Japan.
To get your score logged, just snap a picture of your game screen with the score and tweet the photo with the hashtag #childofeden. At the end of the promotion, Ubisoft will select one winner from all the submissions who will get to meet Ne-Yo in person.
Ne-Yo commented, "After the devastating events in Japan, I was inspired firsthand by the way people have come together to help out the country. Child of Eden is a beautiful game that's all about hope and happiness and when Ubisoft approached me with a unique way to continue to help the people of Japan, the birthplace of the game, I was excited to join the cause."
Project Hope is up and running right now for gamers in the U.S. and Canada, and you can take part anytime from now through July 4. You can see all the info and rules for Project Hope at the official Child of Eden website.