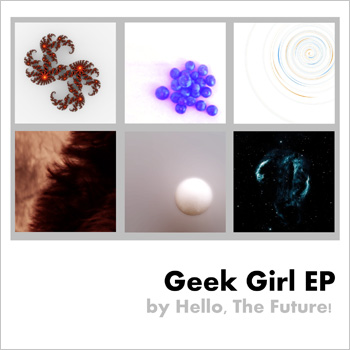 I first became aware of Hello, the Future! (aka Nicole Dieker) when she produced the Mink Car Cover CD. I've also mentioned her adorkable cover of MC Frontalot's "Captains of Industry" (which she also performed on the JoCo Cruise Crazy). Now she is working on a new album (called Giant Robot Album) and needs to raise funds to get real studio time and a band. So what better way to do that than put together a Kickstarter?
Review
Instead of the "What I'm Getting Section," I thought a review would make more sense. I already have a preview copy of the EP that Nicole sent me when I requested to review it. If you only get a copy of the music out of this Kickstarter, it'll be well worth your money (although see below for what else you can get!).
If you're a fan of the Hunger Games series, Game of Thrones, Portal 2, The Magician King, or Firefly, you'll particularly enjoy this EP because each of the songs is told from the perspective of a main female character. And if you're not a fan of them all, you'll enjoy it, too. For example, I've never read Game of Thrones (and I've seen enough of the TV show to know I don't like it), but the song "I Don't Know What's Going to Happen to Me" is enjoyable without knowing the details of Arya Stark's life. It has a nice medieval / Renaissance feel to it that seems to me to fit the setting of the series.
Actually, the songs were so good they inspired me to (finally) check out a couple of the works they were based on — Portal 2 and The Hunger Games. "No Hunger Games Can Get Me" in particular weaves together the story of Katniss Everdeen very nicely, and I really love the way Nicole makes reference to "Still Alive" in "Four Hundred Years Ago."
Each of the tracks has a different feel that perfectly fits the character being described (well, at least the ones I'm familiar with). If you want to check out one of the tracks in advance, I'd recommend checking out "River's Song" (now known as "No Power in the Verse") on YouTube, which is without doubt my favorite on the EP. It really sums up all aspects of River's complex character, complete with multiple references to events in the show. Just go listen to it; I'll assume you're already a fan of Firefly.
What Else Is Available
For just $5, you get the digital version of the Geek Girl EP, while $15 gets you the physical CD and a sticker. Bump up to $25 to add a poster and a sketch drawn by Nicole. Moving up the pledge scale, you can get t-shirts ($42), Giant Robot Album swag ($125), handwritten lyrics ($200), and DVDs ($300). At the upper end, there are some personal items that Nicole is willing to part with for $600 or $1000, and $450 gets you a song commission (which is also included at the upper levels). Of course all upper levels get previous levels included as usual. For details (I've left out some stuff for the sake of brevity), check out the Kickstarter page. It ends on September 2.
What Else Is Cool
Check out Nicole's YouTube channel. She has tons of songs, including plenty more geeky covers. She's quite prolific (100 songs in 100 weeks, plus more); here's hoping she can start to make a bigger name for herself!