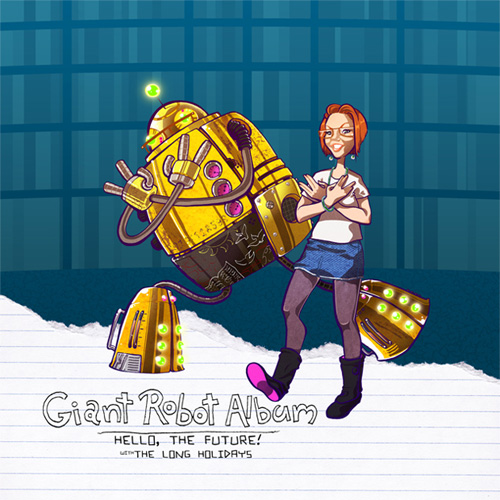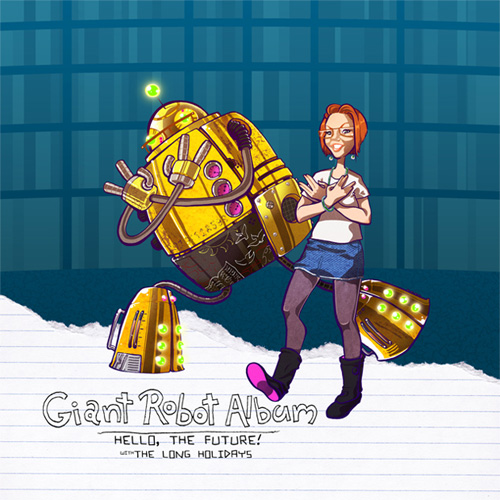 The new album from Hello, the Future! debuts on June 25, but I have the honor of having obtained an advanced review copy. And I'm pleased to report that it's just as wonderful as I'd hoped it would be. The addition of the band (The Long Holidays, whose music I will also need to check out) to Nicole's already talented song-writing makes this a strong contender for one of the best albums of the year. (I should note that the videos embedded here are for the solo acoustic versions of the songs, but they're still representative of Hello, the Future!'s sound. Also, a couple of songs on the album itself are slightly NSFW, if only because of one word).
The album itself is much more personal than most of Hello, the Future!'s previous work, which makes sense given how much of a relationship she has built with her audience. In fact, this relationship figures quite prominently in one of my favorite tracks from the album, "Pay It Forward." The song is basically a celebration of the crowdfunding that created the album as well as the fans who helped put it together. But it goes beyond that as well, celebrating the entire culture of crowdfunding and independent artists. The line "they're carrying you" brings to mind Amanda Palmer, whom I know Nicole admires, falling into the crowd, something she views as symbolic of her trust of her fans.
Also very personal are "Blue Wears Jade" and "Not Blue Anymore." "Blue" is Nicole's former alter ego, and I find it interesting that the two songs are in order that they are, with "Not Blue Anymore" first and "Blue Wears Jade" second. Perhaps she's not quite as done with "Blue" as she wants to be, which actually fits with the theme of "Not Blue Anymore." Of course, "Blue" serves a double meaning in "Not Blue Anymore." It's not just about the alter ego, but also about that doubt that comes from not feeling like you're good enough. Like "Not Blue Anymore," "Blue Wears Jade" is about not quite being done with the past despite having mostly moved on (Nicole has a much more skeptical frame of mind than in her past, but like many skeptics still has her own gris-gris, in this case the protective jade).
Of course the title track itself is personal and isn't even really about giant robots; instead it's about what constitutes art. The "giant robot" in this case is a drawing by a kid at fine arts camp that represents non-serious art. I'm detecting a bit more influence of Amanda Palmer here, with the definition of art being about making connections. I really like this idea, and it's a fitting opening track as well, defining what the entire album will be about.
Probably my favorite tracks on the album have to be "I Like Coffee" and "Skeptic Love Song." I love the frenetic pace of the former, and the theremin fits in so well. I find it going through my head pretty much every morning when I'm having my breakfast. I, too, like coffee. I also identify with "Skeptic Love Song." Like Nicole, I'm a skeptic, but that doesn't mean I'm completely emotionless and can't fall in love. The lyrics of the song are absolutely brilliant, and I particularly love the lines "I know love really means / I like your genes / So take them off" and also "And I wrote this love song for you, to explain / Every day I don't tell you I love you is a lie." Very nice word play there.
If you've never yet checked out Hello, the Future!, this is a really great chance to do so. If you're reading this before June 25, check out the three preview tracks on Bandcamp, then pre-order it. And if it's after that, then listen to the whole thing and grab a copy. You won't be disappointed.