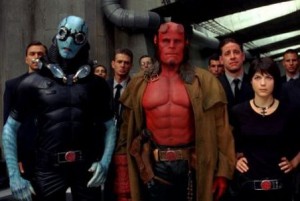 John went to see Hellboy 2 and has some great analysis and kind words to say about the return of Big Red and his friends at the BPRD.
HELLBOY II: The Golden Army
Starring: Ron Perlman, Selma Blair, Doug Jones, Jeffrey Tambor, Luke Goss, and Seth MacFarlane
Directed by: Guillermo Del Toro
SYNOPSIS: There is a truce between our world and the other. But an exiled prince (Luke Goss) has opted to forcibly break the truce and unleash an indestructible army to wipe out mankind. There is opposition: the Bureau of Paranormal Research and Defense and a ragtag group of exceptional agents led by the big, red, beer-swigging, cigar chomping bar-brawling, half-man, half-demon Hellboy (Ron Perlman).
ANALYSIS: It seems to be a continuing trend that in comic book films, the second entry seems to be the superior one. Since they're not burdened by having to establish everything, they have the room to make everything better. And that's definitely an area where this film succeeds. The action is bigger, the characters are more refined, and we're able to finally see the full potential of the franchise. Well here's the latest to add to the list, and the best part is that it defies comparison to any other film. It has more allure then alien hunters in dark suits, and more fantastic than any squabbling foursome.
The fact that we have finally come to see this sequel on the screen is a testament to the tenacity of director Guillermo Del Toro and the daring of Universal. The original film was released by the now defunct Revolution Studios and you get the sense that their resources were limited, and because of that, Del Toro was unable to go as far as he wanted with the first film. That and we got the impression that it wasn't promoted as well as it should have been. The original film did adequate business in the box office and became an inevitable cult hit. Del Toro and Hellboy creator Mike Mignola already had the story for its sequel planned out, but apparently Revolution Studios wasn't interested in continuing the franchise. The project was placed on hold for years until they shopped it to Universal. With the recent success Del Toro had with Pan's Labyrinth, it earned him enough prestige to warrant the kind of production Hellboy deserves. After seeing the film last night, I think it's safe to say that is was a worthy investment for Universal.
Everything is bigger about this sequel, and most importantly, everything is better. The returning characters are given far more to do, and the story has warranted them to bare their souls without hesitation. We find that Hellboy is getting antsy. He's eager to be out in the world, and when he does, he doesn't get the reception we was hoping for. This has left him debating his job at the BPRD for the first time. Meanwhile, HB's relationship with Liz Sherman (Selma Blair) has hit a bit of a speedbump. Hellboy thinks that it's because he's having a hard time being more accommodating to Liz, but it's something a bit more, which in time will become a lot more. This is not your traditional spat between lovers. Though it's definitely played for humor, you still feel the same empathy that you'd feel for any one else in their position. Same goes to Abe Sapien who actually develops a personal (and psychic) connection with Princess Nuala. Unfortunately her connection with her genocidal brother could put the whole team in danger.
The success of Mignola's characters is that he makes it so easy to love Hellboy and company, because in lieu of their inhuman disposition they are still us. They're never distant or alien. Actually they're just as human as we are. A standout scene punctuates this point perfectly when Hellboy and Abe are sitting in the main library, lamenting their respective quandaries, swigging Tecate, and drunkenly singing love songs. How many of us can relate to that? I sure can; I worked at Blockbuster. Another thing we can relate to is the irritation of new management at your workplace. You're set in your ways then some new hotshot comes in and gums up the works. This comes in the form of Dr. Johann Krauss (Voiced by Seth MacFarlane). Worst of all he is methodical, which naturally doesn't sit well with Hellboy's methods. We've all had that problem. The only difference is we aren't big and red, and our bosses aren't made up of ectoplasmic vapor with the ability to animate any kind of machinery. An ability, I might add, that makes for some wicked scenes to come.
The actors were already solid in the first film, but this time they're given an even meatier script to chew on, and with Del Toro's confident direction, their performances have become so refined that you wish there was a category in the Golden Globes for "best performance in a comic book movie." Ron Perlman already established himself in the role with the previous film, but now that we've got the whole baggage of establishment out of the way, Perlman is allowed to have some real fun. Interestingly enough, another one who gets more to do on the acting front is Doug Jones as Abe Sapien. In the previous film he was only allowed to do the body work, while his voice was dubbed over by David Hyde Pierce. That was definitely a pleasant surprise in the first film, but after seeing how well Jones fares as a whole in the part, it makes Pierce's contribution in the previous film more of a welcome redundancy. Though his voice retains the character's sophistication, Jones' voice gives the character an almost innocent charm. As for Selma Blair, I did feel in the previous film I felt her performance was somehow neutral. I suspect that may have been a directorial touch, because the character may have been afraid to open up emotionally because of her uncontrollable ability. It seems that now that Liz finally has her head on straight she is able to be more open emotionally, and with that it appears Blair became more comfortable in the part. In the latter portion of the film when it reaches the climax, Blair shines when she beautifully conveys how far she is willing to go to protect the demon she loves.
Compared to the first film, I also got the impression that, after the success of Pan's Labyrinth and the final result of the first film, Mike Mignola realized that the best course of action is to allow Guillermo Del Toro to stretch his legs and not be as bound to match the aesthetic of the original comic book, and the final result is a truly gorgeous melange of the macabre, the mystifying, and the magical. The thing that makes it so beautiful is that the creatures, the scenery, and the costumes stray from the traditional perceptions that we've become so used to. We've seen trolls, goblins, fairies, and oracles before, But we've never seen trolls with mechanical hands that extend with a chain or fairies that gnaw you into nothing, starting with your teeth. This is the kind of imagination that they employ to make action sequences so spectacular… imagination that matches that of Mignola's characters.
After Guillermo Del Toro reached new critical and commercial heights with Pan's Labyrinth it seemed that he might go off and do other projects which would match the caliber of that film. What we didn't count on is that this film actually does match it, in pure imagination and the guarantee that you are never going to see anything like it in this rabid summer season.
GRADE A+