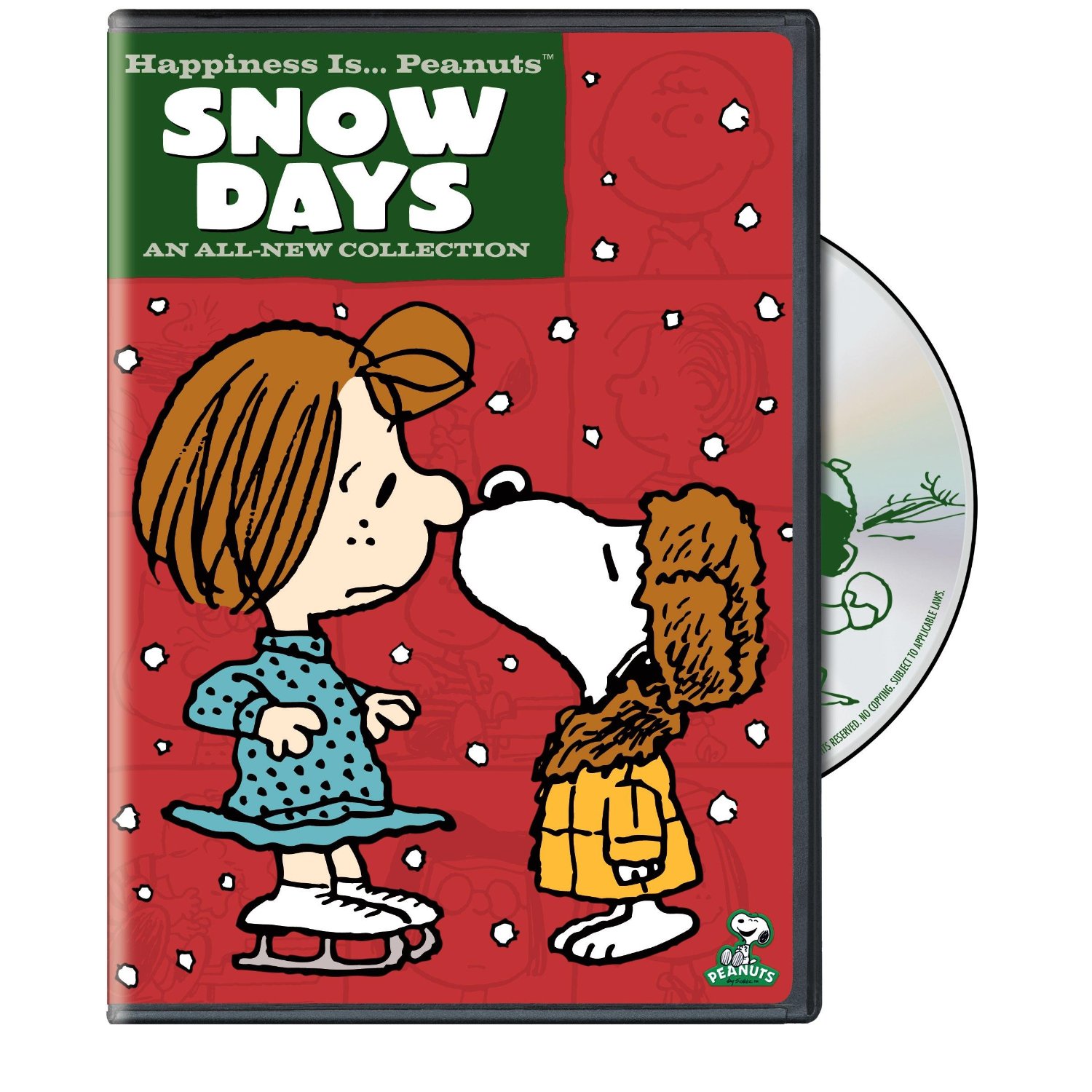 DVD: Happiness Is… Peanuts: Snow Days
Release Date: October 18, 2011
Studio: Warner Home Video
Charlie Brown is back and he wants to share the joy of winter with you. In the latest DVD collection, Happiness Is… Peanuts: Snow Days, Charlie Brown, Lucy, Linus, Sally, Snoopy, and the whole Peanuts gang have adventures that take you back to the joy of youth. This DVD has three shorts from the 1985 The Charlie Brown and Snoopy Show, as well as one full-length special originally from 1980.
In the first short, The Play, Charlie Brown is recalling their holiday from last year as he is assigned to write about "the most interesting Christmas ever" for a school essay. Lucy was picked to lead the school play and she decides to put on the show at the ice rink. Everyone gets assigned a part — from Linus, who can't sing, being told he has to do "Jingle Bells" to Marcie being Mary in the nativity, even though Peppermint Patty would rather have had that part than the sheep she's forced to play, even down to Charlie Brown who must sell Christmas wreaths to raise money for the show, even though he needs Sally's help to actually make any money. Lucy has chosen the choice assignment for herself, showing off her ice skating talents for the ice show. But the play did not go well, everyone's parts a disaster, but at least Sally scored a boyfriend out of the deal. Turns out there really is a Harold Angel out there.
Sweet Babboo has the gang is waiting for Valentine's Day cards, but they're all disappointed. The little redhead girl never shows up at school to receive Charlie Brown's and his mailbox is eternally empty. And Sally is sad because Linus won't acknowledge that he's Sally's Sweet Babboo. The only two that experienced the joy of the holiday was Snoopy and Woodstock, who both got a wheelbarrow full of sweet love notes.
In the final short, Snoopy's Story, Peppermint Patty was told to write a school assignment about the most interesting person she knew and she picked Snoopy. Marcie warns that Snoopy might not be the best choice of subject, since his real-life adventures sound outlandish, but Peppermint Patty is determined to feature the fun beagle. Her perseverance pays off, since her essay not only gained her praise from her teacher, but also from the entire city as it's entered into a competition and wins her first prize.
And in the full-length feature from 1980, She's A Good Skate, Charlie Brown, Peppermint Patty wants to be an ice-skating star and won't let anything stop her. She's got a great ice skating coach, by way of Snoopy, and she's determined to make it big at the regional skating competition. Too bad all her training has her overly tired and she keeps falling asleep in class. Speaking of classroom antics, this was the first time I've ever heard the teacher actually speak. Usually it's the wah-wah of adult voices. It was quite the change.
Before Peppermint Patty can get to regionals, she's going to need a fancy costume, so she enlists Marcie to do that for her. But giving a bolt of denim material, a box of sequins, and a spool of thread to someone who can't even sew is bound to end in disaster. When the costume fails to capture Peppermint Patty's mental image, Snoopy steps in and fixes it! And when the group ends up at regionals and her music tape goes haywire, Woodstock steps in and whistles the tune for her. The team effort paid off and she won first place. It is all about friendship and helping others succeed.
I very much enjoyed this trip down memory lane. It's nice to see some lesser-repeated Charlie Brown specials getting a new chance to shine. If you're a Peanuts fan, be sure to check this one out!
Rating: 5 / 5 Stars