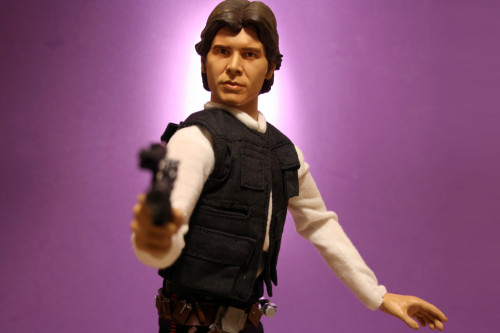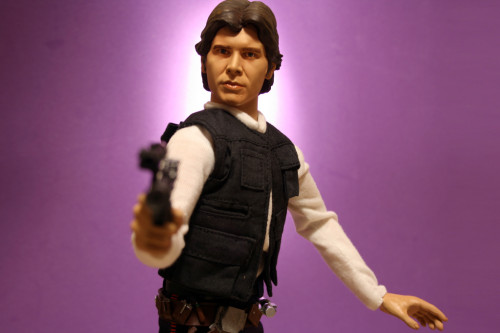 Sideshow Collectibles' newest Star Wars 12″ figure has been released, and it's Han Solo as he appeared at the beginning of A New Hope. Here's my review with photos.
This is unquestionably the most iconic look for Han Solo. It's hard to think of him without immediately going to the white shirt and black vest look from the beginning of A New Hope. So if you want a Star Wars 12″ action figure that epitomizes the character of Han Solo, this would be the one for you.
Following Sideshow's previously released Bespin version of Han, this one's most immediately remarkable comparison is that the facial likeness is recognizably a younger Harrison Ford. I really was impressed by the age difference evident between the two figures, ringing true to the slight difference in age and look of Harrison Ford between A New Hope and The Empire Strikes Back. This likeness really captures Ford around that time, complete with his 70's-longish hair and his chin scar.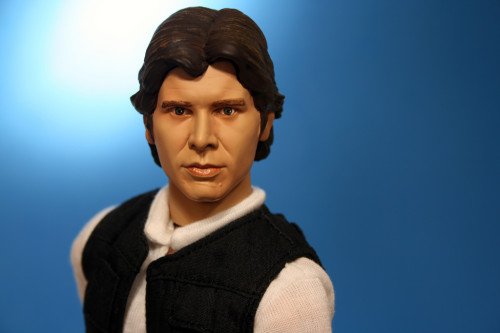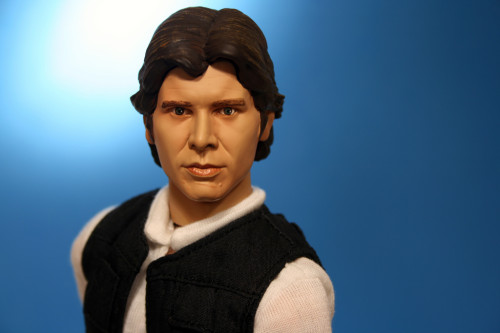 The poseability is good here, with over 30 points of articulation. Sideshow has some new 12″ figure body types in the works now that promise to be even better, and I'm looking forward to seeing what they offer, particularly for the upcoming Obi-Wan Kenobi in Clone Armor figure. As with Sideshow's other 12″ figure releases, Han's hands are interchangeable, and I was able to pop them off and on the arm pegs with little problem.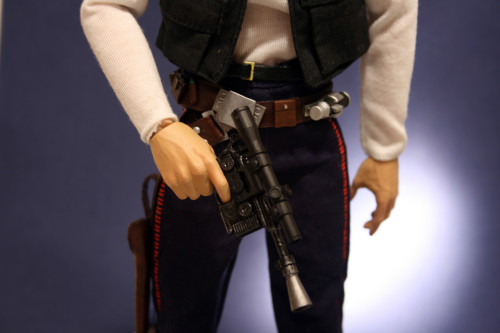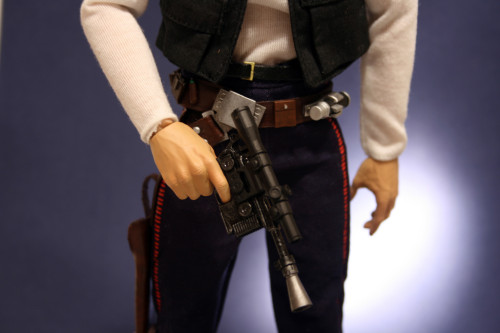 Han's outfit is authentically styled and captures a lot of the neat details of the smuggler outfit, from the double-dash striping rows on his pants to the buckles and attachments on his belt. The belt also features a holster that has a magnetic clasp similar to the one I reviewed before on the Commander Praji 12″ figure. Unfortunately, I've been unable to fit Han's blaster into this holster. I don't know whether it's just a manufacturing issue with my particular figure or it's a general issue with all the Hans produced, but that was the only disappointing thing I found with this one.
Han comes with the standard round Star Wars base and the wire support, both of which work well to hold him up for display. He also includes an additional set of hands with golves attached, his trademark blaster pistol, the Stormtrooper blaster he grabs on the Death Star, his drink from the Mos Eisley Cantina, and a droid caller. All of the accessories are well crafted, and as usual I'm impressed by the detailing and paint applications on the guns.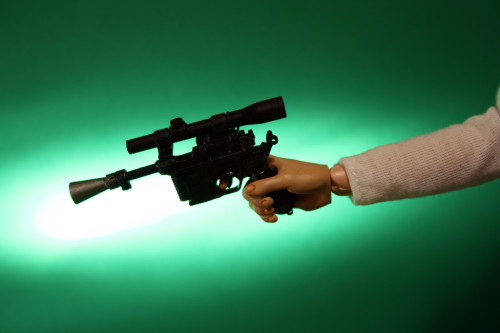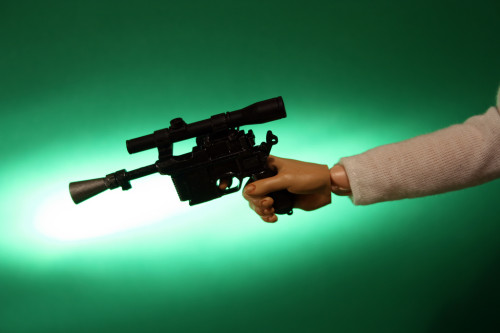 This is a great Han Solo figure, worthy of inclusion in any Star Wars collection. This version is limited to 3000 pieces, and there also is a Sideshow exclusive version that is limited to 1977 pieces and comes with Han's blaster from the cantina, featuring a slightly different paint application than the standard gun. Both figures are sold out at Sideshow now, but you can get on the Wait List for either now.
Get on the Wait List for the standard version (this one): Link
Get on the Wait List for the exclusive version: Link
( Han Solo Tatooine Smuggler 12 Inch Figure Photos )