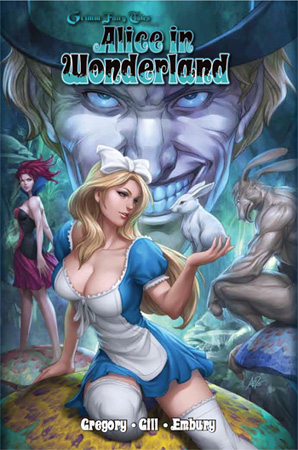 Alice In Wonderland contains issues 1-6 from Zenescope's Grimm Fairy Tales adaptation of the classic story. It starts off with the version of Alice most people know, the little girl. However, instead of falling asleep or anything else, she's being pressured by her grandparents to go into a hole in a tree. Once inside, she hears voices calling her to Wonderland.
Note: This recap may contain spoilers!
Alice meets the White Rabbit, who leads her to a tunnel with doors leading to different kinds of dreams. After gravity switches up on Alice, she lands not so gently and comes face to face with the Jabberwocky. The Jabberwocky tricks Alice into doing something for him; he wants to get to her world. Years later, Alice is awoken by the White Rabbit, who says he has come to take her away from the Jabberwocky. Alice and the White Rabbit run into the Cheshire Cat, who is not as nice as the Disney version. In fact, he wants to eat her.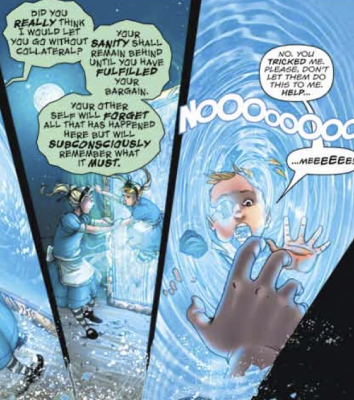 Now, more plots are being introduced. The White Rabbit may not be wholly on Alice's side and Alice meets the Walrus. While she talks with him, the White Rabbit goes to the Queen of Hearts, the March Hare, and the Mad Hatter in search of Alice. Alice, meanwhile, breaks away from the Walrus and runs through the woods and manages to find a strange house. She stops there, hoping for a rest, but things don't work out quite that way. After a run in with the Mad Hatter and March Hare, the Queen of Hearts takes in Alice. Once more Alice thinks she's safe, but she isn't. Alice is saved by the Queen of Spades, who wants to "help" Alice escape, but Alice has to do something first.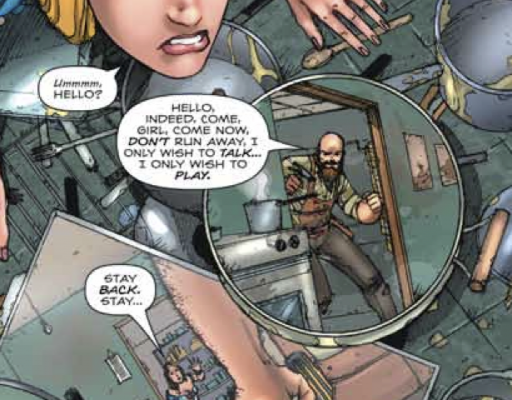 Alice begins to gather power and an army, hopefully strong enough to defeat the Jabberwocky and those helping him. Alice is winning, much to the Jabberwocky's unhappiness, so he sends Gravity into play. Finally, Alice faces off against the Jabberwocky and wins, depending on your definition of winning. It ends with a look into the future and leaves a thread of plot open for a follow up.
Some things in the comic were a bit confusing, like who characters had been and some backstory, but reading the other Wonderland comics would definitely clear up those issues. I do like how there is a whole series of comics to tie the world together. I really liked the art as well. There were some great images of the scene happening reflected in mirrors or in pot lids. In the later issues some of the full-page work is gorgeous. Overall, I really liked this comic. If you're interested in a more grown up tale of Alice In Wonderland, you should check this comic out.