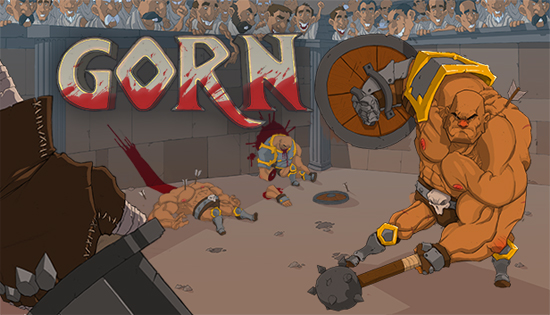 You know all those disclaimers and warnings about being careful when you're doing VR? You know how all the VR controllers come with wriststraps? Now I understand why. GORN, newly released into Early Access, is a crazy gladiator simulator that will have you flailing at your opponents full-tilt, with no regard to anything or anyone in your real world surroundings.
GORN comes from Devolver Digital and is unlike anything else I've played in virtual reality. The company sent me a code to try the game out, and even though it's advertised as being Vive exclusive I've been playing it on the Oculus Rift with no problems at all. Well, aside from occasionally punching through a stack of books and sideswiping a chair.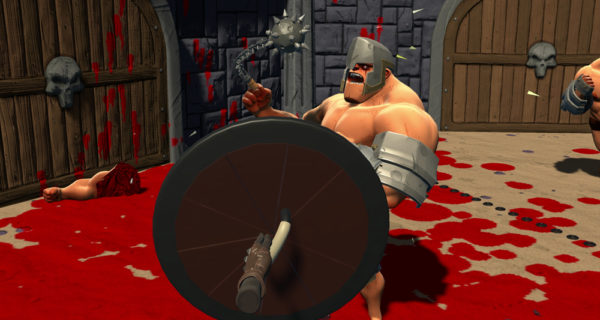 When you first load into GORN, you're in the antechamber of a gladiatorial arena. There's a big Vive-specific tapestry on the wall showing you how to walk. It took me a few minutes to figure out how that translates to the Rift, but I got the hang of it pretty quickly. You traverse areas by clicking in the thumbsticks on the Oculus Touch controllers and then pulling them toward you, almost like you're using ski poles to move around. It becomes second nature before long, and you'll be able to focus on the real meat of the game, and I use the word "meat" very intentionally.
You pull a lever to let yourself into the arena, which is where all the action in the game takes place. The Emperor stares down at you from his lofty perch, while the rest of the crowd peers at the fight with big, stylized, mask-like heads. At the start of each battle, you're on one side of the arena, separated from your opponents on the other side by a big metal fence. After you salute the Emperor by raising a hand, the fence drops into the sandy floor, and the other gladiators come after you.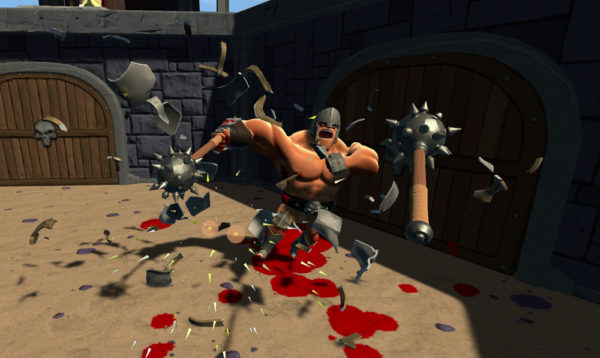 You can beat on the other guys with your bare hands by making fists and pounding on them. Think of it as more satisfying shadow boxing. If just punching them isn't enough, you also can grab hold of them with one hand and beat the crap out of them with the other. But the fight doesn't stop with unarmed combat. Throughout your battles you'll have an array of arena weapons at your disposal, ranging from swords to shields to maces to bows and more. You can pick up weapons from the ground and swing them at your opponents, and you even can throw the weapons at them for some ranged attack power. If you defeat a gladiator who is holding weapons, you also can loot that gear by grabbing it up from the ground where he fell. And yes, you most definitely can dual wield by holding nearly any combination of weapons in your left and right hands.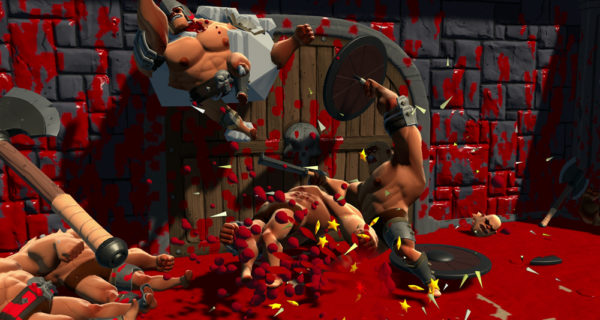 The aesthetic of the game is cartoony, with big and buffoonish looking fighters facing you down. That cartoony look offsets what otherwise would be a devastatingly violent game. Don't get me wrong: GORN still is ridiculously violent. It just would be a whole lot darker if it went for more realistic visuals. As it is, the look and feel are perfect for a fun time of head bashing and limb chopping.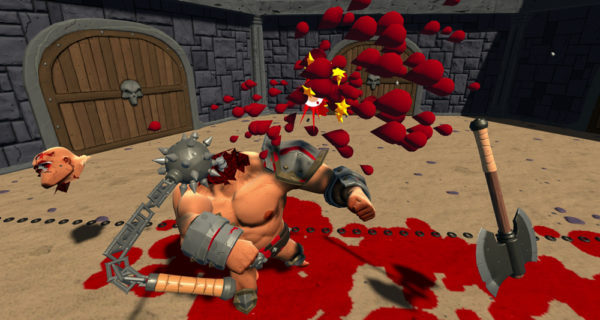 Even in its Early Access incarnation, GORN is immensely satisfying. When you pound on your opponents, you're rewarded with big splats of cartoon blood, and the guys' bodies careen away from you and sometimes into the other enemy gladiators. Damage to the other gladiators is over the top and localized, so you might completely chop a guy's arm off if you hit him in the right place with your sword. If dismemberment is your thing, you also can just grab dudes and yank their appendages off with your own hands.
GORN is big on physicality and is not a game you're likely to play sitting down. You'll need to spin around to keep tabs on guys coming up from behind you, you'll dodge hits, and you'll lunge and swing to get your own strikes in. After playing for a while, I found myself developing my own sorts of combos by dual wielding a sword with a mace. It's easy to imagine that playing a round of GORN could be pretty exerting, and I admit I worked up a little sweat during my first outing with it.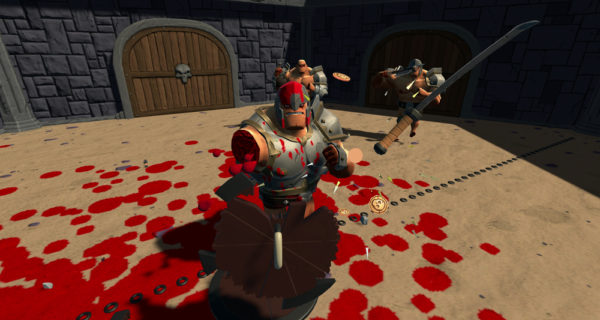 At the time of its release into Early Access, GORN is very playable and is a whole lot of decadent and violent fun. All the enemies are pretty similar right now, just outfitted with different armors and weapons, and there's not really much variety or progression beyond unlocking new arena battles. Even so, the game is so engaging that the repetition has yet to bother me. The developer is planning to add more weapons and enemies, as well as improving the campaign going forward, so we have a lot of new gladiatorial carnage to look forward to.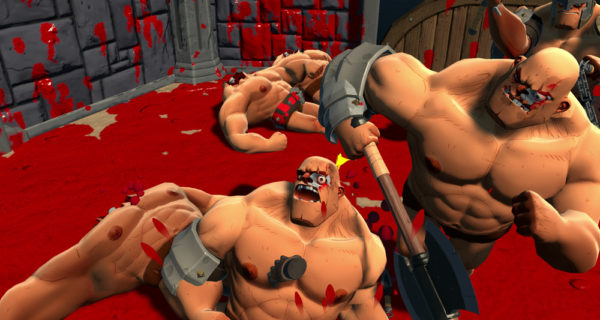 If you're looking for a highly physical melee combat game in VR, GORN is one of the best options currently on the market. It hit Steam on July 10 and is playable on both the HTC Vive and the Oculus Rift.