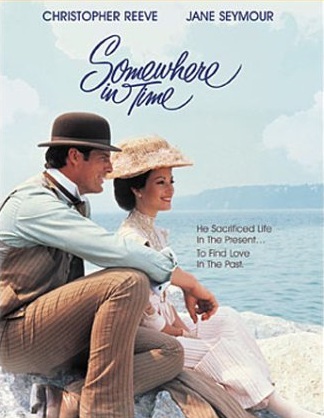 Welcome to a very special edition of the Geek's Guide to Classical Music — it's the Time Travel Month edition! While searching for ideas for a time travel-themed Geek's Guide, I happened upon the perfect fit — a movie about time travel with a piece of classical music featured prominently. The movie is Jeannot Szwarc's 1980 film Somewhere in Time, starring Christopher Reeve, Jane Seymour, and Christopher Plummer.
The music is Sergei Rachmaninoff's Rhapsody on a Theme of Paganini, Op. 43, Variation 18 — if you remember the ads for "The Most Romantic Music Ever"-type albums from the '80s (available as 6 LPs or 4 cassettes) you've probably heard it before. Anyway, the movie is about a Chicago playwright named Richard Collins (Reeve) who, eight years earlier, was given a watch by a mysterious old woman. He consults an old college professor who had claimed once to have traveled back in time, and when Collins tries the method, he is able to go back to 1912 to meet the younger version of the woman who gave him the watch, famous actress Elise McKenna (Seymour). At this point, of course, much romance and strife and heartbreak ensues — it is a chick flick, after all. So where does Rachmaninoff fit in? It turns out that the aforementioned Rhapsody is Richard Collins's favorite piece of music, and it appears in the soundtrack several times at important moments in the film. One of the most important is the moment that Collins turns and sees McKenna's 1912 photograph for the first time. Rachmaninoff's very romantic-sounding, flowing piano music is the soundtrack at this moment, as seen and heard in the following clip:
So what do we know about this piece? First of all, it was written by famous Russian composer Sergei Rachmaninoff, who was born near Novgorod in 1873. He came from an aristocratic family and was destined for a military career until a reversal of family fortunes led him to music study first in St. Petersburg, where his family moved in 1882, and then in Moscow. He studied piano and composition, and he is remembered for his great skill in both areas. Throughout his life, in fact, he worked both as a composer and as a virtuoso concert pianist who toured the world. After the communist regime confiscated his estate in 1917, he and his family moved first to Denmark, then to the United States, where he lived the rest of his life. At this point in his career, he turned mainly to performance rather than composing, spending his time touring, giving recitals, and recording his works. He died in California in 1943, leaving behind a body of work that includes three symphonies, four piano concerti (works for a piano soloist accompanied by an orchestra), a large number of solo piano works (including two sonatas and two sets of preludes), operas, tone poems, chamber works (pieces for small groups of instruments) and choral works. Although Rachmaninoff lived and composed during a time of great change and modernization in the music world, he rejected the atonal and avant-garde movements around him and held on to the older Romantic style of music as represented by older composers like Tchaikovsky and Brahms.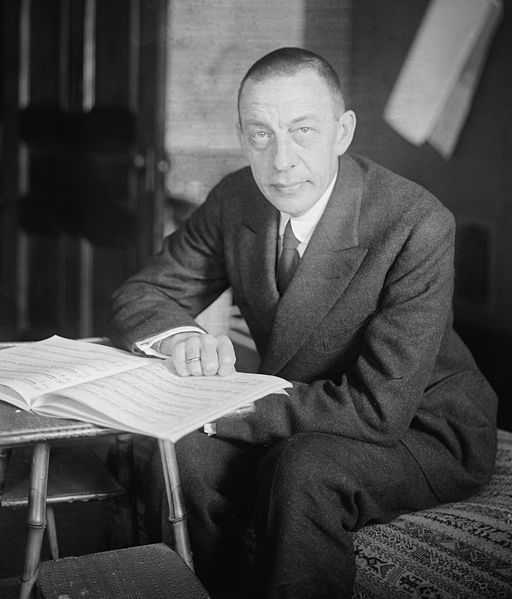 The subject of this particular Geek's Guide, the Rhapsody on a Theme of Paganini, Op. 43, was written after Rachmaninoff moved to the United States. It premiered in 1934 with the composer himself playing the solo piano part. The piece is a set of 24 variations for solo piano and orchestra. The theme around which Rachmaninoff composed this work comes from the Caprice No. 24 in A Minor, a work for solo violin by Italian violinist Niccolò Paganini (1782-1840) who was famous as one of the first recognized and idolized virtuoso performers. You can hear the piece as played by 20th century violinist Jascha Heifetz here:
The piece you just listened to did not sound very much like Rachmaninoff's piece from the movie, did it? That's because in Variation 18, which is the best-known of the 24 variations that make up the complete Rhapsody, Rachmaninoff did two main things: he slowed it way down, and he inverted it — he took a portion of Paganini's melody and turned it upside down. Rachmaninoff's theme, in turn, has been varied also — as an homage to this film, Bill Murray's character in Groundhog Day, another movie related to time travel, learns to play the 18th Variation of Rachmaninoff's Rhapsody on a Theme of Paganini, Boogie-Woogie piano style:
I hope you enjoyed this trip back to the 1980s and beyond through music, which really is the ultimate time machine. Feel free to ask me questions or make suggestions for future articles via the comments, and I look forward to seeing you in our next class — topics on the agenda for future Geek's Guides include electronic music and classical music in the Star Trek Universe. Happy Listening!