I've actually been sitting on a couple of these for a bit so that I could post some reviews that others specifically requested (in Part One). So let's get to them, shall we?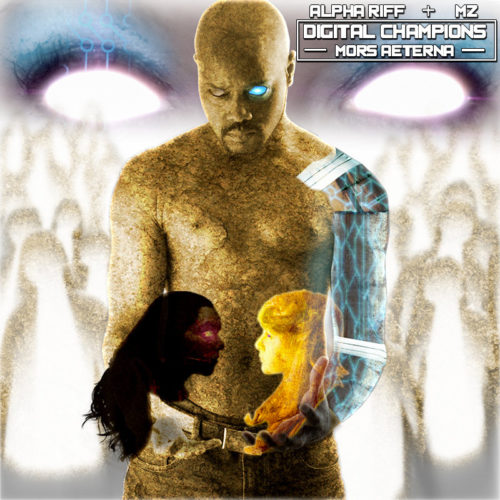 OMFSM, everyone, I've raved before about Alpha Riff's storytelling abilities, but this one just takes it to a whole new level! The mixing of genres complements the story perfectly on this sequel to Migdal Bavel. The wait has been well worth it.
Set a year and a half after Migdal Bavel, the album continues the story of Alpha Riff and MZ in Digitalia. This time, they have been tasked with finding Captain Proxy's son, joined by the Horse Men. Along the way, they'll encounter some familiar faces (voices?), including B. B. Stuart (TekForce), Prog (Aramis), and Sassky (Twill Distilled), just to name a few. And some exciting new characters join as well, including Lt. Sector (Kudos the Kid), Cecil C. Hemit (Starf), and Loss (TheFifthSister). Then there are the various producers, like DJ RoboRob, Klopfenpop, Bill Beats, and K-Murdock. And that's barely scratching the surface of the featured artists on this monster! I won't give away too much of the story, but I will say that the ending is absolutely epic! I'm very curious to see the ramifications of it for the future of the Digital Champions 'verse.
Musically, this album continues the mix of genres also shown on Migdal Bavel. Alpha Riff's love of metal clearly shines through right from the opening track, "The Dark Ones", as well as on tracks like "Crowned Fates" and "Children and Warriors" (to name just a few) . That's not to say it's all heavy or metal-influenced, though, as tracks like "Proxy to Proxy," "The Boy with a Gold Heart," and "Blood and Bond" demonstrate.
If somehow you've been living under a rock and have yet to visit the world of Digital Champions, this is a great time to start. But start with Migdal Bavel and come back to this one later. And if you somehow missed that the sequel had been released, well, now you know, so go grab it now!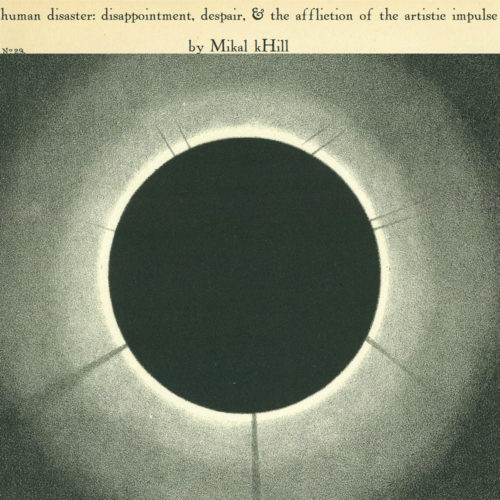 Just a few short months after releasing the "feel good EP of the year," Mikal kHill has finally unleashed his "personal Sgt. Pepper," Human Disaster. We got a taste of it back in 2014 with the "outtakes" from this album, The Snuggle Is Real, which itself stands as a great album. And if those are the outtakes, you'd hope the actual album would be at least as good. It is; in fact, it's even better.
I've been listening to this album so many times in the last couple of months since it was released. Typically when I write a review, I like to find a "hook" that I can base the review on. But I was having trouble with this one. It's an amazing album, but I couldn't quite pull it together. Then I heard one line, and it all just clicked (I suppose the description on the Bandcamp page for the album should have tipped me off as well, but it didn't: "Cataloging in meticulous detail the tribulations of a man constantly at odds with himself and his own art, Human Disaster presents an open and honest account of the artist as own worst enemy."). On the second track, "Martyrs," kHill sings "The most selfish thing a person can do is make art and stay true." Even if he becomes his own worst enemy. Even if he becomes a hostage to the art (the ironically titled "Pandering Sing-A-Long," something I don't think either kHill or Tribe One, who also appears on the track, is capable of writing). Even if he upsets his children ("Daddy Works"). It means he refuses to give "Handouts" to other artists. It means he won't forget slights given in the past ("mmmmhmm" (ft. Sulfur and Clara Bizna$$). It means he has to stay true even if he becomes a human disaster.
Now, that's not to say the album is all about being selfish (not that that's necessarily a bad thing, per se). Take the newly updated track "Get There" (ft. Ceschi Ramos), originally appearing on the split single with Autocorrect, Something (which is no longer available, sorry to say). For all that it's about everyone eventually dying, something in the music seems to me to indicate a kind of hope. I can't quite put my finger on the exact nature of the updates from that version (there's a guitar solo that wasn't on the original, and I think the piano is different, but maybe it's simply mixed differently), but it's unquestionably more gorgeous than the original.
In addition, the album is dense with references, both internal and external. It's a bit hard to track them all without the lyrics, but that's one of the reasons it's worth listening to repeatedly. Just to give a couple of examples, martyrs and bullies both occur at least a couple of times in various tracks. On "mmmmhmm," both guest artists reference other tracks: Sulfur with "Makin' contacts wearin' contacts" referencing his "Take Shots" and Clara with the Daria reference, "It's a sick, sad world," that also echoes kHill's own "madworld." Finding the references makes multiple listenings that much more satisfying.
Without doubt, this is kHill's best and most fully developed work to date. If you've missed it up till now, go pick it up. And if you've been listening to it, go listen again. I guarantee you'll notice something you haven't heard before.