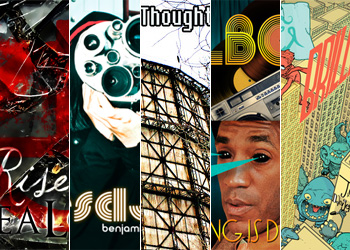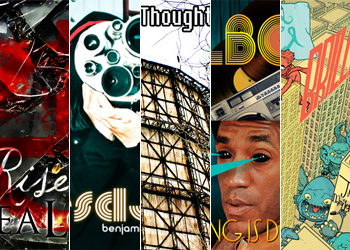 In the last couple of months, there have been several geek music releases that I've been enjoying but haven't yet had time to review. They are, however, worth mentioning and promoting, so I thought I'd just combine a few shorter reviews into one article. Of course this doesn't necessarily reflect everything that's been released since the beginning of the year, just a few that I want to mention. There's some explicit language in the tracks on all of these albums as well as many of the videos embedded below. All of the albums are available in some form for free, either to download or to listen to. If you like them, though, support them with your dollars!
ZeaLouS1 – Rise
This mixtape is much heavier and darker than a lot of the other nerdcore artists I've listened to. It's also more on the "hip-hop with nerdy references" side of the nerdcore spectrum. There are, for example, several tracks about how great ZeaLouS1 is at rapping, which he is. Z is committed to both making great music as well as to staying true to his nerdy side as shown in the chorus for "Next Gen 2.0" (the name of which is a reference to "Next Gen" by fellow Scrub Club artist [and collaborator on the track] Dr. Awkward): "Number one is the fans / Two is ourselves / Three is the music, the content itself / Give a damn about dollars, nah, we'd rather make sense / We are the next gen, this is the next gen." One aspect I particularly enjoy about ZeaLouS1's lyrics is the word play, the best example of which has to be the final track, "Ctrl-Z." Not only can you not undo (Ctrl-Z) the greatness that ZeaLouS1 has wrought on the nerdcore community, you also can't control what he's going to do next (control Z). I'm certainly interested to see what he does next!
Benjamin Bear – Tuesday
This one took me a couple of listens before I really got into it (interestingly, the same thing happened to me with They Might Be Giants' Apollo 18 as well as Factory Showroom. And TMBG is one of my favorite bands!). I'm not quite sure why that is; perhaps because I listened to it straight after Rise which is very different in feel. Regardless of the reason, I'm glad I stuck with it. Benjamin Bear uses many samples from songs you wouldn't expect in hip-hop like "She Blinded Me with Science," "Eye of the Tiger," and "Because" by The Beatles. They're all well integrated into the songs; the latter sample I didn't even notice right away despite there being an actual line of lyrics from the song. There are also tons of guests on the album: Rappy McRapperson, MC Wreckshin, and Schäffer the Darklord, to name a few. I have a feeling I'll be noticing a lot more on this the more I listen to it.
The ThoughtCriminals – Cold Winter
I'm not normally a huge fan of 8-bit music, but chip-hop somehow works for me. Besides, if you're rapping about Super Mario Brothers ("Warp Zone (1-2)" and "All the Coins"), you almost have to use 8-bit music. As much as I enjoy the music on this, I feel like I'm missing something in the references since I haven't been a gamer for years. "Whirling Dervish," for example, sounds like something from a video game (and a quick Google search tells me that Whirling Dervish appears in Dragon Age so maybe that's true). That feeling is enhanced with the appearance on the final track of Random / MegaRan who is well known for rapping about video games. What's cool, however, is that I can really enjoy the music without necessarily getting all of the references. Normally I think this would frustrate me, but somehow Cold Winter pulls me into its world.
Combining absurd humor and geeky references, the skits on Pudding Is Delicious remind me of the kinds of tapes (yes, tapes — I know I'm showing my age) my friends and I used to put together in high school. Illbotz, however, have taken it to another level. We never really wrote anything down or did any editing or revising. It's clear that that's not the case here. Although very silly, the skits do have a cohesiveness that indicates at least some planning while still feeling spontaneous. Actually, that pretty well sums up the music, too: very silly, but clearly well thought out. In many ways, it reminds me of early Beastie Boys (there's even punk rock tracks and a reference to "Brass Monkey") or the Fat Boys (who get name-checked as Stevie D's favorite band). If you're a fan of intelligent silliness, this album is for you.
Despite not wanting to be associated with nerdcore, Jesse Dangerously continues to make rap music with plenty of geeky references. Actually, it's kind of interesting — there is probably as much geekery (is that a word? Sure, I'm an English teacher so I can make up words!) on this album as on Rise, but ZeaLouS1 embraces the nerdcore label and Jesse Dangerously (despite his collaboration on MC Frontalot's "Nerdcore Rising") doesn't. It doesn't really matter to me, though; I dig this album no matter what the label. How can you not love an album that features a track that takes its name from the "Holocaust Cloak" from The Princess Bride? And if that doesn't do it for you, there's a glockenspiel and a ukulele on a couple of the tracks. Yeah, glockenspiel and ukulele on a hip-hop album. Pretty cool if you ask me!
Childish Gambino – EP
Like Jesse Dangerously, Donald Glover (yes, the actor who plays Troy on Community) does not consider his music to be nerdcore (in fact, he eschews the label pretty clearly on "My Shine," which lead to an interesting discussion on Beefy's blog), but he is a geek and his music contains geeky references so it too fits the scope of this column. Actually, Childish Gambino seems as much at home in the hipster community as the geeky, as illustrated in the first track, "Be Alone," which mentions Arcade Fire and then later in the aforementioned "My Shine," he makes a pun based on the Saiyans from Dragon Ball (which, admittedly I wouldn't have noticed if Beefy hadn't pointed it out). It even goes beyond that, though, switching quickly from high brow (e.e. cummings) to low brow (let's just say that the poet's last name also has a double meaning…). That's one of the things that I like about Gambino — he's not afraid to rap about the things that he loves no matter how much society thinks that they're not supposed to go together (a point which he makes on the final track, "Not Going Back"). It's cool to see someone so comfortable in so many worlds, something I myself strive to do.