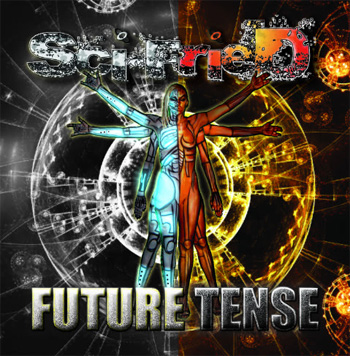 Artist: Sci-Fried
Album: Future Tense
Release Date: March 25, 2011
Florida's own Sci-Fried is back again with another awesome geek rock album. As usual, they combine various styles from third wave ska to nu metal to rock ballad to electronica. Lyrically they run the gamut of geeky topics: Alien, Firefly, Ghostbusters — even Monty Python gets a song. No matter the topic or genre, Sci-Fried knows how to rock.
The album is a loose concept album that begins with a story that tells us that Sci-Fried has been sent back in time by a team of scientists to save us from eminent extinction. This is immediately followed by the anthemic "Geek Rock," the title of which pretty well describes the song. A later track, "Looking Back at Today," continues the concept with a reminiscence about the future we're supposed to have according to various sci-fi movies and TV shows as compared to the future we actually have — "I communicate just like Captain Kirk, but there's no one to beam me away." There's no mention of jet packs, however, a point with which I have to take exception — where the heck are our jet packs?!
That's not to say that all of the tracks fit with the concept. Many deal exclusively with one show or movie. The ballad "Serenity Lost," for example uses the titles of all of the Firefly episodes (in order, no less — the correct order, that is, not the order Fox ran them in) to tell the story of Captain Reynolds and his crew. On the less serious side, there's "A Silly Song," which is primarily about Monty Python and the Holy Grail. It does, however, contain plenty of other Python references, including a round of songs at the end that get interrupted because they are too silly. Finally, probably one of my favorites from the album has to be "Embrace the Dark Side." It's an appropriately heavy metal track about Anakin's transformation into Darth Vader. I found myself growling out the chorus the first time I heard it.
In addition to the music, I have to mention the album artwork by Diana Krummel. I haven't bought many CDs for a long time, but I'm so glad I picked up this one. The cover features a Vitruvian-man inspired half-robot, half-woman (I think that's what it's supposed to be) with devil-horn rock symbols on one set of hands and Vulcan symbols on the other. Geek rock in art form — how awesome!
Sci-Fried had already established themselves as supreme examples of geek rock with their first two albums, Ramming Speed and Geeks Unite. This album simply cements their reputation. It's certainly going on my list of best albums of the year. Go out and buy it now!
Track Listing:
"Future Tense" (1:03)
"Geek Rock" (3:42)
"LV-426" (3:29)
"Chosen One" (3:47)
"Foiled Again (feat. Marc with a C)" (5:15)
"We're Ready To Believe You" (3:29)
"Tech Support" (4:29)
"Embrace the Dark Side" (4:08)
"Looking Back at Today" (5:23)
"The Away-Team" (3:50)
"A Silly Song" (4:23)
"Fifty-One" (3:56)
"Serenity Lost" (3:41)
"Vampires Suck" (4:16)
"So Far From Home" (3:13)
"Evil Dead Guy" (4:56)
"Invasion" (3:51)