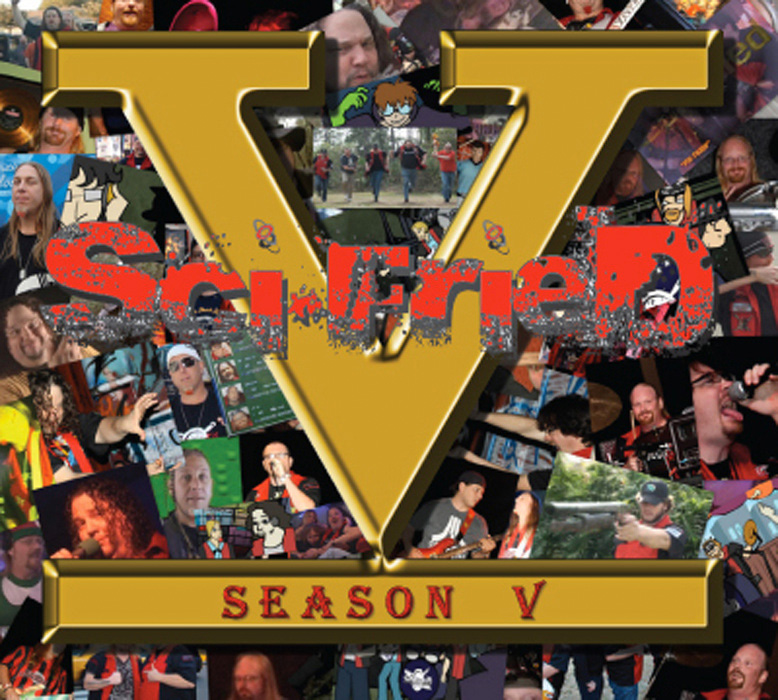 Sci-Fried's fifth album, Season V, features various flavors of rock and nerdiness, just as we've come to expect from the best geek rock band around (keeping in mind that Kirby Krackle is "nerd rock." Which is to say, they're both the tops of their completely arbitrarily delineated genres). Surprisingly, this album took me a couple of listens before I fully appreciated it. I'm not sure exactly why that is, but I knew it wouldn't take long for it to become a favorite. Which, of course, it did.
The album explores a wide variety of fandoms, like The Lord of the Rings ("If I Only Had a Horse"), zombies ("Undead Apocalypse"), and Arrow (on the appropriately named "Arrow"). Of course it wouldn't be a Sci-Fried album without songs about Star Trek and Star Wars, and this album has both. The former is represented by "Left Behind," a ballad about one of the best original series episodes, "The City on the Edge of Forever." And keeping with their love of the Dark Side of the Force, they give us "The Empire Kicks Back," a rockin' tune about partying on the Death Star (complete with a Colt 45 / Lando reference). The obvious stand-out track in this category has got to be "Hulk Smash." I always loved the way that Bruce Banner handled his anger in the new Marvel movies ("I'm always angry"), and this song explores that idea quite nicely. Plus it's just an awesome song!
There are also more generically geeky songs on Season V. The title track, for example, deals with the issues that are faced when a TV show gets a fifth season. Will the show completely change everything? Will it just completely suck? Will everyone actually survive the season? I'm sure these were also questions the members of Sci-Fried asked themselves about this fifth album (spoiler alert: No. No. And, sadly, no. KSV retired from music after the album was released). Then there's "Suit Up," a song about cosplaying at cons. I can totally identify with the frenetic pace of trying to do and see everything possible at the con. It can be exhausting, but so worth it.
Oh, yeah, and in addition to all of that, the album has a great cover of Blue Öyster Cult's "Godzilla."
If you've somehow made it to 2015 without checking out Sci-Fried's newest album, you really need to rectify that at once. And if you've been listening to it, then why not go listen to it again? You know you want to!