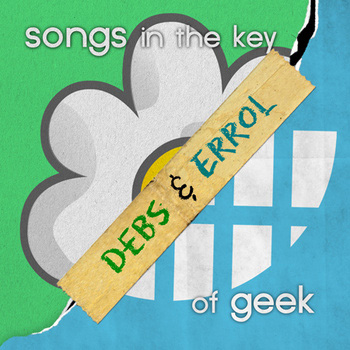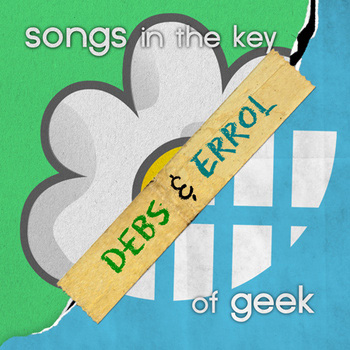 Simple, sweet, and sometimes childlike ("Narwhal Pet"), the adorable Canadian duo of Debs & Errol first came to my attention through Errol's sister who sent me an email about their debut album, Songs in the Key of Geek. It didn't take long for me to fall in love with the album. Actually, it's a refreshing departure from most of the geek music I review for this column. As much as I enjoy and appreciate nerdcore, hip-hop is not a genre that I really grew up with. Simple melodic music, however, is closer to what I'm used to, and that's what Debs & Errol provide.
"Walkthrough" is probably my favorite track on the album. Whoever came up with the idea to sing a walkthrough for the classic text adventure game, Zork, is brilliant. Besides, I, too, hate grues. Another track I can identify with is "Gaming with You." In my case, though, it's usually me that loses; my wife has crazy ridiculous luck in pretty much every game we play. That's one of the reasons we started playing the cooperative game Forbidden Island.
On the less serious side, there's "Let's Vomit Exclusively" which sounds like a song from a rather warped off-Broadway musical. One that I'd go see, of course, since I have a pretty warped sense of reality. There's also "Double Rainbow / More than That" — yeah, maybe it's an old meme (I mean, it's over two years old for heaven's sake!), but I really enjoy the addition of the verses where one line finishes the previous line (e.g., "'Stand By Me' with Wil Wheaton and / River is that girl from Fire / fly me to the moon…").
And on the geeky side, the album opens with "Geek Love Song" which teaches you how to say "I love you" in many geeky ways, including Drowish and even binary. So, yeah, quite geeky that one. Then there's "AT-ATs in the Snow," which pretty much describes the Hoth battle in The Empire Strikes Back, complete with "pew pew pews." Well, maybe those weren't in the original, but if Lucas changes anything else, he should totally add them in.
I always appreciate musicians who have some training, and both Debs and Errol do. They include a song about not being able to write a song that I'm pretty sure uses Pachelbel's Canon in D for the music (it's called "My Pachelbel Song"). The song sort of reminds me of Rob Paravonian's "Pachelbel Rant," which I've actually wanted to mention in my column before but never had a reason to do so until now. So, thanks, Debs & Errol (and Lizette, Errols's sister!) for giving me that excuse, and for providing me with a truly wonderful album!
Track Listing:
"Geek Love Song" (02:53)
"That's What I Want in a Girl" (02:43)
"AT-ATs in the Snow" (01:59)
"I Wish Totoro Was My Neighbour" (03:51)
"Walkthrough" (03:09)
"Gaming With You" (02:37)
"BSG" (03:20)
"My Pachelbel Song" (04:52)
"Narwhal Pet" (02:11)
"Let's Vomit Exclusively" (02:34)
"Beastmaster's Cry (A Familiar Refrain)" (03:33)
"Cuz He's a Geek Guy" (02:03)
"Double Rainbow/More Than That" (02:46)
"Timmy the Combat Wombat" (02:18