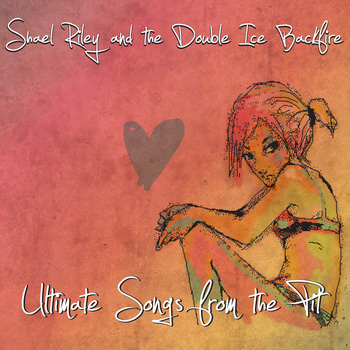 Ultimate Songs from the Pit takes ten new tracks and adds them to six remastered tracks from Songs from the Pit. The production quality of the album is clear; it should be since the engineer has also worked with MC Frontalot and Godsmack. Shael funded the remastering and production through a Kickstarter campaign (it finished last year, before I really knew who Shael Riley was. Ah, well, at least I was able to buy it on Bandcamp). Something else I find interesting is this statement from Shael on the Nerdcorenow.com website: "You want an actual "about" section? Listen to it. It's an album." So, the interpretation is up to the listener (similar to Reader Response Literary Criticism). I just hope mine isn't too far off the mark! Oh, and also, I should probably give an explicit language warning for the lyrics and a couple of descriptions of songs in the review.
The album kicks off strong with "How to Fire a Gun," a Beatles-esque track about learning how to do all sorts of useful things, especially how to fire a gun. I especially like how firing a gun takes on different meaning depending on the context of each verse, becoming more metaphorical and less about actually firing guns by the end. Or so it seems to me, anyway. They say you should start strong and end strong, and this album does exactly that. The last track, "Pump Up the Bass," is an appropriately rocking track about keeping yourself motivated by playing music loud (turned up to eleven, of course).
Something else I like about Shael Riley's lyrics is that he's unafraid to explore stereotypes. "Asian Kids Have All the Best Moves" plays around with the way that Asians are typically portrayed in Western culture as being good at martial arts. It's interesting how stereotypes can lead to envy: "You can pretend that you're something you like / When you're poor and white. / When you identify as cultureless they, / call you a vulture when you try to get away from the gloom." Yup, plenty of my white (though not poor) friends wanted to have sweet ninja skills, too. Another stereotype Shael explores is the way nerds treat women as merely sex objects. "Rarest of Elements" (featuring Billy the Fridge) sounds to me like an exaggeration of the sexism of gamers / nerds / guys in general. It uses the metaphor of a gangbang with only one girl to highlight how guys act around women. It's a compliment to talk about how much you'd like to have sex with a girl, especially in explicit detail, right? It reminds me of the recent debate in the skeptical movement over "elevatorgate" as well as several articles about the problems of being a geek girl.
And then there are the social commentary tracks. Both "Publishing Rights" and "Hobby Model" make similar points about integrity and not selling out. In "Publishing Rights," this comes out as a musician who sells the rights to his songs just so that he can have sex with lots of women, not caring at all about the music or even his own soul (Schaffer the Darklord rather appropriately portrays a Faustian devil of a manager). "Hobby Model" is about girls who sell out their sexuality. Again, they don't necessarily care about integrity as long they get to be famous. One of my favorite tracks on the album is "Boot Straps" (featuring Brian Mazzaferri of I Fight Dragons). This could be an anthem for the Occupy movement. Many in the 1% think that the rest of the world just needs to pick themselves up by their own boot straps and stop being so lazy. And now those "boot straps" are coming into their own and challenging that idea. In addition to the message, it's the interplay between Brian Mazzaferri and Shael on this track that makes it so good.
Like The Grammar Club's MC Horse Rides Again and several They Might Be Giants albums, Ultimate Songs from the Pit took a few listens before I really got into it. Perhaps just because it's so different from my previous experiences with music (I've mentioned several times that I'm not normally a fan of chiptunes), but in this case it was Shael Riley's voice that kept me coming back. This album is quickly becoming one of my favorites of the year. Go check it out now at Bandcamp, then buy it to support independent music!
Track Listing:
"How to Fire a Gun" (2:56)
"Publishing Rights" (3:49)
"Hipster Hoax" (4:03)
"The Other Side of Memphis" (3:27)
"tip eht fo mottob" (3:37)
"Asian Kids Have All the Best Moves" (4:35)
"Boot Straps" (4:02)
"Princess of Ants" (2:54)
"Hobby Model" (3:52)
"Area Dolls Guy" (3:30)
"Haters Unite" (3:48)
"Rarest of Elements" (2:56)
"8 Bits to Loneliness" (2:42)
"Actual Conspiracy" (2:58)
"Personal Space" (2:23)
"Pump Up the Bass" (4:33)